Accelerate – Issue 1
Accelerating Commercialisation
Last Updated: 6 July 2022
Showcases 5 companies that received funding from Accelerating Commercialisation; Stormseal, Concourse Golf, Life Cell Marine Safety, Heuch and Sydney Children's Hospitals Network and introduces Commercialisation Adviser Ron Mack from Victoria.
Welcome to the first issue of Accelerate
---
Enabling entrepreneurs to solve real world problems and become successful businesses that integrate into industry inspires us. We have put together a team of highly qualified Commercialisation Advisers that have the skills, experience and passion to help emerging companies and projects take their products and services to market.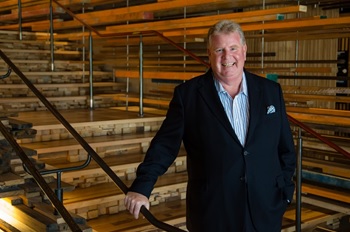 Director, Mr Larry Lopez
Welcome to the first issue of Accelerate
---
In 2016, the Accelerating Commercialisation element of the Entrepreneurs' Programme was the most active source of funding for early-stage companies in Australia. Last year we supported 93 new projects, and invested $44.5 million through grants to help these projects move forward. Many of these companies have already achieved first commercial sales, raised significant additional capital from new investors and gained traction in their target markets.
The funding we contribute creates a significant pool of new investment across a wide range of projects and sectors. The approximately $105 million in approved Accelerating Commercialisation grants since inception means new investment of $210 million, given the programme's 1:1 match funding requirement. We have included some interesting statistics in the graphs below that illustrate the contribution and impact Accelerating Commercialisation has in assisting Australian founders and entrepreneurs on their journey to success in the market place.
Along with the funding and strategic support provided though our Commercialisation Advisers, Accelerating Commercialisation also assists many of our participants through access to our Expert Network, an international collection of successful business men and women available to provide advice and introductions that help our projects achieve their goals. In the coming year we expect to further increase access to this network through focused events and activities.
In 2017 we will continue to explore ways to make Accelerating Commercialisation even more nimble and easier to access. This will include working with Industry Growth Centres, helping to promote our portfolio participant's projects, and exploring ways we can help projects achieve success in their respective markets.
I look forward to meeting more of our participants and being introduced to new teams to learn about their projects that will benefit from Accelerating Commercialisation, and through their success, contribute to the growth of the innovation and knowledge based sector of the Australian economy
Take a look at Commercialisation funding
---
Accelerating Commercialisation started on 1 November 2014, and to 31 March 2017, there has been 210 commercialisation grants approved, with every dollar of funding matched by the applicant.
Growth centres are industry led to drive innovation, productivity and competitiveness by focusing on areas of competitive strength and strategic priority.
Accelerating Commercialisation grants will help these Australian businesses to play their part in the growth centres' mantra to transition into smart, high value and export focused industries.
For example:
Businesses in the medical technology and pharmaceuticals sector had 43 grants awarded totalling more than $23 million
Advanced manufacturing businesses were awarded 37 grants worth more than $22 million
Food and agribusiness firms were awarded 30 grants worth more than $15 million
Grantees under Accelerating Commercialisation are often well placed to receive additional Australian Government support and 31 per cent of the 210 grant recipients also received other services or grants from other elements of the Entrepreneurs' Programme.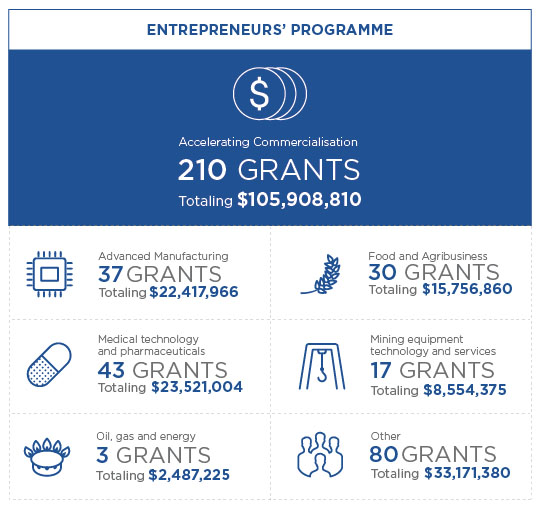 Funding snapshot
Stormseal comes to the rescue — innovative film to protect damaged homes
---
Accelerating Commercialisation recipient Stormseal has leapt into action to help the devastated north Queensland communities ravaged by Cyclone Debbie.
The clever invention that replaces tarpaulins in disaster struck areas, is being rolled out nationwide with the help of $450,000 in Accelerating Commercialisation funding.
Accelerating Commercialisation assistance also helped establish a nationally recognised training system for the installation of Stormseal, and secure first sales of the product in Australia.
Immediately after Cyclone Debbie struck and caused severe damage, Stormseal CEO Matthew Lennox and his staff put a plan in place to help. Stormseal installation kits with all necessary tools and materials will be shipped to Mackay this week to protect thousands of residents from further property damage in the wake of Tropical Cyclone Debbie.
Stormseal has been invented, developed and manufactured in Australia. The strong polymer film heat-shrinks to cover a damaged roof or wall, providing secure protection from wind, rain and hail, and requiring no further intervention until permanent repairs are made.
Tarpaulins often fail, flap or fly off in poor conditions, leading to further damage.
There is currently capacity to weatherproof about 830 homes using the Stormseal film held in stock, with only 24 hours needed to manufacture enough additional film to protect another 1,250 homes.
Stormseal's accredited training authority Pinnacle Safety and Training will travel north to provide training courses on the installation of Stormseal to insurance roofing and building contractors. Training will be available for first responders such as the SES and ADF. A work safely at heights certificate is a pre-requisite.
Stormseal Managing Director Matthew Lennox says the aftermath of a cyclone can be just as traumatising as the event itself for those affected.
"The costs to residents of a weather event like Cyclone Debbie go far beyond the trauma and financial burden of the initial destruction. The continuing damage due to an unsecured roof can be significant and the ongoing psychological distress can be a serious problem." – Matthew Lennox, Managing Director, Stormseal
Matthew says it is important to prevent displacement from homes and businesses.
"People not being able to remain in their homes is a major issue. This displacement can incur damaging financial and social costs. We want to get as many buildings safe and dry with a secure Stormseal installation as quickly as possible. This will mean more residents can return home sooner, insurance costs will be reduced, communities can recover, and businesses can thrive again."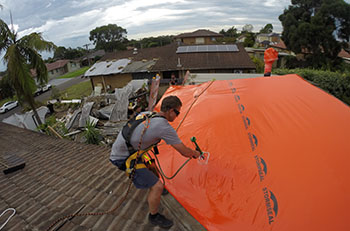 Stormseal installation
New wheels for a golf buggy … sounds simple, but these are smart
---
Concourse Golf — creators of the Australian International Design Award-winning CBM2 and CBM3 golf buggies, now sold in 15 countries — have invested seven years design and engineering work into developing their internationally patented Smart Wheels.
The Smart Wheel innovation is a world first. It cleverly contains 200W electric motors, Lithium batteries, sensors, processors and gyroscopes into the hub of each removable wheel, and communicate wirelessly with each other 50 times per second.
"Everything we do is focused on delivering the best possible experience for the walking golfer both on and off the course. For our Smart Wheels that means combining engineering, design and technology to deliver a reliable, durable and simple to operate product", said David McKay, Managing Director Concourse Golf.
Accelerating Commercialisation (AC) assistance aided the Smart Wheel prototype and pre-production and AC helped identify design and manufacturing options. The wheel is in its final phase of development.
"AC has been enormously helpful. The rigour around successfully proceeding through the application process helped us clarify our vision and brought us real credibility. This formal recognition from the Australian Government has helped open doors."
"The financial assistance has enabled us to speed up the development schedule, and the support provided by our dedicated AC adviser John Grew has been first class. The breadth of advice and introductions gained from John has been invaluable" David added.
The walking golf market is big with as many as half of the world's 60 million players taking the option to get some exercise when they play rather than drive a cart.
The Smart Wheels improve the functionality and portability of electric golf buggies but they have potential application well beyond golf. Golfers may not be the only people to benefit from this Australian innovation.
"We have no doubt that our Smart Wheels will have application in other markets as the distance, terrain and power demands required for golf provides a very good benchmark," David says.
Concourse has now been named as the official golf buggy of the Qantas Golf Club and, their recently launched CBM3 push buggy has been welcomed with excellent reviews from the Australian golfing media. The golf world now awaits the Concourse Smart Wheel launch later this year.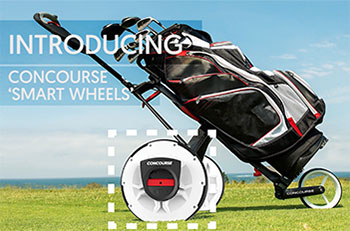 Smart Wheels buggy
Life cell set to be easy sell. Boat safety device goes global
---
A harrowing sea disaster was the catalyst for the creation of Life Cell Marine Safety's invention but now the motivation to sell it is to capitalise on a $150 million global market.
Safety in all walks of life is big business yet it seems safety at sea had not perfected a package which could help save lives when boats quickly capsize, sink or are swamped by waves.
Rarely is there time in a small-craft emergency to grab, from under seats or from in cupboards, all the safety equipment needed. And often that equipment is in bags and buckets that are a liability once people are in the water.
The founders of the Life Cell — Scott Smiles and Rick Matthews, found that out when clinging to an esky after their boat suddenly sunk 10 kilometres off the NSW coast.
They were inspired to redefine how safety equipment was stored. The Life Cell is a high-visibility buoyancy device that stores essential safety equipment and is mounted in a handy position but with the ability to float free of its bracket if submerged.
Accelerating Commercialisation assistance and funding is now helping Life Cell Marine Safety to take its simple yet brilliant idea to the world, and the product looms as richly rewarding — in saving lives and in a financial sense.
"The Accelerating Commercialisation grant has assisted us to achieve international product certification and helped us to meet the requirements of our newly-appointed United States-based distributor", said Jenny Aiken, CEO Life Cell Marine Safety.
"Attending six trade shows in the US, providing samples, modifying packaging and websites and training sales reps is an incredibly expensive process but absolutely necessary to successfully commercialise our product.
"The grant has provided us with much needed financial assistance to allow us gain traction in the US market and I am not sure that we could have achieved this without the grant. We are incredibly grateful for the Government's support at this critical time for our company," Jenny says.
Life Cell Marine Safety has international product certification for the Life Cell and it is already being used both commercially and recreationally within Australia.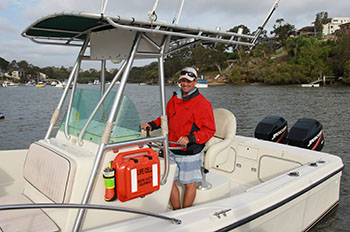 Life Cell Marine Safety cell on boat
Meet a Commercialisation Adviser — Ron Mack, Victoria
---
Commercialisation Adviser Ron Mack enjoys nothing more than doing what he does best — helping his latest Accelerating Commercialisation applicants prepare their applications.
Ron is one of 23 advisers in the AC network. He is an expert in business strategy, marketing, market research, capital raising, forming boards, mentoring, commercialisation strategies and technology commercialisation.
Ron is particularly involved in the food processing, agribusiness, building and construction products, electronics, engineering, industrial instrumentation and manufacturing sectors.
However, in managing at least 10 AC projects at any one time as well as assisting new applications, Ron can contribute his experience in all aspects of just about every industry sector.
"As Commercialisation Advisers, we spend a lot of time hands-on with companies. We help them at all stages of the AC application process and then we work on the supported AC projects with them to ensure they achieve successful commercial outcomes," Ron says.
Ron finds it extremely rewarding to help an Australian company gain AC funding for an innovative project and then commercialise it on a global basis.
On that front, Ron helped a Melbourne machine vision business develop an innovative high-speed camera technique for measuring the quality of wind turbine blades, through government commercialisation funding. Braendler Engineering is now a major player in a global niche market, with headquarters in Denmark.
Ron says the network aspect of AC is pivotal among advisers, inventors, researchers and businesses.
Ron recently connected two of his AC companies — barramundi breeder Mainstream Aquaculture and optimisation software company Opturion. The end result has been a successful supply chain optimisation project that should improve Mainstream Aquaculture's efficiencies and bottom line and open up global business opportunities for Opturion in a new industry sector.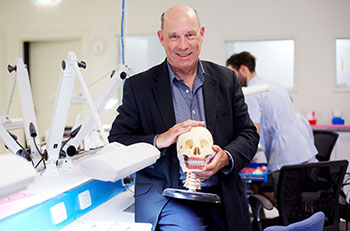 Ron Mack, Adviser
Off grid? No problems, solar container keeps it cool
---
Heuch's solar powered refrigeration solution is, in simple terms, a shipping container with solar panels on it. It looks cool — excuse the pun, but the brilliance was in making it work.
Where others had previously failed Heuch succeeded through extensive research and development, clever design and innovation. So much so, the Accelerating Commercialisation funded project has made the Dandenong business the 2016 Innovator of the Year in an industry-backed award.
Now, Heuch can commercialise its solar refrigeration product to the world for off-grid refrigeration opportunities — such as for use in non-powered villages, mining and construction sites, defence and emergency response applications, remote area sites and environmentally-friendly applications.
"Accelerating Commercialisation support and their advisers have been vital to our continued success with this project, post the considerable resources we poured into its R&D", said Martin Oakley, Business Development Manager, Heuch.
"In fact, we could not have retained this innovation in Australia and proceeded to commercialisation without Accelerating Commercialisation support. It helps bridge the gap between proven concept and sales."
Heuch used AC assistance to improve the manufacturing process to help create price parity with the product's diesel equivalent. Their solar option price is now on par with diesel, so these containers can replace diesel-powered off-grid options and eliminate fuel needs.
The Accelerating Commercialisation funding has enabled Heuch to build and market two demonstration units which will be taken to Jakarta, Indonesia, in 2017, to show potential buyers. India and Africa will follow.
The AC project also brought Heuch together with insulation expert Brady IPS and fabrication leader Able Industries Engineering — connections which Martin Oakley says were instrumental in making this project succeed, as were other government and business introductions.
Besides winning the Innovator of the Year Award at the HVACR Leadership Awards, Heuch was also a finalist in the Land Forces 2016 Innovation Awards for its solar refrigeration solutions.
A lack of, or unreliable power and infrastructure, or isolation, is no longer a barrier to having refrigeration. And if Heuch's prefabricated solar refrigeration containers are not practical, there are flat pack solutions for assembly on site.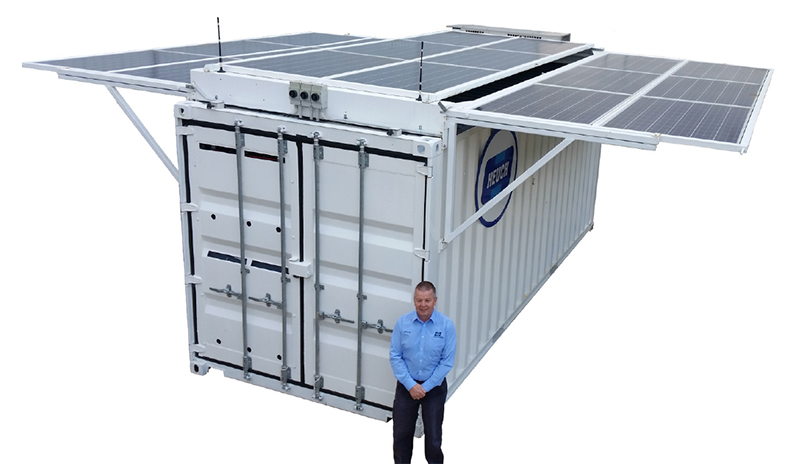 Heuch solar fridge container
Breakthrough for kids' bones — Rifle Rod is world-first technology
---
The Sydney Children's Hospitals Network (SCHN) is developing brilliant technology to help children that suffer major deformity problems due to malrotation of their bones.
Current procedures are highly invasive, fraught with complications and prolonged recovery time. Many of these children have other health problems such as cerebral palsy, further complicating recovery. As such, only the most extreme cases are operated on.
However, the SCHN product — called the Rifle Rod — will be a game changer in this complex and challenging medical field. The Rifle Rod was designed by a team led by Professor David Little.
"The Rifle Rod is a novel orthopaedic device implant, which is simply inserted inside the bone and corrects rotational deformities while the bone is growing, obviating the need to cut the bone at all", said Professor David Little, Paediatrics and Child Health, SCHN
"Accelerating Commercialisation support will allow SCHN to complete the engineering design, manufacture and validation of the device as well as related surgical implant tools."
Besides the obvious benefits of as a better way to treat children and to reduce recovery times, this world-first innovation will bring enormous overall cost savings to the healthcare system through improved outcomes and recovery.
The engineering, design and manufacture has been undertaken by Sydney-based Signature Orthopaedics Pty Ltd, an Australian regulatory-compliant medical device company specialising in implants.
Acceleration Commercialisation support is also being used to demonstrate the product functionality in pre-clinical trials, showing rotation can occur with growth.
John Grew, Commercialisation Adviser, has been actively engaged in the review of service providers, clinical trial outcomes and programme management.
Acceleration Commercialisation funding of $158,525 helped take the Rifle Rod from the drawing board to commercialisation, and enabled SCHN to secure a commercialisation partner to take the device to the global market.
SCHN has now licensed the technology to a US-based paediatric orthopaedic company that will be responsible for regulatory approvals, marketing and selling the device internationally.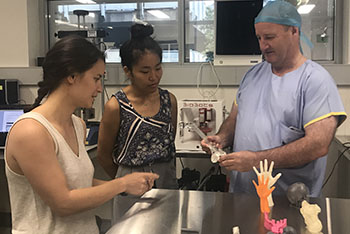 Rifle Rod demonstration