Accelerate – Issue 4
Accelerating Commercialisation
Last Updated: 26 June 2020
Find out about the following businesses that have received AC funding; AgriWebb, Earth Radar, Sine and Trimph. We also showcased Grant Steinberg, a Commercialisation Adviser from South Australia.
Introduction from Mr Larry Lopez, Director of Accelerating Commercialisation
---
Accelerating Commercialisation (AC) continues to support exciting companies. As of 1 August 2018 the Australian Government has invested $163.1 million in 328 projects including follow-on investments in a number of promising companies. The range of grants is wide in terms of dollar size and the types of projects vary widely, as you will see in the small sample covered in this edition of Accelerate.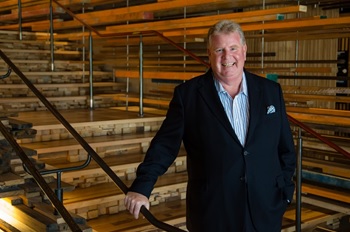 Director, Mr Larry Lopez
We are particularly proud of AgriWebb a 2016 recipient of a $572,000 Accelerating Commercialisation investment grant. Subsequent to the Government's investment, the company went on to raise two additional funding rounds before completing a $14 million investment from one of the world's most respected agriculture investment companies, the UK based Wheatsheaf Group.
Almost all of our projects have global ambitions. Most of the companies that we work with are "born global", and aspire to achieve export revenue in the very short term. Both Sine and Earth Radar, featured in this edition, are already achieving significant traction in overseas markets. Trimph is another example of a company that has included international expansion as a key strategic pillar since day one.
Of course like most successful projects, the quality of our people is what makes Accelerating Commercialisation successful. This edition features a profile of one of our South Australia based Commercialisation Advisers, Grant Steinberg. As you will see, Grant brings a wide range of experiences to the table for the benefit of our clients.
We are very proud of the companies we have been fortunate enough to support. If you are interested in learning more about any of the companies, please let us know. We are eager to connect you with the right contacts or facilitate introductions within the companies.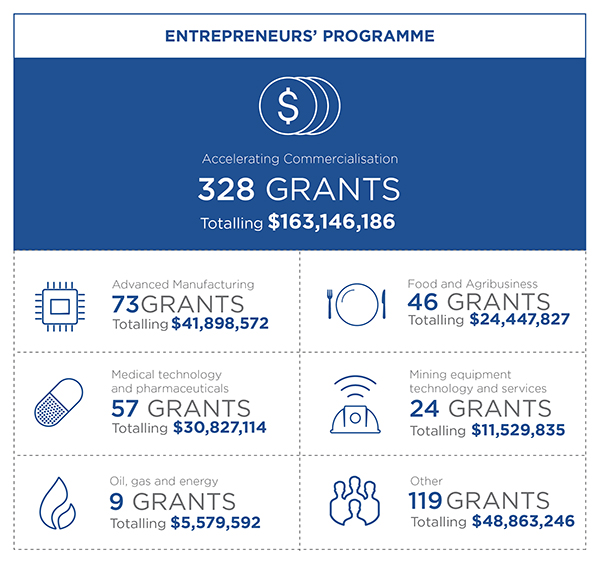 Funding overview August 2018.
Accelerating Commercialisation key figures and statistics by sector
---
Accelerating Commercialisation commenced 1 November 2014. As of 1 August 2018 there have been 328 commercialisation grants approved, with every dollar of funding matched by the applicant.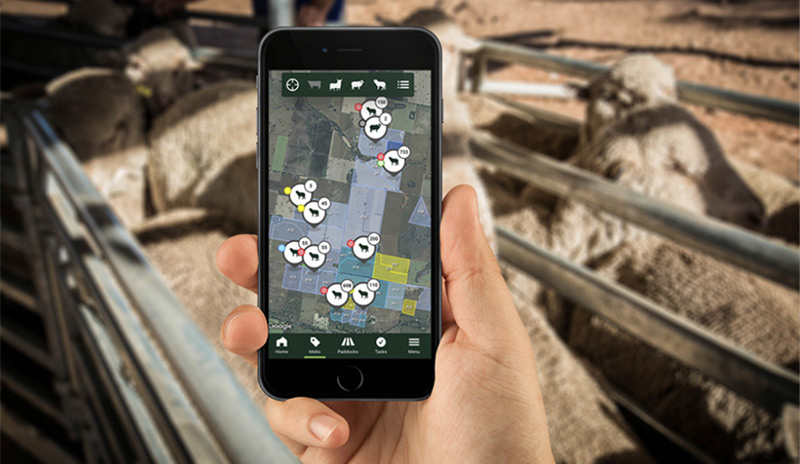 The AgriWebb mobile app.
AgriWebb, agriculture embracing the digital economy
---
AgriWebb's software enables farmers to facilitate best-practice farming from their tablets, phones or computers. It incorporates record-keeping and reporting, operational calendars, compliance to accreditation programs, livestock market valuations and core decision-making tools.
The business is signing up 50-60 new farms every month. AgriWebb's online products are helping those farmers make their agricultural enterprises more efficient.
In August 2018, AgriWebb secured a $14 million investment from the United Kingdom's Wheatsheaf Group for a minority stake in the business. From this collaboration, AgriWebb has acquired Wheatsheaf's FarmWizard, a livestock and dairy management software platform.
AgriWebb's cloud-based livestock herd management software and the FarmWizard capabilities make for a more advanced product suite.
"A focus on product consolidation will realise a set of features that dramatically improves the experience for our customers here in Australia as well as opening new channels for dairy producers, consultants and advisors all seeking to improve the productivity of global livestock farming." Justin Webb, co-founder of AgriWebb, says.
"Wheatsheaf believes in the application of clever technology to solve big problems in global food sustainability, productivity and provenance and has extensive industry expertise."
Seventy percent of AgriWebb's customers are based in Australia. AgriWebb has signed up more than 1,700 farms across Australia, covering 35 million acres, with 10 percent of Australia's livestock under management on its software.
The remaining 30 percent of its customers are spread across seven countries, and Webb said the start-up has been "thoughtful and deliberate" in pursuing international expansion. The acquisition of FarmWizard will stretch AgriWebb's reach to farmers, processors and retailers in the UK, North and South America, New Zealand and Australia, who have been using FarmWizard since it started in 2004.
AgriWebb and Wheatsheaf plan to use their collaboration to develop an international launch-pad for innovative thinking on farm management and global food matters.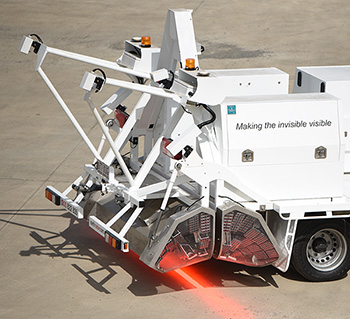 The Earth Radar machine.
Earth Radar – Google Maps for what's underground
---
Earth Radar was founded in July 2013 to focus on solving key infrastructure sector problems. Globally underground utility strikes cost billions of dollars, and Earth Radar has focussed on providing technology that provides faster, more accurate and deeper methods for locating and digitally mapping subsurface utilities. In addition, the company's technology can be utilised in the maintenance of paved roads, highways and airports allowing more accurate pinpointing of required repair and maintenance.
CEO and Managing Director, James Muir says "When you combine both of these into a single digital asset that extends to all Infrastructure, including rail corridors and ports, and also encompasses the Smart City initiatives, this market is enormous."
Earth Radar is led by James Muir, who has more than 27 years of experience in business and infrastructure finance, mining, spatial technologies and start-ups. James was the Head of Infrastructure for seven years at the European Bank for Reconstruction and Development in London. Upon returning to Australia in 2000, James was involved in the commercialisation of the CSIRO Quantm infrastructure optimisation technology in Australia, which expanded globally before a trade sale to Trimble in 2006. As CEO, James is leading the commercialisation of Earth Radar, domestically and internationally.
Also on board at Earth Radar is CTO and Executive Director, Dr Bryan Reeves, the former Chief Scientist of Radar Portal Systems Pty Ltd who has more than 15 years of experience in the development and commercialisation of new technology. Dr Reeves was instrumental in the research, development and commercialisation of the highly acclaimed and successful Slope Stability Radar marketed by Groundprobe. Dr Reeves is the co-founder of Earth Radar developing and commercialising the Pavescout road condition scanning system, the high-speed GPR Sparas, and GPR Latro technology and the associated software. Dr Reeve's primary role is the ongoing research and development of the integrated Earth Radar technology and the continual improvement of the product and software.
Earth Radar has developed a ground penetrating radar (GPR) technology that could be called the Google Maps of what is underground. The GPR technology and the associated interpretation software called UTILIVISION and PAVEVISION is specifically used for utility detection and pavement condition and dilapidation. The machine, called the GPR Latro, looks like an industrial mower and is pushed by hand. Its larger brother, Sparas is a trailer-based GPR that is towed behind a vehicle for road and airport scanning. The radar technology inside means the Earth Radar GPR is the answer to anyone needing to know what lies beneath the ground, to a depth of three metres.
The larger Sparas ground coupled GPR version can be towed at speeds of up to 100km an hour, unheard of previously, with capability that opens up big-scale jobs in industries such as roads and airports, mining, defence and ports.
Earth Radar used $968,000 of Accelerating Commercialisation funding to develop its GPR technology. Full-scale manufacturing challenges are being overcome rapidly. Accelerating Commercialisation support was used to develop early prototypes and to assist with strategic and investor partner connections, and opening opportunities into other government and private market sectors.
James says the Accelerating Commercialisation funding in Australia enabling Australian technology to become world leading.
"It helps to kick start our products and services into the global commercial markets by helping to address manufacturing scaling, international distribution and support issues and thorough condition testing of the products under multiple scenarios," James says.
James attests that the true value of the program lies in the expertise and guidance provided by their Commercialisation Adviser, Chris Burnett: "Our AC case manager, Chris Burnett, and the AC support team are exceptional. Larry Lopez (AC Director) and Chris provided benefits well beyond the funding with linkages to other opportunities in the private and government sectors, both domestically and internationally. The advice and guidance from Chris and the AC team has been very helpful to Earth Radar from the initial AC application, throughout the project and continues post-project. We are very grateful to have access to such support from the Department of Industry, Science, Energy and Resources and we look forward to the continued support from an excellent enabling program."
A long investment in time and money is set to pay off for Earth Radar Pty Ltd with full scale manufacturing and export sales to the markets of Japan and South Korea and plans to launch into the huge United States and China markets now underway.
"International interest in this patented Australian technology has been tremendous with enquiries from Europe, United Kingdom, Africa, North America and a recent delegation visit from China. The fact we can scan in 3D, deeper, more accurately and at traffic speeds due to our uniquely designed ground coupled antennas means utility, road and airport asset owners can map the underground without the need for traffic control or lengthy delays," says James.
Domestically, Earth Radar is developing, manufacturing and using their technology to deliver as a service via subsidiaries Earth Radar Pavements and Earth Radar Utilities. This includes data capture, analysis and production into electronic formats for use by asset owners or their appointed consulting engineering firms or contractors.
James notes that "You think you know your market, but always be prepared for new unforeseen application of your current solution. For Earth Radar, during the AC project, this came from the construction sector who enquired about the ability for our patent 3D ground coupled radar to measure base, sub-base and pavement layer depths and consistency."
"After a trial application, Earth Radar was excited to see a whole new market in pavement construction for our GPR products which were successful in this trial. Essentially ground penetrating radar can be used to accurately measure the layer and depth consistency for a large pavement areas over 1000s m2, reducing the need for the contractor to use extensive destructive core or excavation analysis of their newly laid layer of aggregate, concrete or asphalt."
Earth Radar is excited about the expanding interest in new sectors with some of the largest companies in each of these sectors including Military and Utilities Maintenance-Power, Water, Telecommunications and Gas.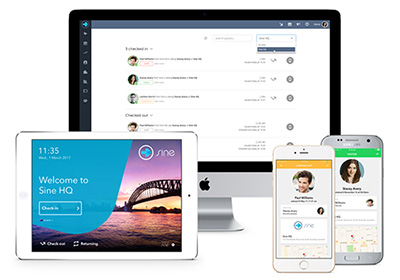 Sine shines in finding solutions to workplace access issues
---
Sine was founded in 2014 with a mission to make it easy for visitors, contractors and staff to check-in to the everyday workplace locations they attend using their smart phone, an iPad or the web. Sine developed a mobile visitor access and contractor management system to help work sites to better monitor and control sites and devices.
An Adelaide native, founder and CEO, Antony Ceravolo, loves building great teams. He has founded various technology and media businesses over the last 15 years, in Australia and Europe. He co-founded LOVEFiLM.com, the video on-demand platform that was sold to Amazon Inc. in 2008.
Sine's system replaces paper-based sign-in systems by utilising the web, tablets and mobile devices. Sine's system is ideal to fast track check-ins or registrations for conferences, training sessions, and can facilitate site inductions.
The increased connectivity provided by Sine's system allows for more accurate records and enables the users to receive venue messages – such as emergency notices and fire evacuation diagrams, non-disclosure agreements or health and safety processes.
Antony says "We want to make your operations safer and save time for your visitors, contractors and your team."
Sine's system integrates a number of check-in processes, resulting in improved efficiency and consistency. Photo IDs can be included to improve safety checks at sites, visitor and contractor badges can be printed in an instant via iPads, the web or the Sine mobile app. Work site management and administration receive notifications when visitors arrive, and hosts can invite and check out guests on their own web log-in or Sine apps.
Sine used $378,000 of Accelerating Commercialisation funding to develop their mobile apps and cloud integration. Accelerating Commercialisation support was also used to develop their business plan and secure IP protection.
Sine has experienced rapid growth from activities set up during their Accelerating Commercialisation grant phase. Accelerating Commercialisation support was the catalyst for Sine to grow from six employees to 30 and for revenue to grow a staggering 400 per cent.
"We found the AC program to be a really disciplined way to grow without losing focus," Antony attests. Our AC Adviser was very help helpful in guiding us though the project milestone structure that needed to be established to facilitate the programme. Setting out clear milestones in our project really helped us though our roadmap and was a disciplined approach to our growth plans. Following the conclusion of the grant, our AC Adviser has helped us with introductions to important business contacts and has provided invaluable mentorship."
"AC funding was a game changer for us. It allowed us to increase our development team, which has fast-tracked the roll out of software. It's really allowed us to move faster."
Sine has built on this rapid growth and success and is now live across 2000-plus cities globally with full time operations in the US, Asia and plans to expand into Europe. They have expanded from their base in Adelaide with operations in Los Angeles, London, New York and Baguio City, the Philippines.
A testament to their technology's versatility, Sine has been rolled out to thousands of companies around the world, and is used at locations such as schools, sports stadia, offices, industrial, medical, retail and commercial facilities.
Sine has built a strong global reputation as demonstrated by their work with corporate customers such as Charter Hall, Goodman, Stockland, Dexus, JLL, Cushman & Wakefield and Knight Frank, General Electric, Lendlease, Vodafone, HPE, iag, Arup, QBE, AstraZeneca, Tyro and thousands of other businesses around the world.
"We are scaling fast and hiring like crazy. Every day here is now very exciting and the team are really motivated to take on the challenges as we build a world-class product," Antony says.
Innovation is a way of life for the Sine team and they want to drive growth and become recognised as a global SaaS (software as a service) platform. Sine will continue to innovate through commitment to their product roadmap, and by maintaining their focus on improving their technical skills and the reach of their product. Sine is committed to innovation at the highest level, and encourages their staff to view the company as a stimulating place to learn and grow.
"Every week we are helping not-for-profits, schools, governments and small businesses make their facilities safer and more secure. We love helping these smaller organisations, just as much as the larger global corporates," Antony says.
"Finding solutions to everyday workplace issues is what gets us up every day here at Sine HQ. Antony says. "We thrive on helping the largest corporates through to the local school, to find an easier way to streamline their workplace with paperless, secure and easy to use solutions that save time."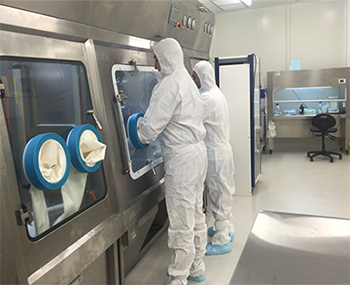 Trimph: Alleviating the physical and systemic burdens of oral surgeries
---
In Australia there are almost 300,000 oral and maxillofacial surgeries a year, this is in addition to more than 60,000 hospital visits attributed to post-oral surgery complications. Trimph was founded in August 2015 by Dr Ali Fathi and Terence Abrams with the mission of alleviating the physical and systemic burdens caused by oral and maxillofacial surgeries.
They developed TrimphDent, an injectable medical device that promotes the natural regeneration of bone, cartilage and tissues. This dental device improves success rates and recovery periods while reducing complications and discomfort, from oral surgeries.
Terence and Ali met at the University of Sydney in 2013. Together Ali & Terence built Trimph and raised $1.5million from investors. As their product has evolved, so has Trimph.
Thanks to the assistance of Commercialisation Adviser, Maureen Murphy, Trimph has maintained its drive and focus. Dr Fathi attests to the value of Maureen's guidance: "Our AC Commercialisation Adviser, Maureen Murphy, was instrumental in developing the execution strategy for the commercialisation of TrimphDent, as well as instrumental in Trimph's AC application. Maureen's strategic advice with regards to planning, implementation and logistics were key drivers of both the technology and development plan."
Within 18 months of incorporation they have been working to establish clean-room production facilities for the company, secure non-dilutive government funds and to initiate and complete the first in-human use of Trimph's technology.
Co-founder and President, Dr Ali, further explains their revolutionary invention: "The TrimpDent biomaterial is a liquid that is delivered to a defect site without the need for invasive surgery; once injected, TrimphDent uses heat from the body to form an elastic scaffold for natural tissue healing."
TrimphDent is an improvement on the currently available bone grafting procedures. It sets quickly and has been proven to improve healing times for both soft and hard tissue.
Trimph provides a physical scaffold to guide and enhance the body's natural regenerative abilities to repair the injured tissues. The clinical use of their products will reduce the reliance on open surgeries, and improve recovery times, therefore enhancing the health outcomes for millions of patients worldwide. For example, Trimph can be used to guide stem cells that are present in the body to an injured joint to promote cartilage repair. This eliminates the need for more invasive procedures such as open full joint surgeries or joint replacements.
Trimph used more than $690,000 in Accelerating Commercialisation funding to progress through the Therapeutic Goods Administration regulatory processes, and to position the company for sales and further capital raising.
The importance of the Accelerating Commercialisation support cannot be understated. It enabled Trimph to conduct their first in-human trials, which is by far their most important milestone in their pathway to commercialisation.
Dr Ali highlights the value of this support: "AC support provided us with the opportunity to complete the first in-human clinical trial. It was post-completion of this milestone that meant Trimph could trigger interest from multinational healthcare companies to partner with Trimph to develop other pipeline products."
Just recently, the company secured $1 million from a NSW Medical Device Fund, and Dr Ali said the AC grant was instrumental to securing that grant.
TrimphDent is just the beginning, the company has four further pipeline products: TrimphGel for cosmetic treatments; TrimphSeal, a surgical sealant; TrimphFlex for cartilage regeneration; and TrimphGlue for bone fractures.
Trimph has its eye set on global expansion, and aims to directly commercialise TrimphDent for dental applications by registering the product in Europe and Australia. It's estimated that TrimphDent will be commercially available in Australian and European markets by the end of 2020.
Trimph is targeting clinicians, and aims to establish strategic corporate partnerships with international healthcare companies to facilitate the commercialisation of their other pipeline products. These partnerships will maximise Trimph's market penetration, they are already in commercial terms discussions with a German-based company.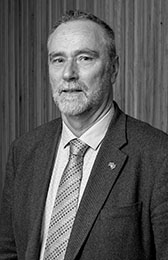 Adviser, Grant Steinberg.
Meet Commercialisation Adviser Grant Steinberg (SA)
---
Grant Steinberg is one of 21 commercialisation advisers in the Accelerating Commercialisation network.
Grant draws from 30 years of experience establishing and leading innovative technology-based companies. This experience comes from working in several sectors including an automotive trade background, product design and development, IT and Software.
Grant holds a Bachelor of Design in Industrial Design (University of South Australia) and has represented the SA ICT industry in an advisory capacity to the State Government and with AIMIA nationally during its formative years.
Prior to joining the Accelerating Commercialisation team, Grant co-founded two successful start-ups, delivering unique solutions to high-profile clients, nationally and internationally.
As CEO of Groundhog Software, Grant oversaw development and the commercialisation of a diverse range of technology-based products and services before they became mainstream including: pioneering early content management and web-publishing platforms, allowing clients to develop and maintain their own websites, and secure intranets and extranets.
Grant's software background includes specific expertise in delivering complex software integration and application development projects for clients as diverse as Pernod Ricard and Fox Sports International and interactive product manuals for Konica Minolta Japan. Grant also supported the successful spinout of software start-up Shifty Jelly, into the emerging mobile application space.
Grant's previous work gives him the skills and experience to assist companies across diverse sectors and industries including broad exposure to the wine, oil and gas, manufacturing, and financial services sectors.
With his background in Industrial Design, Grant has designed, developed and commercialised products as diverse as high performance sporting equipment for the sailboard industry, home irrigation products - still selling after 25 years, and an innovative, world-first electric guitar concept, featured in Design World magazine in 1995.
Grant considers the most valuable and widely applicable skills he has developed would be the creative process itself, and the ability to innovate through creative problem solving.
Grant says these skills have application in every business.
He joined the SA/NT Adviser team in 2012.
"I am deeply passionate about sharing my experiences, for the potential benefit of the diverse companies that we assist within the Accelerating Commercialisation element of the Entrepreneurs' Programme and beyond," Grant says.
"The attraction of working with a talented cohort of advisers nationally, and companies at every stage of growth and maturity and across all sectors, is immense. As advisers, we also have the opportunity to contribute to the development of Australia's vital innovation culture, and I don't take that responsibility lightly."
Grant is an active mentor and holds advisory board positions to an assortment of early-stage technology start-ups.
Tell us one thing about you that few would know?
My first paid job was an automotive apprenticeship where I went on to specialise in high-performance European vehicles including, Ferrari, Lamborghini and Maserati.
My great grandfather was one of the engineers that developed the first petrol driven passenger vehicle in South Australia – known as Lewis motor car number 1, November 1900.
Most exciting deal you've ever been involved in?
Most memorable was the first… signing a license agreement for the manufacturing and distribution of my innovative Helix electric guitar design with Lace Music Products in the United States.
Most exciting was the most recent, with the acquisition of Shifty Jelly in April 2018 for their class-leading Podcasting app Pocket Casts by a consortium of Public Radio companies - NPR, WNYC Studios, WBEZ Chicago, and This American Life. The success of this deal is richly deserved by the co-founders, Russell Ivanovic and Philip Simpson, former software engineers at my second software start-up, Groundhog Software.
What do you enjoy about being a Commercialisation Adviser?
There's a lot to like… but the diversity of the companies we meet and the opportunity to see their technologies and to work with them at such an early stage is both rewarding and intellectually challenging.
I enjoy engaging with our talented national cohort of advisers, but the ultimate thrill is in witnessing Grantee companies achieving their milestones and knowing that AC has played a role in accelerating their path to success.
What is your favourite pastime/hobby?
I enjoy everything about photography, from the technical advances of the latest digital cameras, the challenge associated with the creative process and image capture, through to digital image processing and large format printing.
Who do you barrack for?
I'm a Crows supporter but to keep it interesting my wife Michelle supports Port Power.
The strangest place you've been?
One that springs to mind would have to be hiking into one of Hawaii's dormant volcanos – Haleakala on the Island of Maui. Like a lunar landscape, often above the clouds at 10,000+ feet elevation, freezing cold and such a stark contrast to the coastal landscapes and beaches.