Accelerate – Issue 5
Accelerating Commercialisation
Last Updated: 26 June 2020
The fifth issue of Accelerate showcases handdii, Lumi.Media, NXT TEC., AgriDigital, MATCHBOX Exchange, Liquid Instruments and CEC Systems. We also announce a new collaboration that helps Australian start-ups access the Landing Pads Fast Track Program overseas.
Introduction from Mr Larry Lopez, Director of Accelerating Commercialisation
---
In this edition of Accelerate we highlight a few of the many exciting female founders we have been able to assist through access to the Accelerating Commercialisation Program. We also are pleased to announce our exciting link with the Australian Trade and Investment Commission (Austrade) and their Landing Pad initiative. There is also an excellent story profiling Topaz Conway one of our New South Wales based Commercialisation Advisers. Besides all the past and ongoing contributions to the success of projects she touches though her Accelerating Commercialisation activities, Topaz is a national leader in encouraging and enabling female entrepreneurs.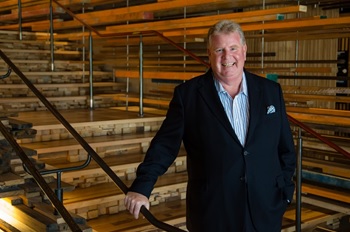 Director, Mr Larry Lopez
If Australia is to achieve its rightful place as a global leader in commercialising innovative ideas, then increasing the participation and inclusion of female founders and female led businesses is a mission critical imperative. Simply put, we must attract and welcome more female founders to the start-up ecosystem. At Accelerating Commercialisation we welcome every opportunity to meet and support aspiring entrepreneurs, and we are particularly excited to support female founders.
Another important factor in growing a successful start-up economy is enabling companies with global aspirations to achieve their goals. By linking up with Austrade and arranging priority access for Accelerating Commercialisation recipients to the Austrade Landing Pad in San Francisco, Singapore, Berlin, Shanghai and Tel Aviv, we provide our companies with an opportunity to accelerate foreign market entry. The Landing Pads provide access to local networks and local market knowledge along with an excellent opportunity to develop and validate market entry strategy.
As you will see in the charts below, we continue to add more companies to the Accelerating Commercialisation Portfolio. As of this edition we are now up to 375 companies, and we expect to announce several more in the very near future. We are very proud of the companies we have been fortunate enough to support.
If you are interested in learning more about any of the companies or would like assistance to facilitate introductions, please contact us at ExpertNetwork@industry.gov.au.
Accelerating Commercialisation key figures and statistics by sector
---
Accelerating Commercialisation commenced 1 November 2014. As at end February 2019 there have been 375 commercialisation grants approved, with every dollar of funding matched by the applicant.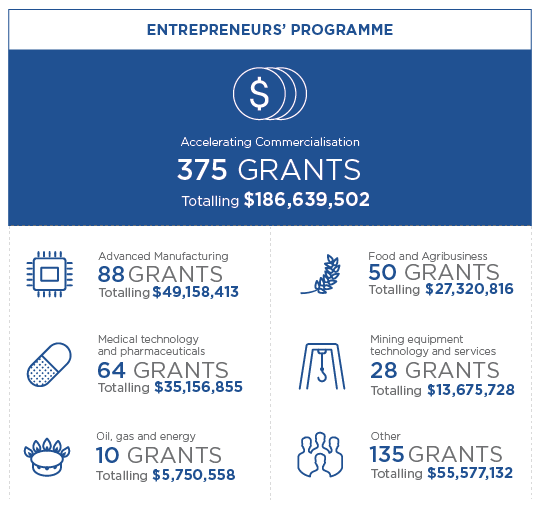 Funding overview February 2019.
handdii: A new technology that takes the frustration out of property insurance repairs
---
Kathryn Wood and Christie Downs are Co-Founders of handdii Pty Ltd, a start-up created to address the issues of property insurance claims. The starting point for handdii came after Kathryn and Christie sat next to each other on an international flight and were discussing the problem of escalating claim costs and the importance of delighting an insurance customer who has suffered a loss.
Kathryn and Christie have extensive experience in property insurance claims. Their domain knowledge, deep understanding of property claims and industry credibility has positioned the pair well to create a product and business solution to address the specific pain points of the insurance property repair sector.
Their vision for handdii is to be a multinational business connecting millions of local contractors to help millions of homeowners with their property insurance claims - especially small claims.
Kathryn lead the Motor and Property Claims division for QBE Australia, servicing more than 250,000 customers annually and managing a $1.5 billion claims indemnity spend. She led teams of 600 staff across Australia and the Philippines.
Christie, as National Sales Director and on the Executive Board of insurance building company Johns Lyng Group, led revenue growth from $12 million in 2004 to $350 million-plus in 2015.
The digital technology behind handdii streamlines the claims process and empowers and connects customers, insurers and trades.
"We all recognise the future is all about customer experience, and in property claims the person that turns up on your doorstep to repair your home is ultimately fulfilling the promise of your insurance company," explains Kathryn.
"That is why, unique to any product available today, handdii has truly focused on empowering trades to be their best."
The claim repair process for property claims is cumbersome, has multiple stakeholders, lacks transparency and is unnecessarily complex. This has resulted in property claim repair costs per policy increasing by 412% - indexed against 2001 costs. These increases cannot be matched by premium increases.
The target market for handdii is insurance property repair work, specifically small claims that can be repaired by two or three trades without the need for supervision from a builder. The insurance property repair market is worth $5.6 billion and there are more than 500,000 claims per year addressable by handdii in Australia.
handdii launched in March 2019, initially in Melbourne before expanding nationally. Over 250 trades have been on-boarded by handdii in the greater Melbourne area, and they will be seeking additional reputable trades who pride themselves on their quality and delivering a commendable customer experience.
The Accelerating Commercialisation Program demonstrates Australian Government support for innovation and the company was awarded a grant of $255,987 in December 2018.
"handdii has the opportunity to have a positive impact on millions of Australians by helping to make property insurance repair quicker and easier – government support has improved our speed to market," says Kathryn.
"Our Commercialisation Adviser Joe Barber has become a business mentor. His business and tech expertise and advice has offered great perspective and counsel for us in this commercialisation phase," adds Christie.
The founders have big business goals for handdii but also want it to make a difference for the workplace gender equality in insurance, construction and technology industries.
Those industries are at the core of property insurance claims, and industries in which women are grossly underrepresented in leadership roles.
"We want to set an example for young women that you can create, build and lead an amazing business" says Christie. The founders live by the motto "be the change you want to see". Both Christie and Kathryn are prime examples of taking on a male-dominated industry and not being afraid to create a change.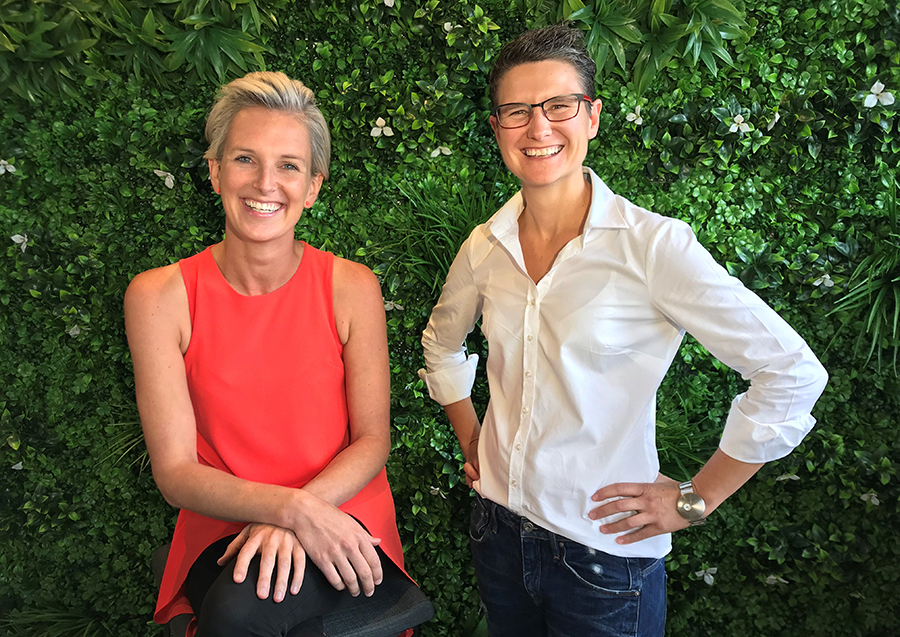 handdii Co-Founders: Christie Downs and Kathryn Wood
Lumi.Media – empowering creative teams to work better together
---
Karen Dewey is an Australian screen producer with 30 years' experience in the television industry. She recognised that creative content – especially in TV production, could be done more efficiently if every member of the team was able to contribute their ideas and work in the one place, with updates and changes made universally across a common platform.
Enter her brother Neil Dewey, a software developer who designed and built an application now used by Australian intelligence agencies.
With Karen's sector knowledge and Neil's development skills, the Dewey siblings started Lumi.Media Pty Ltd in 2015, and built a cloud based Software as a Service (SaaS) management and collaboration platform for the entertainment industry.
"Lumi.Media believes in a world where high performance creative teams can harness clever technology to reach new heights of creativity and productivity - wherever and whenever they work," says Karen Dewey, Lumi.Media Co-Founder and CEO.
"Lumi is a powerful end-to-end SaaS platform that ignites creativity and drives productivity. It offers one collaborative and dynamic place online that makes creative teams work better together."
Karen has targeted market leading television production companies as pioneer partners. In the first half of 2019 Lumi will focus on increasing their number of Australian customers.
Lumi.Media is working closely with production companies like CJZ (Bondi Rescue, Go Back to Where you Came From, Muslims like Us, Christians like us), Fremantle Australia (Australia's Got Talent, Neighbours) and Channel Nine/Cavalier (The Block) to make their productions better, faster, cheaper; and importantly, enhancing the delivery of the vision of the producers.
"The creative content industry is a multibillion-dollar worldwide industry that includes scripted and non-scripted screen productions, sports broadcasting, major events and festivals and talent management," says Karen.
"Pioneer customers used words like "magic" to describe the Lumi effect on their productions and it quickly became clear there was potential to Lumify any high performance organisation with teams producing ongoing creative projects."
"Our ambition is big. We want Lumi to be the ubiquitous solution worldwide across all of these genres."
"One of the world's most successful long-running TV dramas, known and loved globally, is pioneering Lumi as one of our first clients in scripted content. This production creates six shows a week, 48 weeks a year, and they chose Lumi to make them more efficient. That was an exciting day," recalls Karen.
Alongside CJZ and Fremantle Australia, Racing.com is a pioneering partner of Lumi.Media. A joint venture between Racing Victoria and Seven West Media, Racing.com is the media rights holder for Victorian and South Australian thoroughbred racing, as well as broadcasting Hong Kong and other selected international feature race meetings. By partnering with Racing.com, Lumi.Media will be exposed to a new genre of television production and a global audience.
The Lumi platform saves time through touch-of-a-button automation. It captures everything in one system and finds historical content, context and knowledge in an instant.
Karen says the Accelerating Commercialisation Grant of $668,000 awarded in July 2018 to Lumi.Media was huge recognition of the innovation behind the product. It allowed the start-up to recruit the right people needed to partner with large multi-national companies, a key to becoming successful.
The funding enabled Lumi.Media to employ another staff member growing their team to eight with three more full time employees to commence soon as momentum builds. Masters students from the Australian Film, Television and Radio School also work in Lumi while creating their projects, which is increasing the usage of the platform and setting the company up for continual growth.
"The AC Grant has given us the scale we need to deliver on our ambition," Karen adds. Lumi.Media has raised a further $250,000 in capital since being awarded support through the Accelerating Commercialisation Program.
The highlight of the program was the help of the Commercialisation Adviser Murray Rankin, who helped Karen and Neil through the process. He encouraged them to interrogate their business plan more closely and address issues that may otherwise have gone into the "we'll cross that bridge when we get to it" basket. The Accelerating Commercialisation process enabled and encouraged Lumi.Media to set their path more clearly, which has aided with their early success in attracting high profile clients.
As a female industry exec with experience over multiple content genres, Karen is passionate about using her energy and leadership to build a solution that will transform her industry. Her vision is that Lumi will allow people to capture ideas and grow and build their projects from anywhere in the world at any time day or night. "The best ideas and solutions may come to people when they're picking the kids up from school, standing in a supermarket aisle, or sitting at the beach. Desk hours are a thing of the past. That's what Lumi was all about in the first place."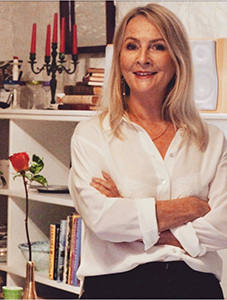 Lumi.Media Co-Founder and CEO Karen Dewey
NXT TEC. – delivering faster, cost effective, higher quality buildings with low environmental impact
---
Natasha Di Ciano, Chairman and Managing Director of NXT TEC. is on a mission to ensure she leaves the earth in a better place.
NXT TEC. is changing the construction sector with game-changing innovation that can assemble buildings 50 per cent faster and cost 20 per cent less than conventional construction methods.
NXT TEC. is commercialising the NXT™ Building System, a suite of 11 integrated patented technologies that mechanically assemble to create the entire building structure from the foundation up. Invented by Mat Lim, Technical Director of NXT TEC, it uses smarter materials in a more intelligent way.
NXT TEC. was awarded an Accelerating Commercialisation Grant of $479,726 in October 2017 to expand the capabilities of its NXT™ Technology to the global market.
The NXT™ Building System improves efficiency by managing, standardising and simplifying the building process from design and manufacture through to completion, utilising local suppliers and labour at every step of the journey. NXT TEC. delivers more cost-effective, higher quality low environmental impact buildings in a faster time frame.
"I met Mat in 2010 and we shared an extraordinary vision of bringing innovation to the construction sector worldwide. The construction industry has been slow to embrace new technologies and building processes, and most buildings are being constructed in the same way today as they have been for decades. We aim to be the leading global provider of innovative and sustainable building solutions. We have started in Australia and are developing strategic partnerships and licensing for the use of the NXT™ Building System internationally, with an immediate focus on the Asian market. Discussions are progressing with a number of parties in Asia with respect to specific projects and we expect this to result in the successful deployment of the NXT™ Building System into international projects over the next 12-18 months." says Natasha.
As a result of support from the Accelerating Commercialisation program, the technologies will be implemented into the building structure of the Wyndham LUX Perth Hotel, which utilises and showcases the versatility and capability of the NXT™ Building System. The five-star Hotel is capable of being built within 12 months, from foundation to completion including fit out with construction to begin in the near future. This design will build the world's first hotel that achieves a verified Environmental Product Declaration (EPD). Producing an EPD allows companies to be transparent in the environmental impacts the structure will have by highlighting the sustainability of the structure for its entire lifecycle.
Being part of the Accelerating Commercialisation Program has provided NXT TEC. with the opportunity to have an independent assessment and validation of NXT TEC.'s business and commercialisation strategy, as well as invaluable support and mentorship from their Commercialisation Adviser, Sheryl Frame.
"The support of the Australian Government through the Accelerating Commercialisation Grant, and the Australian Government's ongoing relationship with NXT TEC., validates the importance and viability of continuously innovating to revolutionise the construction sector for a more sustainable future in Australia and globally. Together, with the backing of the Australian Government, we are simply building tomorrow" states Natasha.
Aside from her activities leading the way with NXT TEC. in environmentally aware building, Natasha is also raising awareness of human trafficking. She founded and is the Chairman of Dine for Life, a not-for-profit that has raised significant funds to help women and children affected by human trafficking and exploitation globally. She also established and is a Director of two Australian charities that have provided financial support to children requiring urgent medical treatment.
"I believe success is making a positive difference in people's lives and to the planet, much more so than solely being focused on financial gains. I want to make a real difference in the world and to have led change that needed to happen," says Natasha.
When looking at how more women could get into business, Natasha has this piece of advice for start-ups: "Have confidence, courage and conviction. Believe in yourself and what makes you unique and be proud to communicate that to the world. Be authentic. The biggest challenge in business is losing confidence because business is challenging, but these challenges are opportunities to learn, grow and build resilience. Build a strong team who share your core values, take your time to make good decisions, use your intuition, be a professional at all times and never compromise your integrity."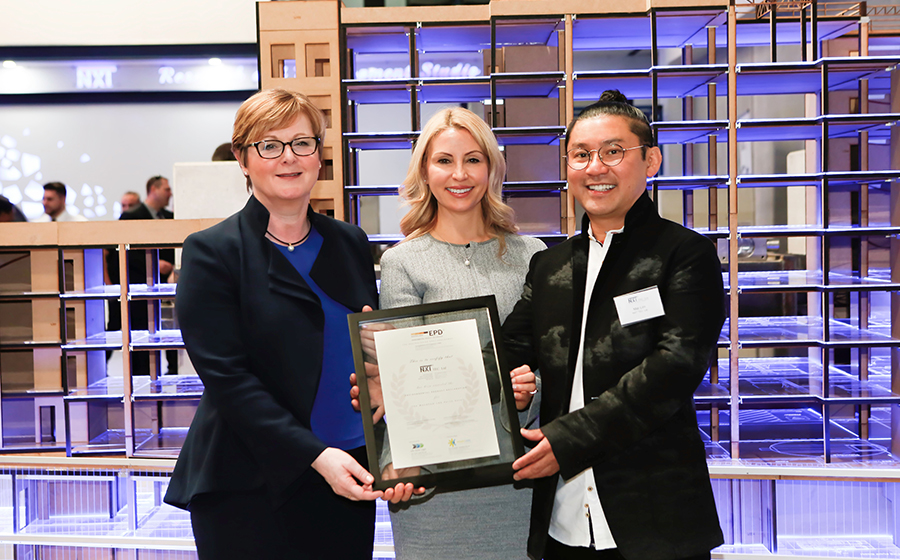 Senator for WA, Linda Reynolds, presenting NXT TEC.'s Chairman and Managing Director Natasha Di Ciano and Mat Lim, Technical Director and Inventor of NXT™ Technology with their verified Environmental Product Declaration (EPD) which is a world first for hotels.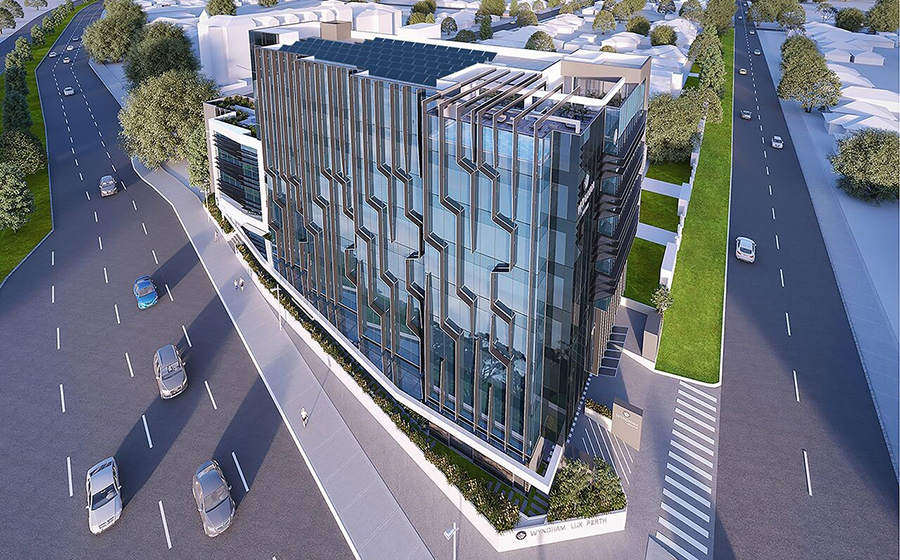 Design plans of the Wyndham LUX Perth Hotel implementing the NXT Technology. It will be the first hotel in the world to obtain an Environmental Product Declaration.
AgriDigital - allows local Australian farmers to connect to the global supply chain
---
Emma Weston, CEO and Co-Founder at AgriDigital, says emerging digital technologies is the way to create cost-effective, efficient and world-leading agri-commodity management and supply chain solutions with global impact.
AgriDigital launched their platform in September 2017 after Emma and her Co-Founders, Bob McKay and Ben Reid, spent two years developing a state-of-the-art solution to solve the challenges faced by multiple participants in the agri-food industry and the entire supply chain.
The three founders have more than 80 years of combined experience in the grain industry. All founders are grain farmers with significant commercial experience. They have been part of the Australian Wheat Board during the deregulation of the grains industry and also owned and operated Agfarm and Clear Grain Exchange. Their experience has given them unique insight into the agrifood industry and supply chains and the challenges faced within the industry.
While currently focused on the grain and cotton industries, the vision for AgriDigital is to be the platform for any commodity around the world.
"We have seen and experienced the inefficiencies in the agricultural supply chain first hand. We all knew there was a better way and by using emerging technologies we could create that," says Emma of the Co-Founders' dream.
AgriDigital's ambition is big; to make global agricultural supply chains simple, easy and secure - from farmer to consumer by connecting all parties in the supply chains to ensure the integrity of the trading, tracing and finance involved.
Real time transactions, and the ability to perform these using blockchain technology gives AgriDigital users live information about the location and status of their asset at any given time as it moves through the supply chain.
The platform provides AgriDigital users with full scale trade flow management, access to finance and traceability of the origins of the item. It makes workflows standard and dramatically reduces the opportunity for fraud.
AgriDigital now has 37 customers and more than 3000 active users, operated in 30 different countries, with 5.2 million tonnes of grains and cotton - worth $1 billion transacted through the platform.
As CEO and Co-Founder at AgriDigital, Emma Weston leads all aspects of business strategy, stakeholder engagement, blockchain and talent management with oversight of the sales, broader technology and operational environments.
Emma's diverse career as a lawyer, agribusiness executive, start-up mentor and executive coach adds a wealth of strategic and operational experience to the AgriDigital team. Her knowledge of industry-best practice drives AgriDigital's innovation, product development, internal systems, and customer service. In 2017, Emma was recognised as the Female Fintech Leader of the Year in Australia and was also named a Top 25 Fintech Influencer.
With AgriDigital now entrenched in its initial target market of Australian grain, and growing within the cotton industry, business goals for 2019 will to work on capturing customers in North America and Canada.
"In the United States and Canadian markets we have begun to identify key early adopters and influencers for early-stage partnering and piloting of AgriDigital," says Emma. "We have undertaken extensive market research visits to Canada and the US and have formed a number of relationships with partners of influence and early adopters which are now being crystallised as pilot customers."
"AC provided an important injection of non-dilutive capital at a key time in our development and progress as a company - but also enabled us to begin a long-lasting relationship with our Commercialisation Adviser Topaz Conway which provided us an alternative development and growth lens to that of the founders and our investors" Emma says.
AgriDigital staff numbers went from 22 to 47 after receiving a $1 million Accelerating Commercialisation Grant awarded to them in July 2017.
Emma Weston and Bob McKay will this year open a Chicago office to establish that market presence, grow the AgriDigital team and brand. This follows a three month residency at the San Francisco Landing Pad. Emma arrived at the Landing Pad with a clear goal: to validate the go-to-market strategy for North America. She wanted to create brand awareness in the market, build relationships with potential customers, the regulatory community and other stakeholders, and connect with potential investors.
"The Landing Pads program helps to demystify the process of moving to the US," says Emma. "But you're doing it in a group, so you're not alone trying to work those things out."
"Landing Pads gives you a soft landing but also propels you forward,' says Weston. 'Now we will be going to the US with a customer base that's either signed on or in the pipeline. That's a compelling story for us and for investors."
Emma believes the Landing Pads and Accelerating Commercialisation programs are a natural fit. "Starting a business, going through R&D, going through a commercialisation process and then taking that to an overseas market, that's a natural flow - and it's backed by the Australian Government," she says.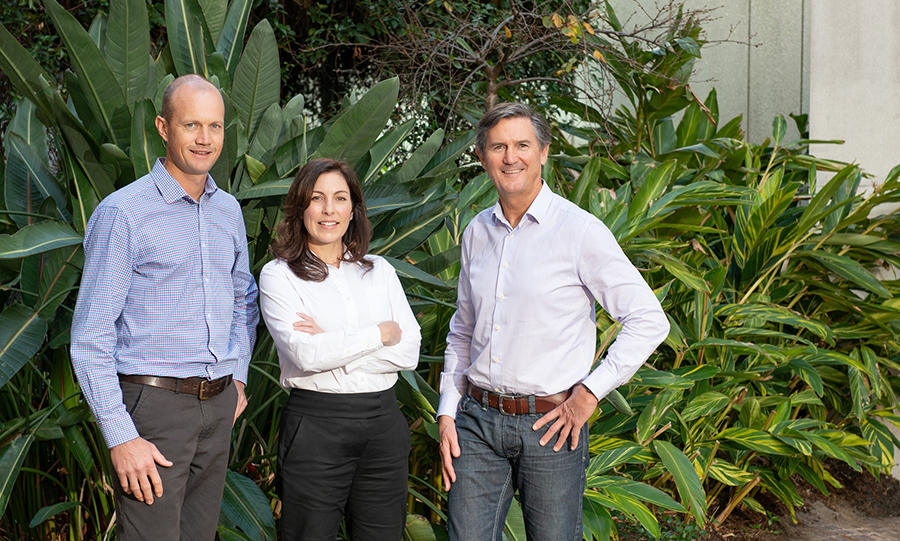 Emma Weston and her Co-Founders of AgriDigital, Bob McKay and Ben Reid.
New government collaboration helps Australian scaleups go global
---
The Australian Government has taken an exciting new step to help Australian scaleups take their business to the world. In January 2019, the Department of Industry, Science, Energy and Resources (DISER) and the Australian Trade and Investment Commission (Austrade) launched a fast-track program to help promising businesses expand into global markets.
Through this collaboration, recipients of an Accelerating Commercialisation Grant will get priority access to Austrade's global Landing Pads program.
Landing Pads are residencies at co-working spaces in overseas cities. The program objective is to foster the connections that help market-ready start-ups and scaleups go global. Participants spend up to 90 days in assigned offices in Berlin, San Francisco, Shanghai, Singapore and Tel Aviv, learning and growing among some of the most exciting start-ups in the world.
As of January 2019, 206 small Australian companies have completed the Landing Pads program. So far 11 Accelerating Commercialisation Grant recipients have completed the program, two are currently at a Landing Pad and six are waiting to start their residency.
To apply for the Landing Pads Fast Track Program, applicants need to complete an application form via the Landing Pads website and indicate they have already received funding from Accelerating Commercialisation -including when the funding agreement was entered into. Once a company has been accepted, they will undertake a consultation session with a Landing Pad Manager to decide which Landing Pad will best support their goals and the optimal timing to maximise the value of their residency.
The new Landing Pads Fast Track Program is a powerful opportunity for ambitious scaleups looking to expand beyond Australia's borders.
"We are proud of the all companies we have been fortunate enough to support, and look forward to supporting promising companies through access to the Landing Pads Fast Track Program," says Larry Lopez, Director of Accelerating Commercialisation. "Most of the companies we work with are 'born global' and aspire to achieve export revenue in the very short term, so the Landing Pad program is a natural next step for them."
To help them achieve their global goals, Landing Pad participants receive one-on-one business development support from an onsite Landing Pad Manager. The manager facilitates introductions to potential customers, investors, mentor networks, partners and strategic business opportunities.
Participants can also tap into Austrade's combined strength of 81 offices in 48 markets and extensive international business and investor networks to make contacts outside of the Landing Pads. Once they've completed the program, participants receive ongoing Austrade support as they take their next steps.
"Grant recipients have a great opportunity to access support from the Australian Government in taking their business global via the Fast track Program," says Shelley Jackson, Acting Assistant General Manager, Austrade. "The collaboration will deliver a faster path to commercial outcomes for recipients by introducing and promoting them to international customers and partners within Landing Pad locations and surrounding markets."
Matchbox Exchange is revolutionising global logistics
---
As the CEO of a leading wharf logistics business for 13 years, Carl Marchese was frustrated by how much money the company spent moving shipping containers in and out of empty-container depots. He saw an opportunity to innovate and in 2016 founded MATCHBOX Exchange Pty Ltd, which allows wharf carriers to directly exchange empty containers.
Through an open-market cloud-based platform, a company that needs an empty container is matched with a company that has one, and they can collaborate to arrange an exchange. It's world-first technology, and it's helping customers cut costs and reduce transport needs. So far, MATCHBOX Exchange has eliminated more than 50,000 tons of carbon emissions.
Thanks to an Accelerating Commercialisation Grant secured in January 2017, MATCHBOX Exchange further developed its software and undertook commercial trials throughout Australia. Marchese was also able to hire a chief technology officer and a business analyst.
"Being awarded the grant is good validation," says Marchese. "It means you've demonstrated that there is a unique problem you're solving and that it's a project worth backing."
At the end of the commercialisation project period, in June 2018, MATCHBOX Exchange had a commercially viable business. The company's customer base grew from five Queensland-based trucking companies to 250 companies across Australia and New Zealand. It's also now partnered with eight of the world's top shipping lines.
When MATCHBOX Exchange was ready to expand overseas, Austrade's Landing Pads program was there to help. From September to November 2018, the business was based at the Singapore Landing Pad - a WeWork collaborative workspace in vibrant Tanjong Pagar, near the central business district.
The Landing Pad helped MATCHBOX Exchange assess potential markets, opportunities and competitors in Southeast Asia, and to understand the regulatory and cultural environment.
"We found the Landing Pad very valuable, particularly because we were able to establish some really great networks with Austrade and their partners," says Marchese.
"We also attended a couple of exhibitions that Austrade arranged, which led to some really good introductions. This resulted in new business and contracts."
Through the Landing Pads program, MATCHBOX Exchange validated its target Southeast Asian markets - Malaysia, Thailand and Singapore - and aims to be active in at least one of these by mid-2020. The business has secured at least three shipping lines as partners to support trials in those markets.
The program also helped MATCHBOX Exchange define its capital-raising strategy, and the business raised capital in Australia during its time at the Landing Pad. The focus is now on cementing the company's position in Australia and New Zealand, and then expanding into Southeast Asia before launching its next round of fundraising.
Since January 2017, when the Accelerating Commercialisation Grant was awarded, the MATCHBOX Exchange team has grown from three to six employees, and will reach 10 in 2019. Two new employees will be based in Singapore and focus on global growth.
"You come out of the Accelerating Commercialisation Grant with a really clear focus," says Marchese. "We always planned to expand internationally and the Landing Pad was a great vehicle for us to take the next step. The two programs complement each other well."
Australian scientists aim to disrupt a billion-dollar industry
---
More than 100 years ago, Einstein predicted the existence of gravitational waves - invisible ripples that occur in space when objects, such as stars, move at high speeds. Scientists worked for decades to detect them, including Professor Daniel Shaddock at Australian National University (ANU) and in 2017 three physicists Rainer Weiss, Kip Thorne and Barry Barish were award the Nobel Prize for the discovery.
In 2014, Daniel and a team of 11 ANU students and postdoctoral researchers founded Liquid Instruments Pty Ltd to commercialise the technology they had developed to measure gravitational waves.
Test and measurement tools used by scientists and engineers are traditionally big, beige boxes and many have been around for over 60 years. On a quest to disrupt this billion-dollar industry, Liquid Instruments developed Moku:Lab, a compact, software-configurable hardware platform that incorporates 12 professional-grade measurement instruments.
To help take Moku:Lab to market, Liquid Instruments received an Accelerating Commercialisation Grant in mid-2016.
"We weren't sure if the market was ready for this approach, so we used the grant to fund not only the development of Moku:Lab but also a pilot program," says Shaddock.
The grant allowed Liquid Instruments to transition to a more professional manufacturing base and grow its team. Starting with three employees and six contractors, today Liquid Instruments has 22 Canberra-based staff.
"We're going up against competitors who have annual revenues of more than $1 billion," says Shaddock. "The Accelerating Commercialisation Program gave us that extra boost to get our product to the level where we could start selling units and receiving revenue. We started achieving revenue even before the grant finished. So that was a double win for us."
With less than 1% of the market in Australia, Liquid Instruments always planned to go global. A founding team member had already moved to Silicon Valley so Austrade's San Francisco Landing Pad was a perfect fit. Going into the program in September 2018, Liquid Instruments wanted to attract a large investor to help fund the next stage of global expansion.
Chief Strategy Officer, Danielle Wuchenich, was based at the San Francisco Landing Pad full-time for three months and Shaddock visited several times. A highlight for Wuchenich was the shared experience with other start-ups, as well as connecting with industry organisations and policymakers, including meeting with Julie Bishop, former Minister for Foreign Affairs.
During their time at the Landing Pad, Liquid Instruments secured an investment of US$8.2 million, and established a US entity and an office in California's San Diego.
"We're keeping the engineering talent and some of the management team in Australia and looking to supercharge our global sales and marketing, which will be led from the US," says Shaddock.
The business is on track for continued strong growth, achieving revenue in 2017–18 of just over $1 million.
"Moving to another country can be scary, so being able to establish yourself, get a few months under your belt, then branch out to find your own place is a really fantastic model," says Shaddock.
"I think the Landing Pads program's link with Accelerating Commercialisation is great because it sends a message to start-ups that these government organisations are here to fund scalable, innovative, revolutionary businesses that can take on the world."
World-first collapsible shipping container goes global
---
Every year the global shipping and logistics industry spends more than US$30 billion on storing, handling and distributing empty shipping containers. Nicholas Press, founder of CEC Systems Pty Ltd, believes there is ample room for improvement.
Established in 2015, CEC Systems aims to develop pioneering technology to solve some of the industry's foundational problems. Problem number one: the sheer inefficiency of shipping empty containers around the world. CEC Systems' solution: a collapsible shipping container.
COLLAPSECON is the world's first semi-automatic collapsible container. Collapsing down to a quarter of its original size, enabling customers to collapse and combine four empty units to form a single container. This drastically cuts costs associated with shipping and sorting empty containers.
As part of an 'empty container ecosystem', COLLAPSECON represents the physical solution however, it also is integrated with tracking technology and a digital platform that lets users analyse the movements and stockpiling of their container fleets. Headquartered in Sydney, most of the CEC Systems team is based in Singapore, and the production facility is in Vietnam.
In January 2017, CEC Systems received an Accelerating Commercialisation Grant of $282,500 to build a fleet of COLLAPSECON units for trials with major shipping lines. During the project, however, CEC Systems decided the funds would be better spent on enhancing the original system through optimisation, prototyping and redevelopment, and were able to adjust the project specifications.
Through an Accelerating Commercialisation Grant, CEC Systems developed a fully optimised system that was both lighter and had more capacity. Importantly, the system was ready for commercial use. The grant also paved the way for further investment. "It added a level of credibility to the company," says Press. "We had investors commit as a direct result of being awarded the AC Grant."
The grant also helped boost sales. "To be able to say to potential customers that the product was supported by the Australian government was a great advantage in engaging with the industry," says Press.
With Singapore a key hub for the shipping and logistics industry, the island nation was always part of CEC Systems' strategy. The business had started investigating the steps required to enter the market, so when the Landing Pads program came onto his radar around six months after receiving the AC Grant, Press jumped at the chance.
CEC Systems participated in the Landing Pad program in Singapore from July to September 2017. "Our main objective was to set up our Singapore base correctly – to not fall into the same traps that many companies do when they go into new countries," says Press.
Through support from the Landing Pad Manager and Austrade in Singapore, CEC Systems was able to navigate the Singapore market more effectively and build relationships with important contacts.
"We were able to establish the corporate side of the business in Singapore relatively simply," says Press. "More importantly, we were able to forge very strong bonds with a number of Singapore Government organisations including Singapore's Agency for Science, Technology and Research (A*STAR), and we continue to have relationships with these organisations today."
Looking ahead, CEC Systems plans to expand into the US and Europe, and will continue exploring opportunities to innovate and solve problems in one of the world's biggest industries.
"My advice to other start-ups is to research and engage with the government agencies that are there to support us," says Press. "Nowadays businesses operate on a global scale. Understanding other markets is very important. And who better to give you advice than these government organisations that are set up specifically for that."
Meet Commercialisation Adviser, Topaz Conway (NSW)
---
Topaz Conway is one of the five female Commercialisation Advisers in the Accelerating Commercialisation Program.
Topaz has been brokering business deals since she was 8 years old. At 8 she honed her negotiation technique by negotiating deals and trading chores with her three brothers to keep her safe from their brotherly taunts.
From brokering deals with her brothers and growing up in Uganda, Topaz then attended Oregon State University and worked in business strategy for several years before joining her parents in Sydney, Australia throughout the 1990's. After working as General Manager (GM) for NSW Chamber of Commerce and GM at the Garvan Institute, she returned to the US in 2000 to ride the wave of the dot-com boom as the adoption of the internet grew. From there her real journey into the start-up community began. In Seattle she started her own business, worked in venture capital at Pacific Horizon Ventures; became the CEO of Cytopeia; a bio-engineering company that she lead from late R&D stage to commercialisation and exit, and founded an on-line wine business which she sold before making the decision to return to Australia in 2008.
Topaz joined the NSW Adviser cohort in 2011 and she loves her job. "I get to learn about such a diverse range of technologies, people, and businesses, and in nearly every case, I am able to add value. This is a rare asset to founders - to have experienced advisers at their disposal, with no vested interest and only an aligned drive to ensure they are successful. This is the 'secret sauce' of the AC Program".
Topaz has assisted 36 companies in successfully receiving grant funding and assistance. Along the way she helped numerous others that may not have ultimately applied for funding but were fortunate enough to gain her advice in business strategy, management, growth and market entry. One of the most exciting Accelerating Commercialisation customers she has had the privilege to work with is Inquisitive Pty Ltd. Inquisitive has built a platform that curates educational curriculum content pulled from the top-rated lessons around the world, into a customisable formatted lesson plan for teachers, democratising enquiry based learning curriculum for all students. It uses innovative search concepts, machine learning and artificial intelligence to individualise content.
Topaz is a successful businesswoman but admits in the earlier years she found being a female founder comparatively limiting. "The companies I founded could have done much better than they did due to my own self-limiting perspectives about money and growth. This was, and still is to an extent, a common problem for women founders. Our idea of scale is conservative and taking capital is something that does not come easily. As a result, we often think smaller and take less money which may limit growth in a business that is not revenue positive at an early stage."
"My personal approach has always been to be a 'customer facing business' including internal and external customers. By putting customers first and ensuring delivery of quality products at the right price and ensuring the team felt valued and were set up for success in their roles, are the reasons my businesses have thrived. There is a lot of research that shows women led companies perform better and I think this is at the core of that."
"I think there is a significant increase in women starting businesses however one of the key challenges is still this self-imposed limitation around growth and capital, compounded by access to sufficient capital. The fact remains that women-led companies are often judged more harshly not only by their investors, but also by themselves and each other. This combination means they are less likely to attract external funding unless all the boxes are ticked, and the business is in a stronger position than many of the male run companies they are competing with. Women can definitely support each other better - as the wonderful Madeline Albright once stated "there is a special place in hell for women who don't support other women!", and Topaz is certainly is doing many things to help support female founders.
Aside from her role as Commercialisation Adviser, she also is an angel investor and the Co-Founder and former Chair of SBE Australia, the Springboard accelerator program for women-led growth companies. SBE Australia is a not-for-profit program leveraging an expert global network with a vision to help female founders gain further skills, knowledge and confidence to create global, scalable and sustainable businesses.
Australia is a tough market to grow a company and everyone should be proud of our very successful Australian entrepreneurs. Topaz offers this key piece of advice to start-up companies; "resilience will be your best friend" and she also believes "if you aren't solving a big problem, for a lot of people, then you need to rethink what you are doing."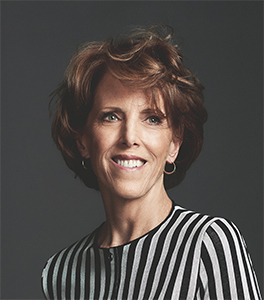 Commercialisation Adviser, Topaz Conway.