Accelerate – Issue 6
Accelerating Commercialisation
Last Updated: 26 June 2020
This issue feature stories from Accelerating Commercialisation Grant recipients that are developing technology for the agriculture sector. You can also meet Commercialisation Adviser, Maureen Murphy in New South Wales.
Introduction from Mr Larry Lopez, Director of Accelerating Commercialisation
---
We recently crossed an important milestone represented by approval of funding for 400 grants since the inception of Accelerating Commercialisation in 2014. With the goal of understanding the impact of this milestone in mind, we surveyed our first 300 grantees. The 266 respondents to this survey represents $148 million of grant funding. Through to the end of 2019 these companies have raised an additional $554 million in aggregate new capital and generated revenue of $245 million. Above and beyond the original matched funding, this represents leverage of 3.75 dollars raised for every dollar funded by the program. We are very excited by these successful outcomes as evidence of the positive impact Accelerating Commercialisation is having on the Australian start-up ecosystem.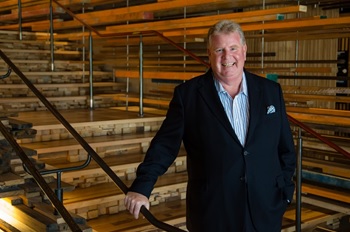 Director, Mr Larry Lopez
In this edition we feature stories from Accelerating Commercialisation Grant recipients that focus on the development of new technology which enables the agriculture sector ("AgTech"). As you will read, our grantees are delivering clever solutions to challenges in the sector. Many of these companies were created based on strong opportunities for global sales through export and licensing.
The continuing emergence of the Australian AgTech sector as a target for investment is very encouraging. AgTech is a natural fit for Australian innovation. It is now emerging as an asset class in which Australia has an excellent and legitimate opportunity to be a global leader. Our challenging climate and geography along with relatively high labour costs drive the need for innovative solutions that can enable growth in the sector and support the important role agriculture and food production play in Australia's economic performance and culture.
Accelerating Commercialisation has played an important and consistent role in supporting the AgTech sector. We have now funded 81 projects in the sector, which represents 20% of our grants. Through Accelerating Commercialisation, the Government has invested $39 million in companies across the spectrum including water management, crop management, agricultural equipment, farm safety and finance. We are proud of the companies in our portfolio and remain committed to continuing our support of this vital sector.
We are also featuring stories on companies that have received Accelerating Commercialisation support as well as receiving support from other elements of the Entrepreneurs' Programme.
A full listing of the AC Portfolio can be accessed at Accelerating Commercialisation Grant recipients. If you are interested in learning more about any of the companies or would like assistance to facilitate introductions, please contact us at ExpertNetwork@industry.gov.au.
Accelerating Commercialisation key figures and statistics by sector
---
Accelerating Commercialisation commenced 1 November 2014. As at 30 June 2019 there have been 400 grants approved, with every dollar of funding matched by the grantee.
The largest sector receiving grants is the Advanced Manufacturing Sector who have 97 of the total 400 grants at a value of $51,661,803.  The 'Other' category is made up of projects in areas such as Information Technology, Telecommunications and Engineering.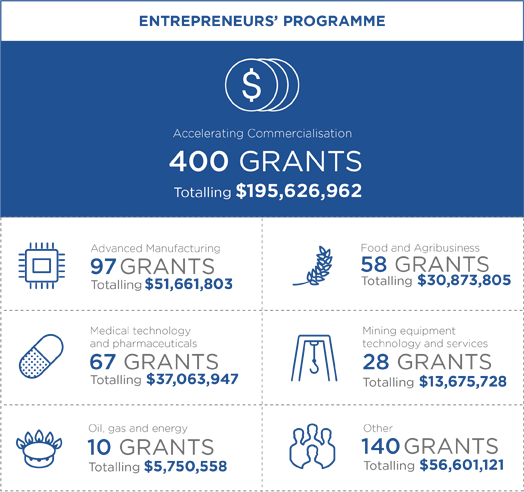 Accelerating Commercialisation Grants broken down into industry sectors – June 2019.
Entrepreneurs' Programme
---
The Entrepreneurs' Programme is an Australian Government initiative to enable high potential small and medium enterprises (SMEs) to grow, innovate and commercialise nationally and globally. It uses experienced Advisers and Facilitators, drawn from industry, to ensure businesses get the advice and support they need to improve their competitiveness, productivity and to maximise their growth potential. The primary focus is on providing customers tailored advice, connections and networking options and to facilitate growth into new domestic and international markets and capitalise on opportunities.
The Entrepreneurs' Programme has four elements:
Accelerating Commercialisation: Assists entrepreneurs, start-ups, small to medium businesses and researchers address key commercialisation challenges in bringing novel products, processes and services to market. It offers matched grants of up to $1 million to support businesses on their commercialisation journey.
Business Management: Provides advice and support for small to medium business to improve capability and capitalise on growth opportunities, which may include access to matched grants of up to $20,000 to implement recommended activities.
Innovation Connections: Provides support for industry to collaborate with the research sector and connect with appropriate sources of expertise, technology and advice. It also offers matched grants of up to $50,000 to access research capability and support businesses to implement innovative projects.
Incubator Support: Provides funding to support the establishment of new incubators or expansion of existing, high performing incubators. It also provides access to top quality talent through secondments of expert advisers.
Many of our Accelerating Commercialisation Grant recipients have received additional support under the Entrepreneurs' Programme, including through Business Management, Innovation Connections or both. The number of Accelerating Commercialisation Grant recipients accessing connected services under the Entrepreneurs' Programme will continue to grow as the portfolio matures.
Australian Crayfish Hatchery Pty Ltd is one of the 50 companies to date who have accessed additional assistance following their Accelerating Commercialisation Grant through a Business Evaluation, Business Growth Grant and an Innovation Connection Facilitation Service.
Hemideina Pty Ltd, a MedTech company is one of the 100 Accelerating Commercialisation Grant recipients who have also accessed an Innovation Connections Facilitation Service. In Hemideina's case, Innovation Connections helped to further the development of their new cochlear implant.
Find out more about these two successful grantees in this edition of Accelerate below.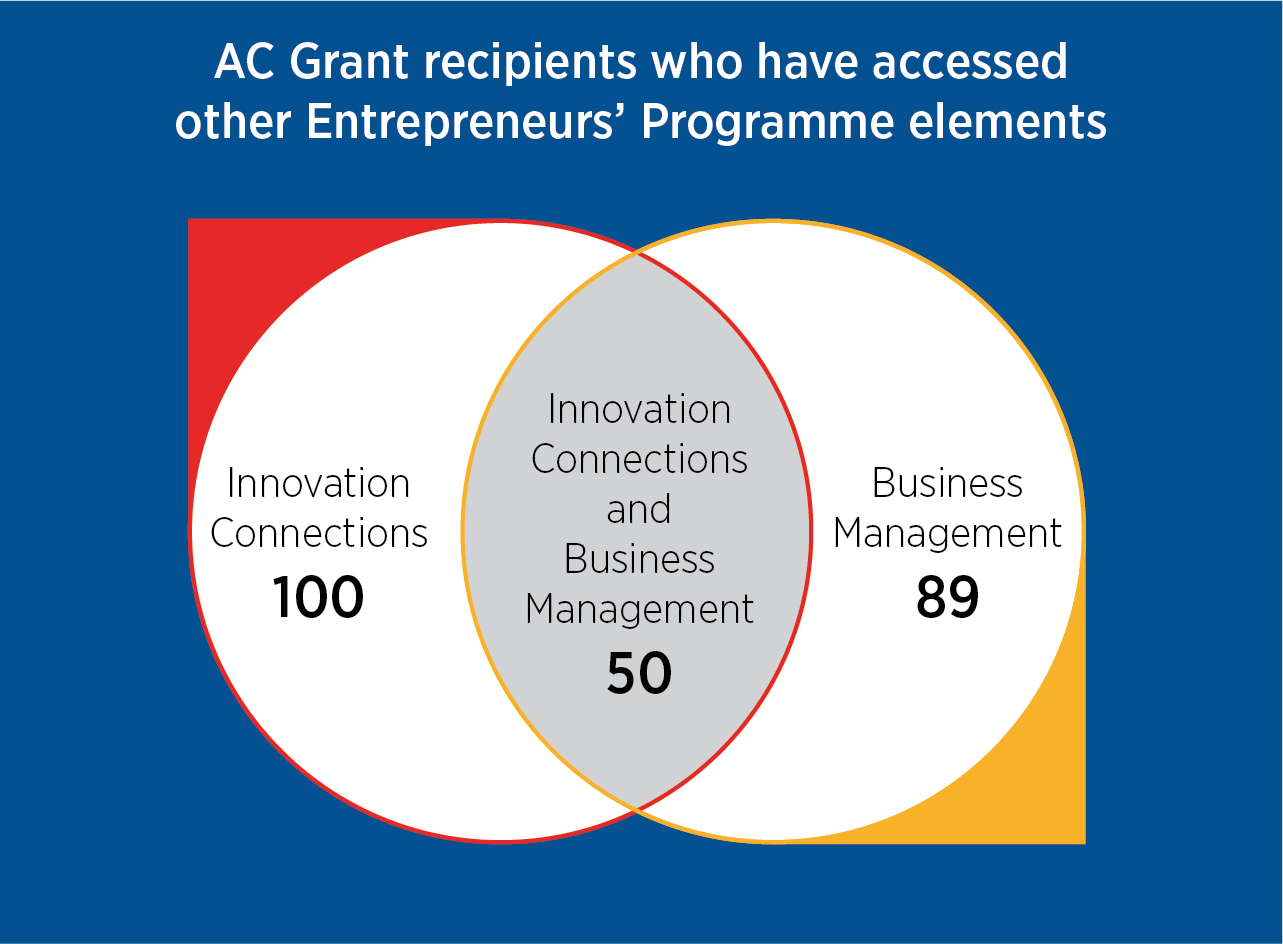 Of the total 400 Accelerating Commercialisation Grant recipients, 100 grantees have received additional support through Innovation Connections, 89 grantees have received additional support through Business Management and 50 have received assistance from all three components.
Meet Business Management's Sector Director - John Murray
---
John Murray is the Sector Director for the Food and Agribusiness sector of the Business Management component of the Entrepreneurs' Programme. John has been involved with the Department of Industry, Science, Energy and Resources for the past ten years through a number of programs.
Business Management has six Sector Directors across the following industries:
Advanced Manufacturing
Food and Agribusiness
ICT, Digital and Professional Services
Medical Technologies and Pharmaceuticals
Mining Equipment, Technology and Services/Oil, Gas Energy Resources
Tourism
The Sector Directors are supported by 80 plus Business Advisers spread across Australia who will help your small and medium business to improve your capabilities, extend your networks and grow.
John studied at Western Sydney University obtaining a Masters in Science (Food Science) as well as a Masters in Business Administration which set him up for many years in food and beverage companies. "I always knew I wanted to be involved in a business that made 'things' and value added with a preferable biological focus. The wine industry certainly ticked all these 'boxes'," says John.
John worked at Lindeman's Wines which was a dream job for him. John has also worked at Greens Foods, Mauri Foods, Berri Foods and Sanitarium Foods. While working for National Foods Juice, John was involved in the turnaround of the $200 million business back to profitability, with the end result of the company being sold to a competitor. John describes this as "the most exciting deal I have ever been involved in."
Describing his role as the Food and Agribusiness Sector Director John states "I enjoy being able to play a part in the improvement of the individual business we engage on a daily basis and input into the wider Food and Agribusiness Sector through the Food Innovation Australia Ltd (FIAL) Growth Centre."
"The strength of the Business Management program lies with the passionate Business Advisers and Sector Directors who want to make a difference for our clients." adds John. Customers who a part of the Business Management program are able to use the great connection of the Business Advisers to leverage support from other areas of assistance such as Accelerating Commercialisation, R&D Tax Incentive, Research Organisations, State Government programs and other clients for joint collaboration just to highlight some examples. These connections play a large role for start-ups, with John sharing "My one piece of advice for start-ups is I would advise them to network extensively and never be too proud to ask for assistance."
In his spare time, John has a passion for water sports and actively participates in water polo, swimming and surfing.
John acknowledges the major change to the AgTech sector is its digitalisation using various technologies to provide accurate real time data and also remove the need for additional labour input. In this edition of Accelerate you will be able to read about Accelerating Commercialisation Grant recipients, Agersens Pty Ltd and Indicina Pty Ltd who are using digital technology to expand their AgTech businesses and find solutions to global problems.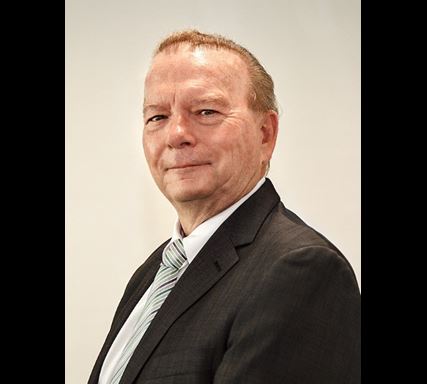 John Murray - Sector Director Food and Agribusiness - Business Management.
Australian Crayfish Hatchery is breeding sustainable redclaw crayfish
---
Seafood is one of the world's most traded commodities and is worth $150 billion annually. With an increase in world population and affluence in many countries, the increased demand for seafood can only be met by increased aquaculture production.
Australian Crayfish Hatchery Pty Ltd (ACH) is leaving no stone unturned to become a big player in the seafood industry and has accessed multiple elements of the Australian Government's Entrepreneurs' Programme in order to start this exciting journey.
ACH utilised a $375,000 Accelerating Commercialisation Grant to establish a state-of-the-art hatchery to increase global production, and has also benefited from subsequent assistance under the Entrepreneurs' Programme through a Business Evaluation and Innovation Connection Facilitation Service.
Based in Townsville, ACH's main goal is to revolutionise and rationalise the Australian redclaw industry through the establishment of an intensive breeding facility which will provide year-round egg production from selectively bred broodstock.
In 2013, ACH Managing Director Lisa Elliott started the two-year project to revolutionise the way freshwater crayfish are produced – leading to the formation of ACH in 2016 and the first batch of craylings in January 2017. ACH's scientific advancements have improved egg production efficiencies by up to 50%, and with the establishment of the breeding facility, their lofty goal to have egg production and survival increase to greater than 200% is now within reach.
Trials conducted in 2017 showed an increase in egg production of 132% using developed intensive breeding methods compared to traditional methods. Extensive work on bacteria and quality control methods have resulted in a higher yield of disease-free stock. ACH aims to mass-produce seed stock for commercial production farms which in turn will address the major industry need of producing a reliable supply of adult redclaw at market sizes.
The Entrepreneurs' Programme assisted greatly through multiple elements – Business Management, Innovation Connections, and of course - Accelerating Commercialisation.
"The AC Program and our Commercialisation Adviser Stuart Hazell, made us feel that we were not on our own, but were part of a large knowledgeable team, eager to help and always with our best interest at heart," says Lisa. "We have gained valuable skills and knowledge in commercialisation and business management helping the company to grow and enabling the continued evolution of ACH."
Lisa also identified the Business Evaluation provided under Entrepreneurs' Programme as a source of guidance, while the Innovation Connections program allowed the business to evaluate technical gaps and how to improve production. Further, Entrepreneurs' Programme assistance led to the appointment by Lisa of a high-level accountant and financial adviser.
Lisa predicts that redclaw crayfish is set for major industry development and as an export earner for Northern Australia.
"At present Australian redclaw production is estimated at approximately 70 tonnes per year ($1.3 million) but unable to meet domestic consumer demand. There is great interest from China for our premium product with stated estimates from importers of a market demand of approximately 100-150 thousand tonnes per year," adds Lisa.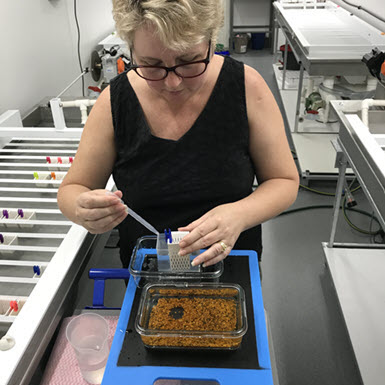 Redclaw crayfish eggs are being sorted at Australian Crayfish Hatchery's laboratory in Townsville.
Hemideina - Australia is leading the way again by revolutionising the cochlear implant
---
Hemideina Pty Ltd (Hemideina) aims to help the 466 million-plus people world-wide suffering disabling hearing loss with an innovative new device called the Hera Wireless Implant – which takes Australia's proud history in cochlear implants a step further.
The Hera device is inspired by the hearing of insects. It uses mechanical sound processing, based on insect hearing systems, mimicking nature's response to sound waves. The Hera Wireless Implant is a two component system; the Hera in-ear bud (10mm) replaces the current external components and sits in the ear canal; and the implant receiver/stimulator sites within the mastoid cavity, above the ear canal, connected to an electrode in the cochlea. The implant receives electrical signals from the in-ear bud which then stimulates the auditory nerves.
The Melbourne based company is moving through the pre-clinical stage with the Hera device and hopes to enter the market in a few years.
The Entrepreneurs' Programme is making this progress easier, and faster, with an $802,405 Accelerating Commercialisation Grant and commercialisation advice, helping the development of the device and assisting further capital raising.
Innovation Connections program helped Hemideina to identify a collaborator for a particular project, where the firm had previously struggled to identify suitable partners.
Current cochlear implants have both external and implanted components, requiring complex surgery and significant lifestyle changes to accommodate the external components.
These large components provide a visible indication of the user's disability, however, miniaturisation is challenging due to the underlying technology, and energy required for nerve stimulation that requires significant power, and therefore a large battery.
Hemideina's Hera Wireless Implant is a disruptive solution to remove lifestyle barriers and aims to improve sound quality for the patient. The Hera Wireless Implant is a discreet device that enables users to perform activities just as people with no hearing impairment can.
Hemideina hope the Hera Wireless Implant will become the standard of care for the treatment of moderate-to-profound deafness. Now, the standard of care for sensorineural hearing loss is a cochlear implant but only three per cent of the world's profoundly deaf have received this treatment.
Hemideina was founded by Liz Williams and Kate Lomas. Kate has a PhD in Biology, and spent 10 years in insect acoustics research, which was the bio-inspiration behind the Hera device. Kate previously worked at CSIRO as a researcher in the treatment of Alzheimer's.
Liz has a PhD in Chemistry and previously worked for CSIRO as a researcher in the development of polymeric delivery systems for gene transfection. Liz undertook commercialisation of CSIRO's proprietary polymer technology in the US and has been a mentor in CSIRO's ONPrime program.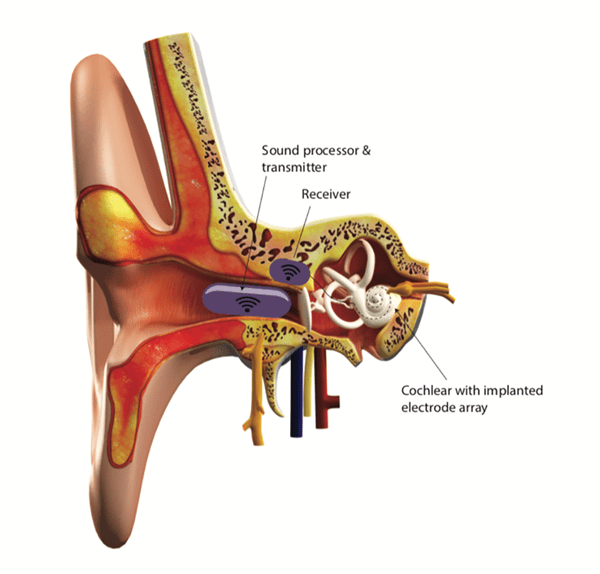 Hemideina's revolutionary Hera Wireless Implant is a 2 component system: the Hera-in-ear bud sits in the ear canal and the Hera Implant sits above the ear canal, connected to an electrode array threaded into the cochlea.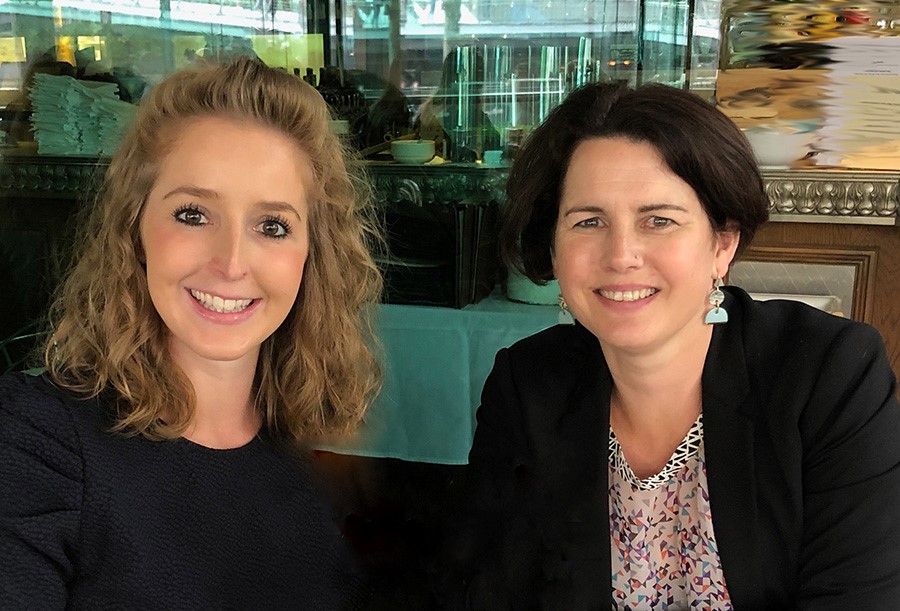 Heimideina's Co-Founders Liz Williams and Kate Lomas
The grass is always greener with SWAN system
---
Clever innovation from Western Australia is living proof that the agricultural and horticulture industries are now very much reliant on technology and software in order to achieve best-practice outcomes.
Indicina Pty Ltd's (Indicina) 'Scheduling Water and Nutrient' (SWAN) System can be summed up by saying that it "makes the grass greener". It sounds simple, but the development of the all-in-one software platform took many years and millions of dollars to perfect and bring to market.
SWAN Systems' founders - Tim Hyde, Ivor Gaylard and Rod Campbell - have more than 80 years of collective commercial agribusiness experience; including hands-on farming and farm consulting, and roles in irrigated agriculture between them.
They had been solving issues of water scarcity for years in one of the world's driest states for themselves and their agricultural and horticultural clients. Their SWAN software solution became the ideal way to optimise water and nutrient application rates and consumption for just about any plant or crop.
"SWAN brings research outcomes and precision to everyday farming operations, as well as for council parks, schools and sports fields, golf courses and water utilities. Pretty much anyone with large irrigation requirements," said the SWAN founders.
"The more we looked, we more we saw this problem of water usage was endemic and global, with no easy solution. We provide a "play book" for all of a crop's agronomic requirements. Our vision is to be a globally-recognised independent software platform for managing water and nutrients, and also to help users adopt precision agriculture."
The platform provides the user with a snapshot of their site's water usage, soil moisture summary, weather forecasts and overall site and plant health. This world-first irrigation and nutrient scheduling system reduces irrigation costs, optimises water and nutrient use, improves yield and plant health, and minimises nutrient leaching.
Farmers, growers, greenfield managers – essentially anyone associated with looking after plants, grasses and crops - can now make informed management decisions based on live status updates to increase or decrease irrigation to ensure plants are provided with optimal water and nutrients to meet their needs.
SWAN is hardware independent, so clients can use existing sensors without the expense of installing new equipment. The initial set up involves drawing a site using the integrated Google Maps function (or directly importing a KML file) which is then linked to available equipment, including weather stations, flow meters and soil moisture probes.
SWAN collects and analyses data from all of these sources and then provides information on future irrigation needs through integrated dashboards to keep predicted soil moisture in well-defined optimal zones.
In addition to water management, SWAN has sophisticated fertiliser planning, logging and reporting functionalities, as well as being able to automatically include irrigation water nutrient loads for fertiliser planning and reporting of usage against budgets.
Accelerating Commercialisation assisted Indicina to prepare its SWAN Systems' data analytics software product and business for market entry, and to conduct a series of pilot trials across Australia in order to facilitate the commercialisation of this system.
An Accelerating Commercialisation Grant of $590,034 was awarded to Indicina in December 2017 with the SWAN product launched in July 2018.
All organisations trialling the system duly converted to paying clients after completion of the pilots, and 35 SWAN licenses have since been sold to clients in Australia, New Zealand and Singapore.
SWAN won the 2017-18 WA Information Technology and Telecommunications Alliance (WAITTA) Startup of the Year Award and was a finalist in the National iAwards 2018, the 2018 WA Innovator of the Year and DXC Digital Innovation Encouragement Award.
SWAN founders say the Accelerating Commercialisation Grant led to widespread recognition within the business community and an increased investor interest for fund raising for commercialisation.
"A successful AC grant brings with it a certain amount of recognition that you have a worthy product. It is no small achievement to have your product approved and supported by the Australian Government," said the SWAN founders.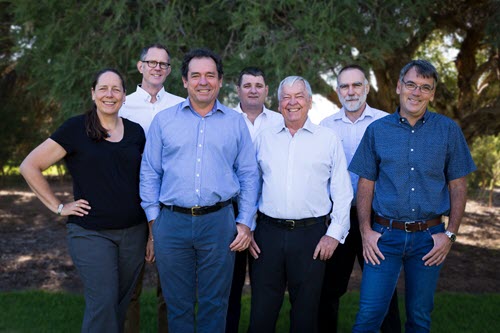 SWAN Systems Team Left to Right: Brenda Powell, John Bussell, Rod Campbell, Tim Hyde, Ross George, Ivor Gaylard and Beau Tang.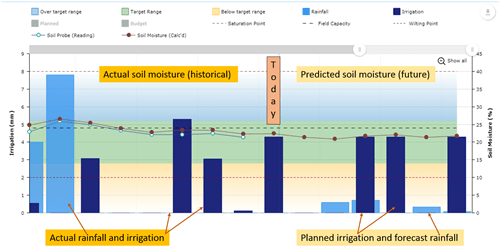 The SWAN Systems reporting tool shows farmers the actual and future predicted rainfall so they can accurately adjust irrigation and fertiliser levels to achieve optimum crop growth.
Agersens have created the ability to have fence free farms
---
Melbourne agricultural firm Agersens Pty Ltd (Agersens) started in 2014 with founder Ian Reilly and a lofty ambition to revolutionise livestock farming globally with its virtual livestock fencing system called eShepherd™.
Five years on and now with more than 40 staff, Agersens is on the cusp of taking its clever Australian innovation to the world and recently have completed a capital raise of $14.75 million.
The eShepherd™ is a GPS enabled, solar powered, intelligent neckband that contains a patented CSIRO program that trains the animal to stay within a virtual boundary by way of audio cues and then an electrical pulse if required.
The farmer can create a virtual boundary through plotting points via Google Maps. These boundaries create a virtual fence. The animal will be notified by the neckband when it has reached a boundary by way of a noise cue.
When an animal approaches a virtual fence for the first time, the neckband emits a beep. If the animal ignores the audio cue and continues towards the virtual fence, the neckband delivers a single harmless pulse. If the animal stops, turns sideways or walks away when it hears the audio cue, the neckband does not deliver the pulse but continues to monitor animal behaviour. As with an electric fence, animals rapidly learn to alter their behaviour by stopping or turning aside when they hear the audio cue.
The innovation has the potential to solve many problems associated with livestock farming, such as:
Improve the productivity of livestock farming by optimising pasture utilisation;
Lower the cost of mustering cattle on large pastoral properties;
Reduce the cost to build and maintain fencing;
Provide a flood and fireproof, wildlife fencing method for managing riparian zones; and
Improve animal health and welfare by 24/7 monitoring of individual cattle.
"This is the opportunity to profoundly improve the productivity, profitability and sustainability of livestock farming globally, and make a positive contribution to addressing global challenges facing agriculture – shortage and cost of labour, rising input costs, environmental impact, water scarcity, ability to scale," says Agersens Ambassador and co-founder Ian Reilly.
Ian grew up on a sheep and cattle farm in North East Victoria. He moved away from the farm and for the last 30 years' has gained experience as an engineer and entrepreneur developing new technology products for global markets - including defence and aerospace, consumer and industrial products, and medical devices; including some of the world's largest companies and most recognized brands.
Agersens has received two Accelerating Commercialisation Grants worth a combined total of $890,000 to bring its product to market. eShepherd™ was launched at Beef Australia 2018, following capital raising and securing a deal with an international strategic investor and distribution partner.
Agersens initial Accelerating Commercialisation Grant of $250,000 to design and trial prototype devices on farm, gain animal welfare approval and prepare the system for marketing and manufacture was awarded in 2015.
In February 2017, a further $640,000 grant was awarded to design and trial the first release product, and prepare the system for manufacture and worldwide sales and distribution.
"We would not be here today without the AC grant," says Ian. "The associated publicity was very helpful in providing important validation to our suppliers and other partners that we had funds to engage and pay them."
Ian says the assistance received under the Accelerating Commercialisation program was critical to recruiting cornerstone investor and strategic partner Gallagher – the rural fencing products manufacturer.
"Having Gallagher as a partner and investor was a critical validation step towards raising equity. The steps we went through to apply for the AC Grant provided a foundation for future engagement of stakeholders and commercial investors," says Ian.
CSIRO developed and patented the training program embedded in the neckband and Agersens has the exclusive worldwide licence to the technology. Besides CSIRO and Gallagher, Agersens has received invaluable support from Australian organisations and universities and has formed formal partnerships with AgResearch (NZ), University of Idaho (USA), Ohio State University (USA) and Kansas State University (USA).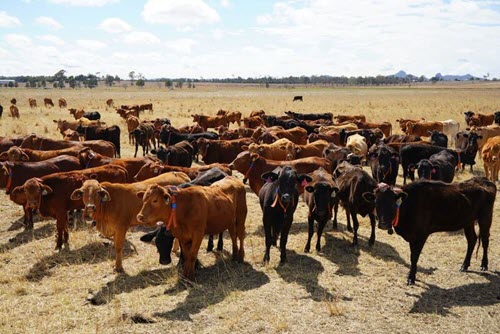 Cows wearing the eShepherd neckbands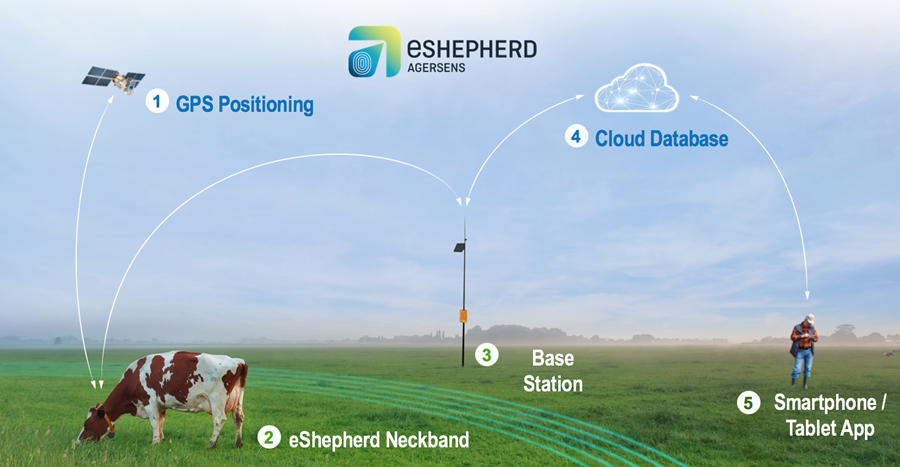 The eShepherd GPS enabled neckband worn around the cows neck connects to a base station that is connected to the application on the farmer's mobile device
Meet Commercialisation Adviser, Maureen Murphy (NSW)
---
Maureen Murphy is one of the Commercialisation Advisers working in the Accelerating Commercialisation Program.
Maureen grew up in Wagga Wagga, her curiosity nurtured by her telephone technician father. She loved to pull apart radios and other household electrical items to see how they worked. This positive influence from her father not only shaped her future career, but also her focus on promoting women in STEM careers.
At the age of 18, Maureen ventured out of her rural home to Sydney to attend university. A lifelong learner, she gained her Master of Business and Technology degree from University of NSW (UNSW) seven years ago. She has applied her expertise across a number of fields such as radiation oncology, digital media, and satellite communications. She worked in C-suite roles in global corporations, built and sold two IT businesses and a satellite systems integration business, and co-founded two technology start-ups.
Maureen attributes her success in part to her insatiable curiosity and urge to explore. "I cultivate a 'beginners mind', keeping an open mind when taking in new information or dealing with people. I try to avoid assumptions or preconceptions."
Maureen joined the NSW Adviser cohort in 2012 and she loves her job. "I have the privilege and enormous satisfaction of working with some of Australia's smartest entrepreneurs. I am excited about the broader impact I am now able to make by supporting a portfolio of technology companies across a range of industry sectors, each in their own way making the world a better place."
Maureen has assisted more than 28 companies in successfully receiving grant funding and commercialisation guidance. Numerous others were fortunate enough to gain her advice in seeking funding, business development, and strategy execution.
One of the most exciting Accelerating Commercialisation customers she has had the privilege to work with is The Yield Technology Solutions Pty Ltd. The Yield has developed an Internet of Things (IoT) technology which is designed to improve agricultural growers' yields and profitability.
"I loved the passion and energy of the founder, Ros Harvey. As she herself says, she is not a conventional entrepreneur being a woman over 50 with a background in international development rather than technology. The company has achieved remarkable success in the past three years and the company is also a role model for diversity, in gender, age, and background."
Maureen is also a Member of UNSW's Global Innovation and Entrepreneurship Research Network Advisory Board, a Member of University of Technology (UTS) Faculty of Transdisciplinary Innovation Industry Advisory Board and a Founding Fellow of Founder2Founder Cicada Innovations.
When Maureen is not assisting start-ups, she is trekking the globe! She has trekked in Nepal, Laos, Papua New Guinea and through central Australia. Maureen not only has completed the Kokoda Track she also was a trek leader, leading others to complete this gruelling trek. She has also climbed Mt Wilhelm in Papua New Guinea, which at a height of 4509M, is double that of our own Mt Kosciuszko and half the height of Mt Everest. Maureen certainly loves a challenge and knows how to persevere which is needed not just in life but also in business to succeed.
Maureen has the following advice for start-up companies. "To those who choose the entrepreneurial path, there is much to be learned at the edge of your comfort zone. Get comfortable with ambiguity. Don't be afraid to say 'I don't know'. Ask loads of questions… Get to know your customers really, really well. If you don't, you can't solve their problems."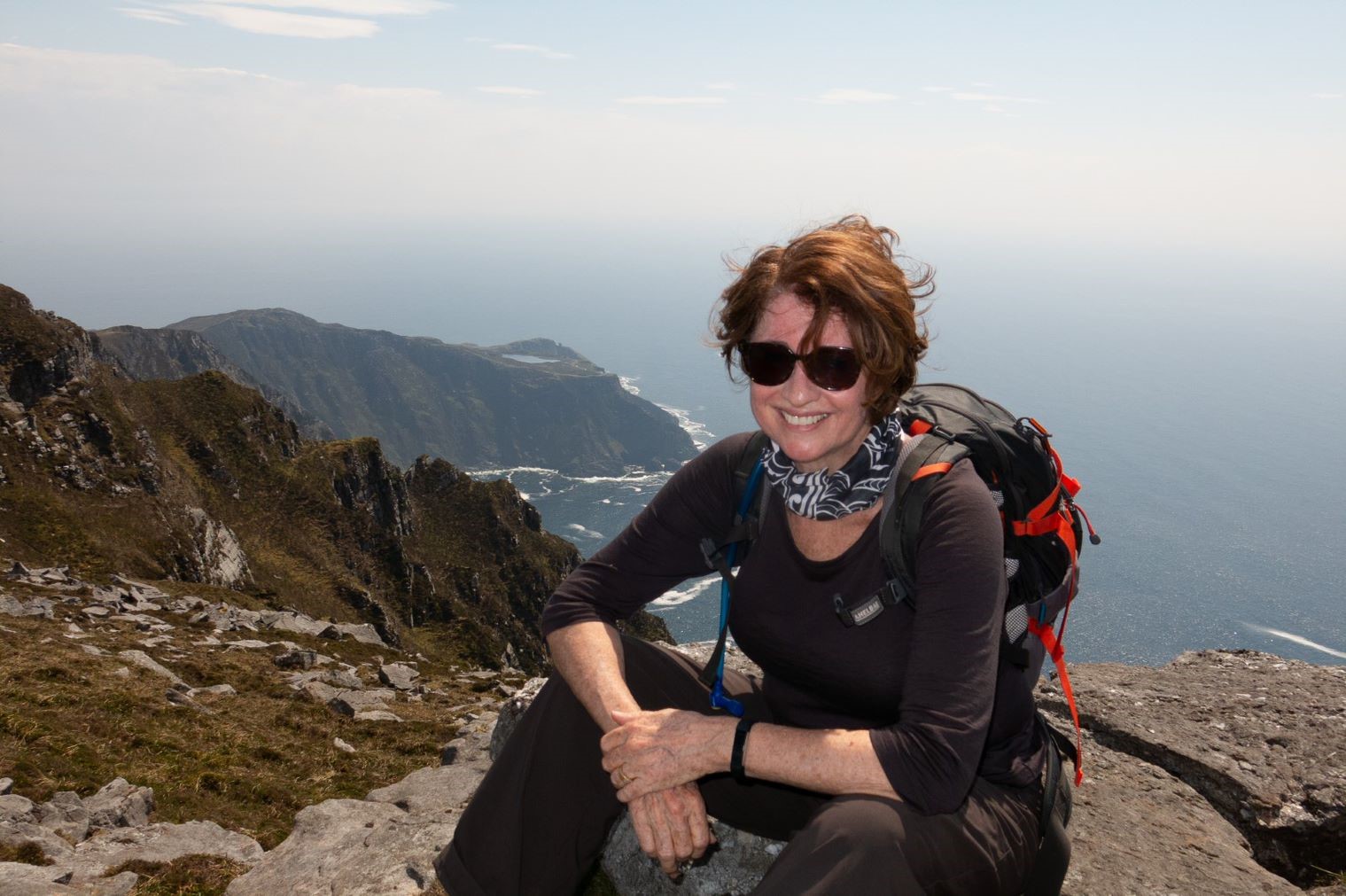 Commercialisation Adviser Maureen Murphy during her trek along the rugged coastline of County Donegal in Ireland last year.