Accelerate – Issue 8
Last Updated: 26 June 2020
Learn about 4 business that received funding from AC; Butterfly, Speedx, Synchron and Genics and read more on Commercialisation Adviser Elane Zelcer from Victoria
Foreword
---
Welcome to Issue 8 of Accelerate. This issue we have focussed on 4 of our amazing grantees who are developing new technologies in the Medical and Health Sector.
In this edition we introduce you to Butterfly Systems, SpeeDx, Synchron and Genics. These 4 grantees are part of the 75 strong cohort of Medical Technologies and Pharmaceutical Sector grantees. We continually award more grants and hope to be over 500 grants by the end of the year.
Congratulations to Synchron who have started an in human clinic trial which may be potentially life changing for people with paralysis who have also lost the ability to communicate. Apps are everywhere these days, and why not in the medial sector? Butterfly Systems have developed apps to help hospitals capture their data and then be able to use it to bring about change.
We also feature Elane Zelcer, one of our Victorian Commercialisation Advisers. Elane brings a wealth of knowledge to the Medical start-up companies she assists but she is also an avid traveller. We hope you enjoy this edition of Accelerate!
Accelerating Commercialisation key figures and statistics by sector
---
Accelerating Commercialisation commenced on 1 November 2014. As at 31 January 2020 there have been 437 grants approved, with every dollar of funding matched by the grantee.
Accelerating Commercialisation Grants broken down into industry sectors. The largest sector receiving grants is the Advanced Manufacturing Sector who have 104 of the total 437 grants at a value of $54,284,795. The vast majority of AC Grants don't belong to the 5 nominated industry sectors. The 'Other' category is made up of projects in areas such as Information Technology, Telecommunications and Engineering.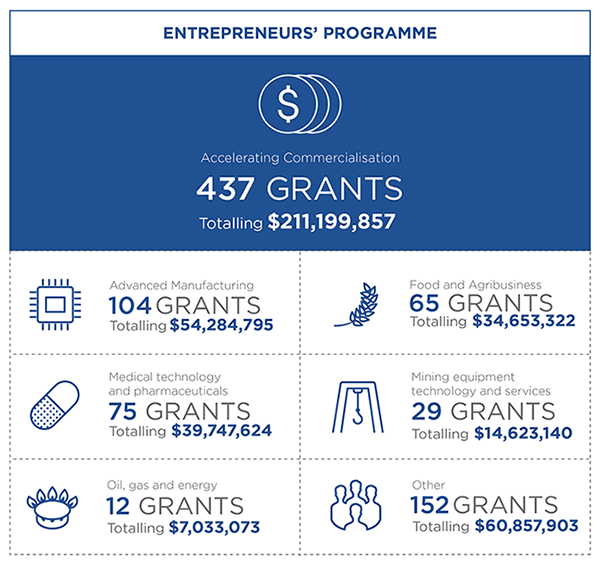 Accelerating Commercialisation Grants broken down into industry sectors – February 2020
A local butterfly's aspirations to become a global flyer
---
Butterfly Systems Pty Ltd Founder and Managing Director Amy Luo set out producing innovative mobile apps that improve the efficiency of surgical procedures, documentation and logistics. These apps allow clinical roles to work seamlessly together and to share accurate data and workflow information, in real time for her Australian clients.
Wanting to aim high, she developed the innovations with global markets in mind. Butterfly Systems' innovations and technologies have been developed to apply to markets in the United States, Europe, the Asia Pacific and Middle Eastern regions.
"We have international aspirations because today an outstanding business or product has to be built and developed for the world market. We are making really solid international progress," says Amy.
"Our target market includes large acute hospitals, day hospitals (Ambulatory Centres – a term used in the European market), veterinary hospitals and clinics, dental clinics and dialysis clinics etc," adds Amy.
Butterfly Systems has signed a partnership agreement with B Braun (Germany), the world's leading medical manufacturer for the past 180 years, and they are working with Johnson and Johnson Medical and Zoetis to reinvent their current business models.
In Australia, Butterfly Systems is used in 4 St Vincent's Private Hospitals in Victoria, Calvary John James Hospital in Canberra, and veterinary hospital group VetPartners.
Amy started Butterfly Systems as she knew that hospital executives were seeking greater transparency of costs; particularly around surgery. In discussion with surgical clinicians, she identified ways to replace paper records with intuitive mobile apps.
Data capture in operating theatres provides a real solution for hospital executives and offers benefits for supply chain management and hospital operating budgets.
"Butterfly Apps transform notes and data, often poorly maintained, into strategic information," says Amy.
"Success will be when Butterfly apps are in hospitals and clinics I visit around the world."
Butterfly Systems received an Accelerating Commercialisation Grant of $1 million in 2015 to fund a series of trials in private and public hospital surgical environments across Australia to quantify the benefits and establish prototype implementations.
AC funding helped Butterfly Systems to refine products and solutions and reach out to international market, and expand its business network.
Amy says the Accelerating Commercialisation Program provided her with credibility as a start-up.
"The AC Program is one of most critical programs - maybe the only one - in Australia that can really provide the first stepping stone for a new and innovative company to think big, connect with a few highly intelligent mentors and get a lot of great advice," says Amy.
"The true highlight of AC comes from dealing with my Commercialisation Adviser, John Grew, business is all about the people around us," adds Amy.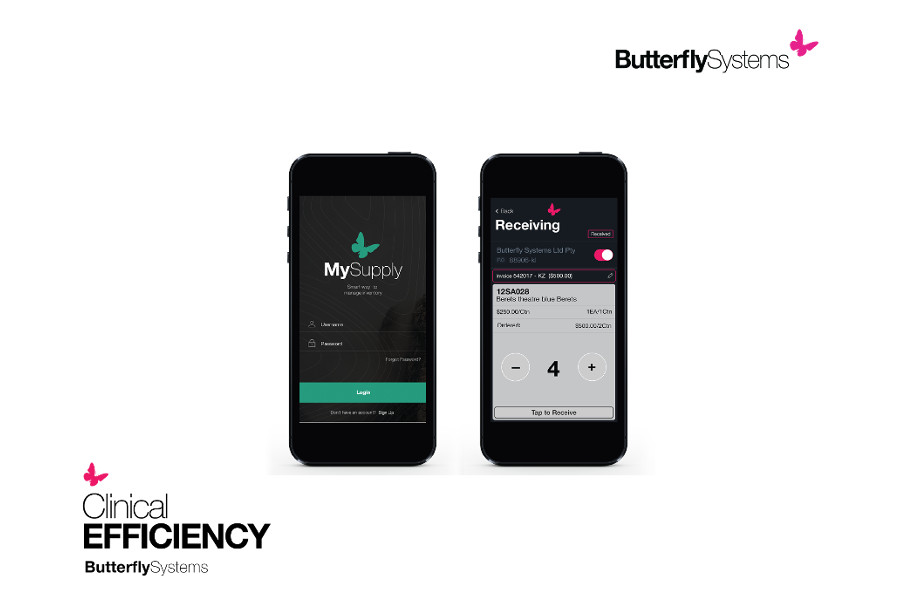 Butterfly Systems application
SpeeDx's tests can be found in 80% of Australian laboratories today
---
SpeeDx Pty Ltd was founded by Dr Alison Todd and Dr Elisa Mokany as a vehicle to commercialise the technology that the two had developed. Their novel approach to gene detection, dubbed PlexZyme®, underpins their approach to human diagnostics, and plays a vital role in addressing real clinical needs in medicine.
Alison is the inventor on 19 patent families and is an adjunct senior lecture at UNSW. Alison and Elisa met in the Australian Johnson & Johnson research laboratories - Alison supervised the PhD for Elisa, and this is where they invented the molecular technology behind PlexZyme®.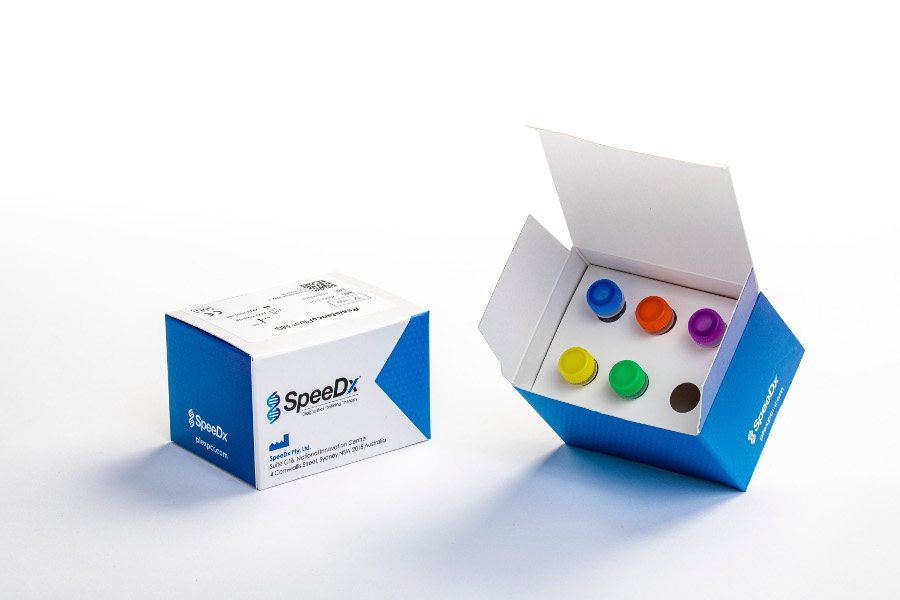 The SpeeDx product portfolio covers a wide range of laboratory infectious disease testing.
Together they have championed 3 of their inventions through to commercial product lines within the Life Sciences and In Vitro Diagnostic markets, with SpeeDx representing the latest in this string of commercial success.
Alison and Elisa's company provides human diagnostics solutions for infectious disease and novel diagnostic tools to address the concerns of rising antibiotic resistance rates.
This helps doctors decide whether antibiotics are needed and which one would be most effective. As a result patients recover faster, healthcare costs decrease and, by reducing antibiotic misuse - the development of antibiotic resistant superbugs is slowed down.
"Through the offering of novel, clinically-relevant tools, our tests empower clinicians to make more informed choices to improve the management of patients, ultimately reducing the time and cost burdens across the greater healthcare network," says Dr Alison Todd.
"We have a strong niche with our portfolio of tests for sexually transmitted infections and antibiotic resistance markers, however our portfolio covers a wide range of infectious diseases that can be tested by a general practitioner, a hospital doctor, or a specialised health professional," adds Alison.
SpeeDx received an Accelerating Commercialisation Grant of $1 million in 2016 to help commercialise its diagnostic solutions to combat the rise of antibiotic resistant superbugs.
Accelerating Commercialisation funding specifically helped SpeeDx to deliver a menu of diagnostic tests for respiratory and sexually transmitted infections.
Alison says the Accelerating Commercialisation funding was critical to the firm and ensured company milestones were met. The reputation of the program also helped SpeeDx find recognition within the Medtech industry.
"Our Commercialisation Adviser Topaz Conway's strategic input provided support at key points that helped SpeeDx navigate global commercialisation," says Alison.
SpeeDx now sells more than 30 products across 4 main portfolios to laboratories in more than 20 countries. SpeeDx sells directly to clinical diagnostics companies, as well as through distributors across Europe.
In 2019, SpeeDx announced an additional $15 million equity investment from US Firm Northpond Ventures.
SpeeDx have doubled their employee count in 3 years and currently employ 59 fulltime staff across Australia, Europe and the United States.
In Australia today, more than 80% of laboratories are using at least one SpeeDx test to report patient samples.
"The position of SpeeDx in the market has changed dramatically since being a part of this program, moving from a small-scale start-up to a global player leading the market with diagnostics that enable resistance guided therapy," says Alison.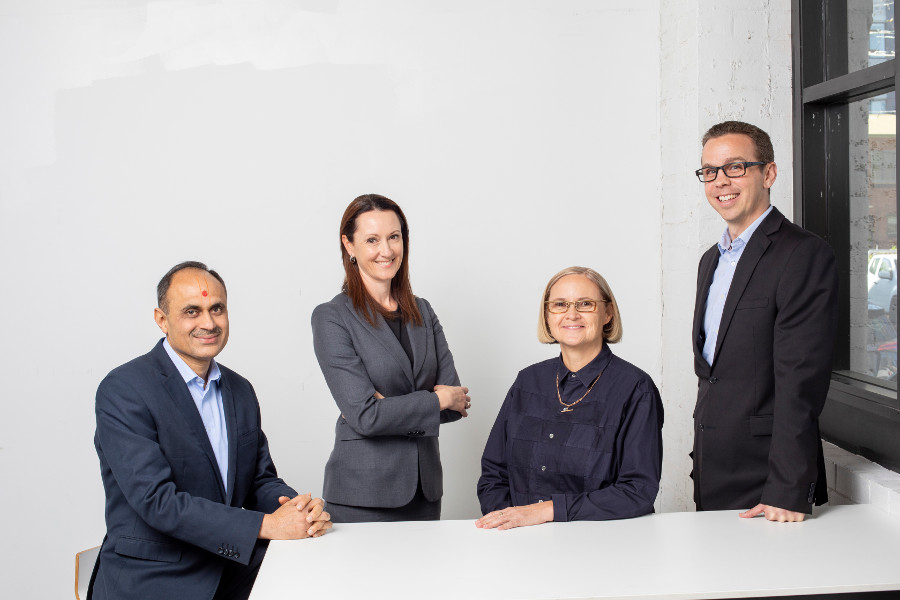 SpeeDx's management team; Bhavin Raval (CFO), Dr Elisa Mokany (CTO), Dr Alison Todd (CSO) and Colin Denver (CEO)
First-in-human clinical trials have begun for Synchron
---
As of September 2019, Synchron Australia Pty Ltd's clever Stentrode device is now under human clinical trials in Melbourne which could prove potentially life changing for people with paralysis who have also lost the ability to communicate.
Within 5 years, Synchron hopes to have significantly progressed through clinical trials and be approaching marketing approval.
The Stenrode technology, combined with artificial intelligence, aims to allow severely paralyzed patients to communicate with loved ones and medical professionals.
Patients will no longer require open brain surgery as the technology is inserted through their blood vessels.
The Stentrode device is designed to record brain activity and stream thoughts wirelessly directly from the brain. Together with other Synchron technology, brainPort and brainOS, brain activity is translated into a standardized digital language. This enables spinal cord injury and other paralysis patients to communicate and control assistive technologies, such as computers or wheelchairs, with their thoughts alone.
The Stentrode had safely recorded high-fidelity brain signals over a long period in a large animal model. The first version of the device is now being used in a first-in-human trial.
"The initiation of this trial represents a significant milestone for the first clinical brain-machine interface technology that is designed to be commercially available. This has not happened before. There is currently no available technology recovery for patients beyond the natural healing process," says Thomas Oxley, MD, PhD, Founder and CEO of Synchron.
Synchron plans to use the findings from this trial to refine and augment the Stentrode.
"In 5 years' time we will have significantly progressed our clinical trials, and acquired valuable data which we can analyse. Based on those outcomes, we will refine our BrainOS system and software and learn more about patients' needs," says Thomas.
After patenting the Stentrode idea, Thomas formed a team at the University of Melbourne to develop the technology and founded SmartStent in 2012, changing its name to Synchron in 2016. It received Accelerating Commercialisation funding of $717,783 in 2016 to develop its Stentrode device and accelerate its first-in-human clinical trial.
"The Accelerating Commercialisation Program has been a critical supporter of our work from the very beginning and its funding has been instrumental in helping us to progress our work," says Thomas.
"The funding was provided to us at a critical time when we were in discussion with prospective investors and knew that we needed to attain value inflection milestones (first-in-human critical trial) that would validate our technology in order to be able to command a better valuation."
Since receiving the AC grant, 25 scientific studies on the system have been published in international peer-review journals.
Synchron employees, patients and doctors eagerly await the results of the first human clinical trial.
Synchron's innovative device is inserted into the brain's arteries to receive electrical signals
Genics – Pathogenic test that will help our farmers
---
Brisbane firm, Genics Pty Ltd, is commercialising CSIRO led pathogen testing technology for the good of Australia's poultry industry, but won't stop until all of the world's protein sources are benefitted.
Avian MultiPath is a multi-pathogen test for the poultry industry but follows on from the Shrimp MultiPath technology that was Genics' first commercial product.
Genics' technology is resulting in improved breeding and production management decisions – for both poultry and shrimp; and therefore reducing costly stock losses, improving food safety and increasing the market value of the product.
Securing food production through smart pathogen detection is possible for just about any form of protein.
"Smart pathogen detection to improve breeding and production management decisions was initially for shrimp farmers and processors, but the company is now expanding into poultry with the assistance of the Accelerating Commercialisation Grant," says Chief Operating Officer, Peter Blunt.
"Opportunities in other species are now presenting. We now require the development of panels to expand our scope of impact from shrimp to poultry, to other species. Longer term, our goal is to deliver production gains with decreases in environmental and social cost," adds Peter.
Genics was founded by CEO and Lead Scientist Dr Melony Sellars, who delivered projects in the aquaculture industry during her 20 year tenure at the CSIRO. During this time, she developed the Shrimp MultiPath technology that is Genics' first commercial product. Peter has 25 years' experience in general management roles and is also a practising solicitor.
Genics won the CSIRO ON Impact Award in 2019 for its shrimp pathogen testing technology, and Dr Sellars, received the first Menzies Science Entrepreneur Fellowship for her work on the firm's Shrimp MultiPath.
Genics received an Accelerating Commercialisation Grant of $469,762 in 2019 to help commercialise Avian MultiPath and ultimately achieve major improvements in poultry production and animal well-being, as well as reduce input costs.
The technology is relevant, useful and affordable to poultry farmers or processor of any size and scale.
"The Accelerating Commercialisation Program has provided essential expert advice from members of the team, including our Commercialisation Adviser Stuart Hazell. The Program has highly experienced and relevant advisers in the program who have added a lot of value to our business during and after the grant application process," says Peter.
"Stuart was a very knowledgeable and he provided valuable insights on our business, the tech and markets that helped shape our approach".
Genics found that Accelerating Commercialisation success led to approaches from investors who really understood why the company's technology is so important to food security.
"The Accelerating Commercialisation Grant provided the immediate financial capability to expand our products into the poultry field, but receipt of the grant has also been widely recognised by industry and led to industry reaching out us to help solve their challenges," says Peter.
Some of Genics' success following their Accelerating Grant includes exporting their pathogen testing technology to countries all around the world and doubling staff numbers from 2 to 4.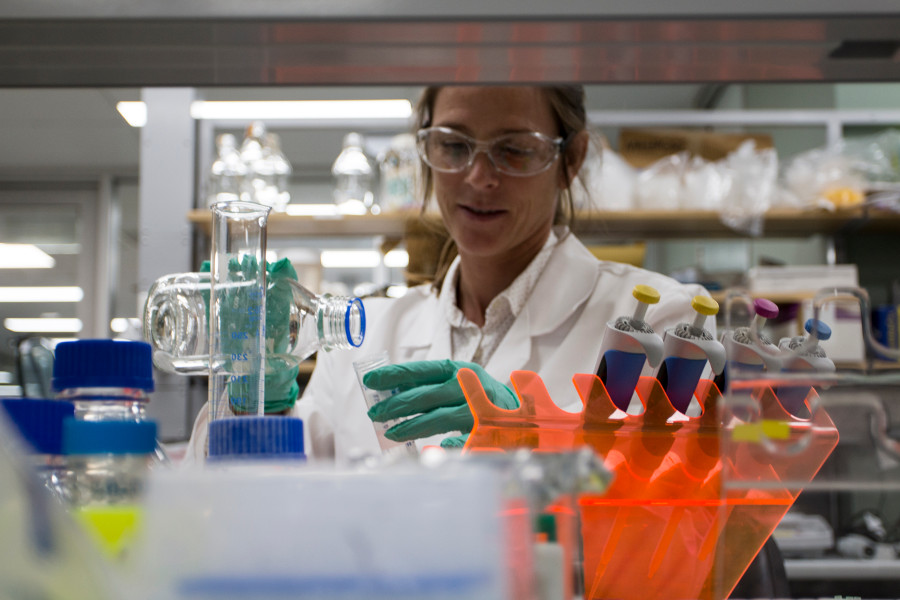 Testing in Genics' laboratory
Learn more about Elane Zelcer, our Victoria based Commercialisation Adviser
---
Are you up for the challenge of dogsledding through the Canadian Arctic? How about staying in small frontier towns in or around the Polar Regions? Would you trust a Spirit bear to stand 3 meters away from you and your camera and not attack you? This may sound like the adventurous spirit of Bear Grylls or Sir Douglas Mawson, but this is what our Commercialisation Adviser, Elane Zelcer does in her spare time.
Elane is 1 of 5 Victorian based advisers that assists businesses in Victoria and Tasmania, with a focus on helping medtech, biotech and agritech startups get their life changing products out into the world.
Elane has spent her early career in and around laboratories. She graduated from Monash University with a Bachelor in Science (Honours) and followed that up with a PhD and Post Doctorate studies on electrical activity in small arteries and other smooth muscle and at McMaster University, Ontario Canada and University of Virginia, USA.
Elane worked for the global multinational, Bayer Diagnostics, leading their Australian & South East Asian Technical Services team as the company introduced home blood glucose monitoring for people with diabetes. From there she became the founding CEO of Thrombogenix (also known as Kinacia) a company developing drugs to prevent heart attacks and stroke.
Elane led the Seed, Series A and Series B rounds for Thrombogenix. "Getting this off the ground at a time when venture funds were few and far between, was extremely satisfying. The series A was an obvious next stage, but the Series B was another level with new investors, and a pre-money valuation I'd be proud of today," says Elane.
Elane has worked as a Commercialisation Adviser since the inception of Accelerating Commercialisation in 2014. What she enjoys most about the role is the ability to assist companies that are leading the world with their innovations. "It really is a privilege to be able to meet people developing products that are new to the world, and to be able to help them develop their start-up, ongoing strategy and navigate their way to their first, or next investment," says Elane.
A key challenge that Medtech startups have that is unique to their sector is their products must meet regulatory requirements in major markets, and many need reimbursement codes. These add cost and time to development and are increasingly expected by licensees and partners. But this is where an AC adviser can help by putting companies in touch with their network of specialists.
The combination of advisers and grant funds focused on start-up and early stage commercialisation development is a strength of the Entrepreneurs' Programme. Elane says "We are a unique group with wide-ranging experience, and we collaborate. If I need a connection, or market information, or a potential partner for one of the companies in my portfolio, I know I can ask my colleagues. It is a powerful and valuable environment that supports our grantees and portfolio companies."
Some of the companies Elane has assisted are truly game changers. These include: Hemideina's Hera hearing device, Straxcorp's bone health software, Synchron's smart stent for people paralysed by injury or disease, and Smileyscope's VR product for children to help make receiving and giving injections a better experience for all. "It is exciting to be a part of the growth of products that can have profound positive effects on people's health."
If you would like to sled across the iced-up Beaufort Sea, along the coast and then into the Mackenzie River Delta, following iced-up rivers and sleeping in tents on the ice for 10 days with a pack of 26 fantastic Alaskan huskies, then Elane is the person to call.
Alternatively, reach out to Elane if you are ready to take your Medtech product to the next level.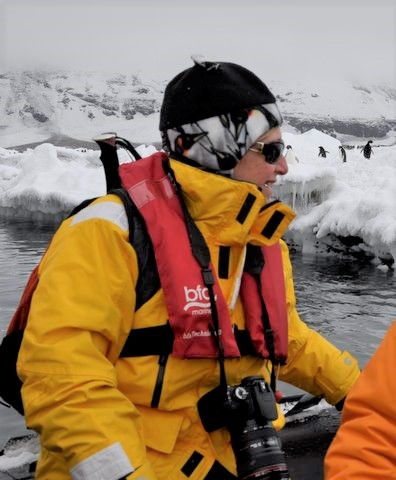 Elane Zelcer while on one of her trips to Antarctica