Global demand for a farming side business
Last Updated: 22 May 2023
A simple clip, invented in a rural Victorian shed, is revolutionising farm fencing around the world. With the help of a grant from AusIndustry, 'Davo's Fencing Clip' is now being sold across the globe, creating a new regional industry and local jobs.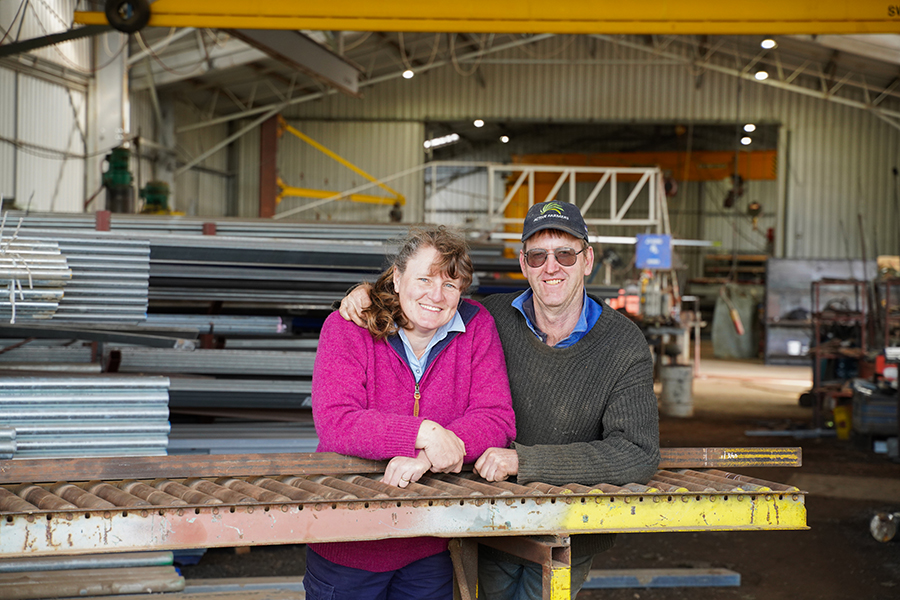 Nicole and Rod Davidson - Davidson Engineering
Based in Casterton, western Victoria, Davidson Engineering has grown from a side business on a small family farm into a thriving clip-making enterprise.
In 2017, Nicole and Rod Davidson purchased a neighbouring farm to expand their herd of Dexter cattle. After hours spent hammering staples into posts for new fences, Nicole urged her husband to find a less labour-intensive way to do the job.
His invention, Davo's Fencing Clip, created an easier and faster way to strongly attach wires to fence posts. In 2018 the couple purchased a second-hand wire-bending machine and started manufacturing the fence clips.
Challenges faced
Sales of Davo's Fencing Clip grew quickly, from 250,000 in the first 12 months to 500,000 in the following year. This was the result of promotion at farming field days in Victoria, New South Wales and South Australia.
When field days halted in 2020 as a result of the coronavirus pandemic, the Davidson's turned to social media for promotion. Their clips caught the attention of domestic and international customers, and soon their second-hand equipment was struggling to meet demand.
How we helped
AusIndustry provided a grant of $100,000 through the Manufacturing Modernisation Fund, matched by the Davidson's, to buy new equipment and scale up production.
"Without the grant from AusIndustry we could never have grown," says Nicole. "Our first machine made enough clips to test the market, but it was unreliable and slow. The new machine makes 10 times more clips in a minute than the old machine. It gives us confidence to fill orders and continue to grow our business."
Outcome
Sales increased to two million clips in 2020–21 and are expected to triple into 2022. Customers are farmers across Australia, Europe, the UK, New Zealand and the USA, with interest from South Africa, India and Brazil. The Davidsons are also keen to move into retail markets in Australia and overseas.
Since 2018 the staff has grown from four to seven, with plans for up to four more staff as the business continues to expand.