Portable monitors with endless possibilities
Last Updated: 22 May 2023
espresso's world-class portable monitor technology continues to evolve with AusIndustry support through R&D Tax Incentives.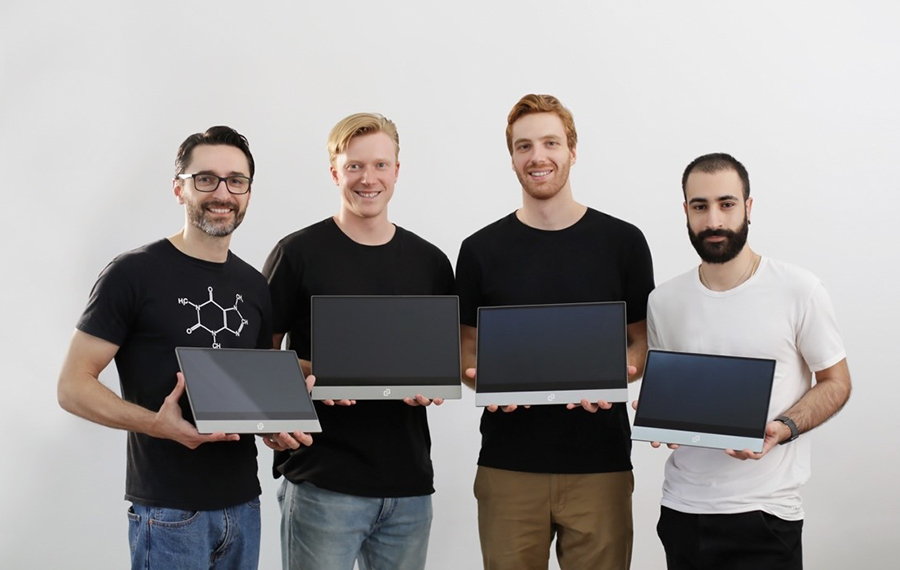 Mobile screen technology for a world on the go.

espresso Displays was founded in Sydney in 2018 by three engineering graduates who were frustrated by the limited screen 'real estate' on their laptop computers. They wanted to create a lightweight, portable monitor that would fit into a backpack and that could be linked to a laptop, mobile or gaming console to provide a better workspace or gaming experience, wherever they went.
In 2019, Will Scuderi, Scott McKeon and Fabian Maritato were joined by business partner Gary Caldarola, to officially launch the espresso Display as the world's thinnest portable touch-screen monitor. Their innovative technology incorporates award-winning design and high-definition resolution, cased in aeronautical-grade aluminium. It is just 5.5mm thick.
Challenges faced
A Minimum Viable Product grant from the NSW Government helped the company to launch a Kickstarter fundraiser in 2019 that was almost 3000% oversubscribed. Extensive, ongoing research has been needed to refine the hardware technology and related software. The company has also faced challenges in sourcing components and the logistics of assembly. This is done overseas as there is limited manufacturing capacity in Australia.
Co-founder Will Scuderi says while there is a growing software capability in Sydney, Australia exports much of its electronic engineering and design talent.
How we helped
Will says the R&D Tax Incentive has helped to fund ongoing research. "It has helped us to get new technology into the market, to scale up our product and expand our reach."
It has also allowed the business to expand its team, providing jobs for skilled engineers. He sees the company's growth as part of a broader opportunity to re-establish advanced electronic manufacturing in Australia, in conjunction with the growing software industry.
Outcome
Within three years espresso Displays has grown from a team of four to a full-time staff of 15, with another eight part-time and casual workers. The business launched e-commerce sales in 2020. Its monthly user base has grown tenfold in the first year and it has customers in more than 30 countries.
In 2021, espresso won the international Red Dot Design Award and Australian Good Design Award, and it was named in TIME's Best Inventions of 2021.