Vayeron - The Smart-Idler saving conveyor systems
Last Updated: 22 May 2023
Vayeron pride themselves on being able to simply solve big problems, like ensuring they reduce the amount of conveyor system issues for Australian businesses, one belt at a time.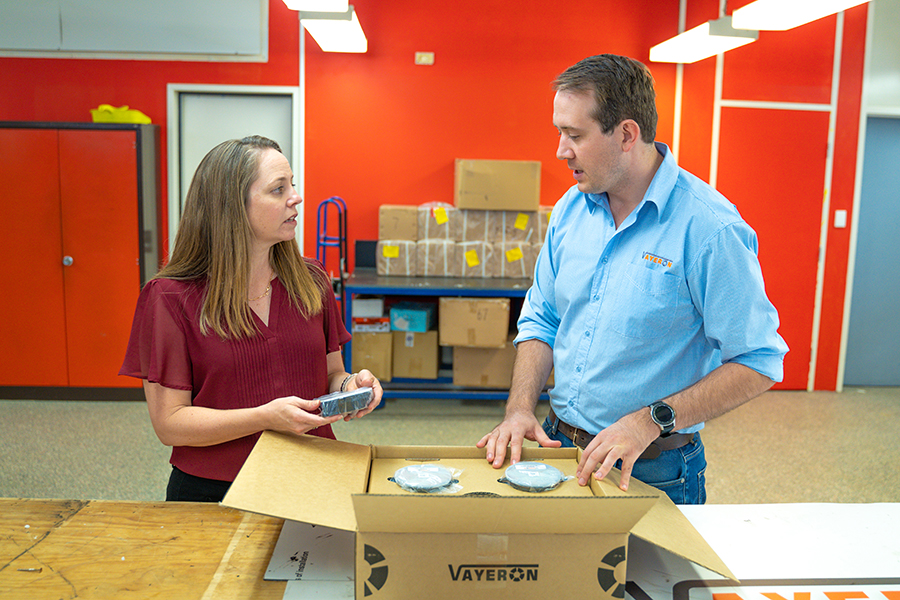 Pictured: Adrienne Rourke, AusIndustry Regional Manager for Central Queensland and Ryan Norris, Founder and Managing Director of Vayeron
Based in Mackay, Queensland Vayeron is a leading supplier of wireless monitoring equipment and analytical software for industrial conveyor systems.
Company founder and managing director Ryan Norris identified an opportunity to improve the maintenance and management of conveyor equipment while working as a mechanical engineer across the Bowen Basin.
His concept was to provide sensors that would continuously and remotely monitor conveyors, providing data to proactively identify problems before they occurred, rather than waiting for breakdowns to happen. This would minimise equipment downtime and extend its operating life.
It required the development of remote sensors that could be easily added to existing conveyor systems or integrated into new equipment and connected wirelessly via the Internet-of-Things to analytical software.
By 2014 Ryan had developed a prototype of his Smart-Idler sensor and found a business partner and seed funding to develop his idea into a product he could really demonstrate.
AusIndustry supported Vayeron through an Accelerating Commercialisation Grant, awarded in 2015 to advance Smart-Idler from prototype to production-ready stage.
Ryan says the Australian government grant programmes provided extremely important to the business, its growth and commercialisation journey.
"Especially in our early days when we were still at the prototyping stage it was more difficult to raise investment."
As part of the Accelerating Commercialisation Grant, Vayeron was able to access a network of AusIndustry advisors to help navigate the hurdles of its new venture. "Our commercialisation facilitator was extremely important – almost an extension of our board," Ryan says.
Vayeron was officially launched as a start-up company in 2017.  A second Accelerating Commercialisation Grant was awarded in 2018 to support large-scale pilot trials with commercial operators to demonstrate the effectiveness of the technology.
"One of the key benefits in applying for these grants is that if you are grant ready, you are investment ready. The government does just as much due diligence on the business that they are looking to award a grant to as an investor would."
The Research and Development Tax Incentive has also been critical in the development of the IoT technology and its commercialisation.
"We've used our capital and our investors' capital for the very intensive technology development process, which is never a straight path. It's always fraught with unknowns and obstacles.
"At the end of the year, the tax incentive has repaid some of the money we've spent, which has allowed us to use that money again in the following year," Ryan explains.
"It has really extended our finances to keep driving forward on research and development initiatives to bring the product to market."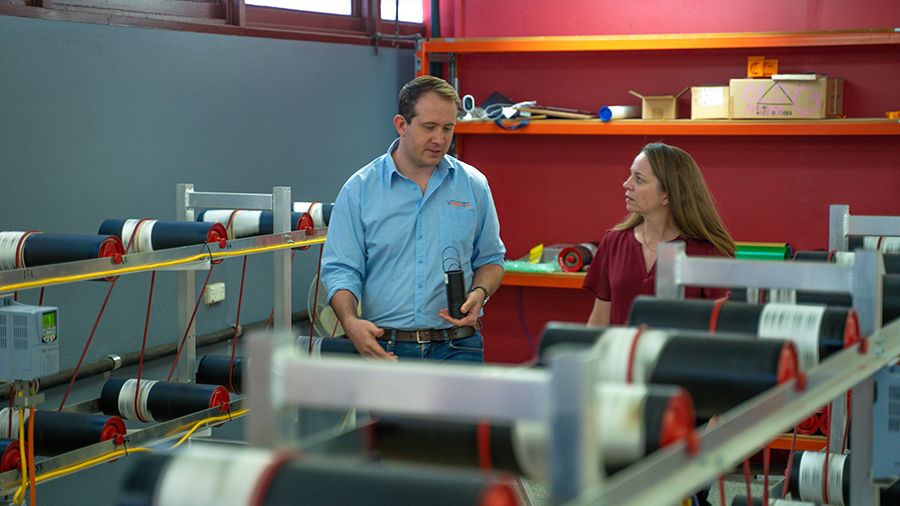 Pictured: Adrienne Rourke, AusIndustry Regional Manager for Central Queensland and Ryan Norris, Founder and Managing Director at the Vayeron HQ
Ryan says the AusIndustry grants have helped to bridge the gaps between early idea, product development and gaining some market traction. "Off the back of that, we were able to secure investment to grow out the business."
Vayeron's team is small, with highly specialised skills in electronic design, mechanical and industrial engineering and software engineering.
The company has won several innovation and design awards since launching in 2017, and has achieved international reach, with systems installed in Australia and Chile.
The company has developed partnerships to incorporate its Smart Idler technology with new equipment being manufactured, as well as retro-fitting equipment already in operation.