AusIndustry
Last Updated: 8 August 2023
AusIndustry provides a connection between small and medium size business and government. Learn how AusIndustry and its business outreach network can help your business.
For over 25 years AusIndustry has continued to be a valuable hub, nurturing partnerships and networks, providing information and connections to help navigate local, state and Australian government support to get the best for each business.
AusIndustry works with businesses every day and is connected to regions, communities and industries and enable government engagement with businesses.
Business outreach network
AusIndustry operates a network of 30 Regional Managers across the country who are connected to regions, communities and industries and provide a local business connection.

Regional Managers provide impartial, trusted guidance tailored to local businesses.

Regional Managers will take time to listen and understand business needs and identify government support mechanisms to enable growth opportunities. They nurture partnerships and networks, provide connections, and help businesses navigate local, state and federal government.

More than 80% of all businesses in Australia are within 60km of an AusIndustry Regional Manager.
Support for Indigenous businesses
AusIndustry is building its capability to better support Indigenous businesses in accessing market opportunities through our Regional Managers.
AusIndustry aims to provide more opportunities, connections and networks across the economy which will improve economic opportunities for First Nations people and communities and create a positive economic impact for the Australian economy.
Locations of our network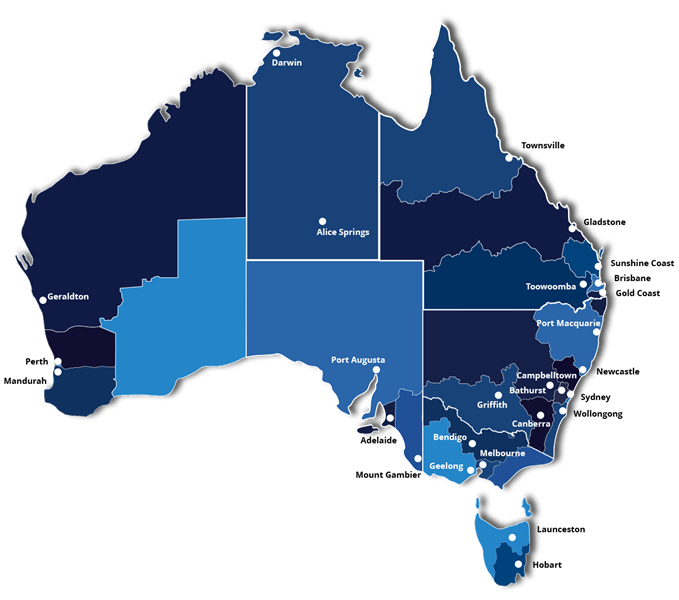 Cost:

Free

Delivery type:

In person services, Phone services, Home and workplace visits

Service area:

ACT, NSW, NT, QLD, SA, TAS, VIC, WA
AusIndustry insights for policy makers
Do you work in government and want business insights to inform your decision making?
AusIndustry's timely, place-based business intelligence provides unique insight into local conditions and the impact of government policies and programs on the ground.

The insights can add significant value to policy and program work by:
sharing business experiences in near real-time, including during natural disasters, supply chain disruptions and other business continuity events
illustrating data trends and building a narrative, including through the use of compelling real-life examples
supporting business engagement and reducing duplication of efforts by sharing what businesses have already told us on particular topics.
AusIndustry shares regular business insights with more than 800 stakeholders across local, state and Australian governments to assist with policy challenges and improve program delivery.