OncoRes Medical – Breakthrough imaging targets better breast cancer surgery
Last Updated: 22 May 2023
Support from the Cooperative Research Centres Projects Grants Program is helping OncoRes Medical to develop world-leading medical imaging technology to identify cancerous tissue.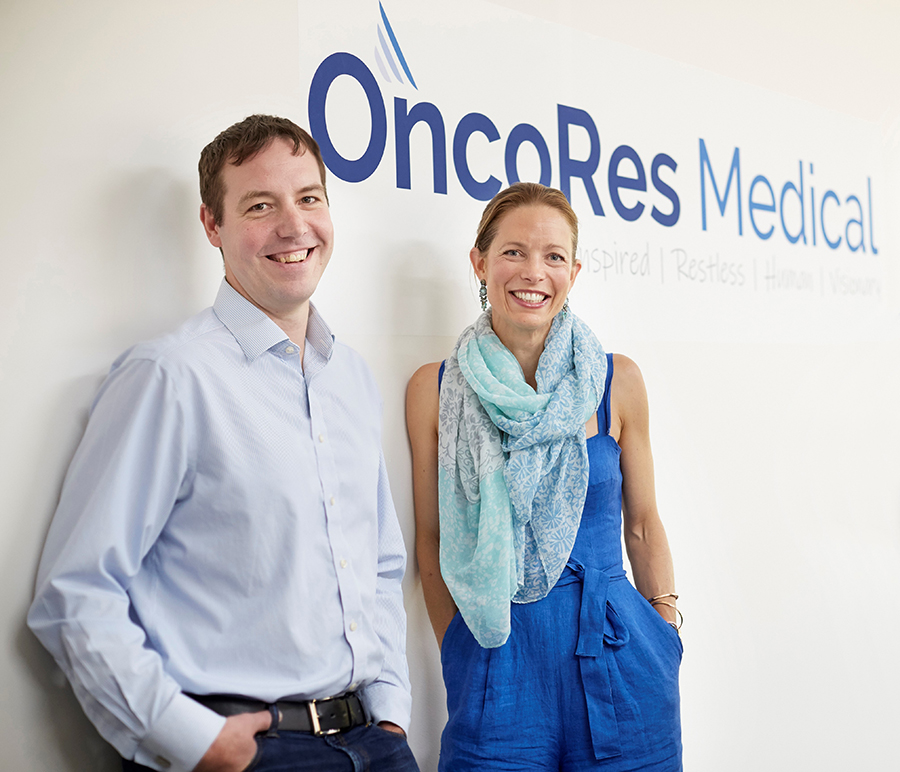 Dr Simon Graindorge and Dr Katharine Giles from OncoRes Medical.
OncoRes Medical is developing world-leading technology to improve the surgical removal of cancers; as well the outcomes for patients and their families. The company has created a handheld probe that surgeons can use while operating to identify cancerous tissue.
Among women, breast cancer is the most common cancer diagnosed and the second most common cause of death from cancer. In the US alone more than 325,000 women are diagnosed each year. Most will elect to have breast-conserving surgery. But up to 35% may need additional operations to remove cancerous tissue that was missed in the first operation. (In Australia, the repeat surgery rate is estimated at 30%.)
Cancerous tissue is hard to detect by normal visual clues such as colour or visible texture. Despite the stiffer texture of this tissue, it can also be hard to detect by touch alone. But this is how surgeons currently decide whether they have removed the entire tumour or not.
The probe developed by OncoRes Medical uses an imaging system to "create microscale maps of tissue stiffness. These tissue maps then allow the surgeon to identify the cancerous tissue and remove it entirely," says Dr Giles.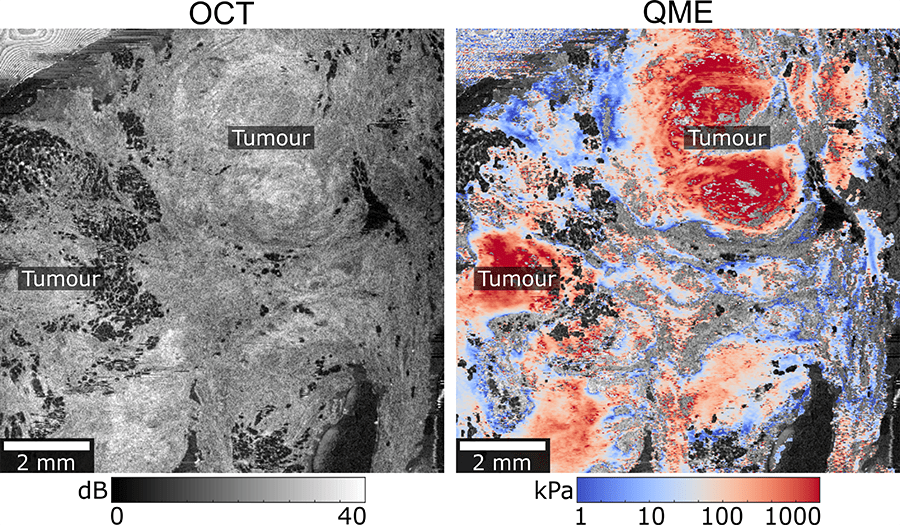 Micro-elastography (ME) and optical coherence tomography (OCT) over-layed to achieve superior images of tissue micro-architecture – Quantitative Micro-Elastography (QME).
Support from AusIndustry, through a CRC-P Grant and the R&D Tax Incentive has been critical to developing this technology in Australia.
The business received a three-year, $3 million CRC-P Grant in 2018. "The CRC-P grant enabled us to iterate the initial design of the handheld probe to a point where it could actually be used inside a patient," Dr Giles says.
In 2022 OncoRes Medical was awarded a second $3 million CRC-P Grant that will run until 2025. This will advance the imaging probe through to TGA approval.
Dr Giles believes the government support has helped to attract local investors, rather than forcing the company to seek investment overseas. She says the US dominates investment in biomedical technologies.
In the next 12 months, the company will be looking for new premises to establish its manufacturing operations. Dr Giles says it will be crucial to transition from the laboratory to commercial manufacture in a cost-competitive way.
"We've shown that we can manufacture locally, with our current devices. If we can manufacture here and export our product, then we can create so many more jobs for skilled workers, and income for Australia," she says.