Separtis – Recycling innovation evolves from plastics to e-waste challenges
Last Updated: 22 May 2023
Australian technology startup Separtis is leading research to solve a range of plastic waste and environmental contamination issues with help from a Cooperative Research Centres Projects Grant.
Recycling innovation evolves from plastics to e-waste challenges
Recycling co-mingled plastics, reclaiming metals from e-waste and removing microplastics from water sources are just three of the potential applications for a recycling technology being commercialised by Orange-based start-up Separtis.
The company was founded in 2019 to develop a US-patented biopolymer technology to recycle plastics. Its research has since led to other waste recovery applications.
Separtis CEO Emma Clark says the government support has been vital to the research. "The CRC-P has allowed us to tap into the deep technical expertise at our universities."
Separtis received a $1.18 million Cooperative Research Centres Project (CRC-P) Grant from the Australian Government. The three-year grant has helped fund a research partnership with the University of Sydney.
"E-waste is one of the fastest-growing waste streams, and it doesn't belong in landfill. Some of the materials are hazardous. They also contain critical metals that are vital to support our transition to Net Zero emissions. This includes metals for use in renewable energy processes.
"We started thinking about how to break down the plastic, pull out the metals and then recapture the metals selectively – gold, copper and so on."
"What's most interesting is the amount of metals present in e-waste," Emma says. "There is approximately 300 times more gold in a tonne of iPhones than a tonne of ore."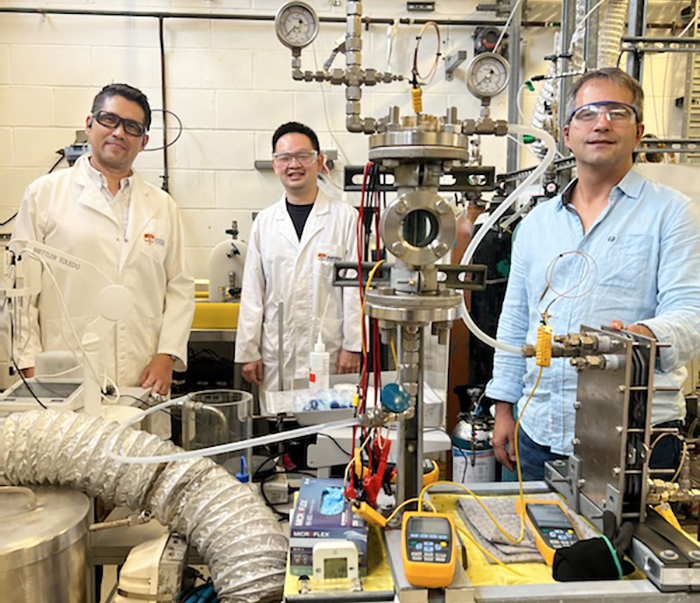 "We're using electrolysis – an electrochemical process. We shred the e-waste, for example, and put it into the electrolyser where the metals are drawn into the solution using non-toxic chemical 'oxidisers'. These oxidisers are then recycled, allowing for a circular process."
"The metal recovery we've been able to achieve is really exciting," says Emma. "There's great potential applications in mineral processing, e-waste recycling and green mining."
This world-first process will result in new IP for Separtis. It will address the increasing demand for metals and pressure for 'green' solutions. Emma says it has already drawn the attention of international partners.