CRC Projects – Design and Manufacture of a 6000m depth rated medium work class ROV
Last Updated: 22 May 2023
Total Marine Technology have developed one of the world's most powerful non-military Remotely Operated Vehicles, the Typhoon MK4.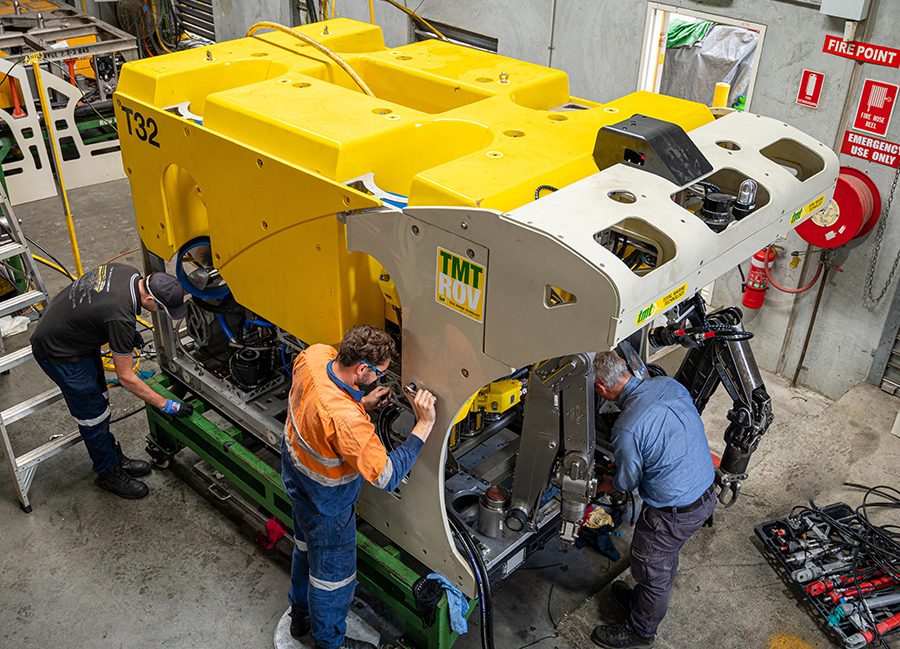 The powerful Typhoon Mk4 Ultra Deep ROV meets the needs of the diverse deep-sea industry.
Total Marine Technology and partners Sapura Energy Australia and the University of Western Australia, backed with a $3 million CRC-P grant, have developed the Typhoon MK4-6000 (TMK4), one of the world's most powerful non-military Remotely Operated Vehicle (ROV) capable of operating continuously at 6000+ metres ocean depth and with advanced capabilities that address the diverse needs of the subsea industry.
The development of the TMK4 is in direct response to the industry's demand for a new generation of ROVs that fulfil current industry needs whilst keeping an eye on the future. The innovative design addresses many existing issues faced by the industry including the requirements for a high powered unit with depth capability of 6000+ metres, enhanced observation operations, minimal disturbance of marine life, increased manoeuvrability and rapid mobilisation times. A predictive, self-monitoring fault detection system has also been incorporated to provide cost effective vehicle maintenance and can self-repair in some instances to prevent unexpected down time during operation.
The design and manufacture of industry standard ROVs, especially ultra-deep (6000 m+) rated vehicles, is a complex, high-tech endeavour which requires highly specialised expertise and an inclusive approach across a wide range of industry sectors and engineering disciplines. The collaborative nature of the Total Marine Technology led CRC-P fits well with the aim of the CRC‑P Program, which is to enable industry-led and outcome-focused collaborative research partnerships to solve industry problems, where the final outcome is a commercial product.
The new capabilities developed through the CRC-P have already lead to the company winning new contracts and competing in the highly competitive international market with the USA, UK, Norway, Canada and South Korea - the only other countries to have ultra-deep ROV capabilities. The technology has cross-over capabilities in the diverse subsea operations industry with a clear focus on meeting emerging and future industry needs.
Total Marine Technology was established in 1999 to manufacture locally-built ROVs specifically for the deep-sea industry, spanning a wide range of sectors including offshore drilling, seabed research and oceanography, deep-water salvage and rescue and, trans-ocean fibre optic communications. Hundreds of suppliers and manufacturers across Australia supply services and goods to Total Marine Technology for the manufacture of the ROV systems. These businesses will continue to benefit from the new capabilities developed as part of the CRC-P, building the sustainability of Australian industries and creating jobs for Australians.
Commonwealth support through the CRC-P program has been leveraged with a further $7.5 million in contributions from the project partners.