Admedus Immunotherapies – Saving lives, improving health and enhancing the quality of life
Last Updated: 22 May 2023
Admedus Immunotherapies is a global leader in developing life-saving vaccines and treatments for the human papilloma virus (HPV). Vaccines are amongst the most cost-effective and successful health investments available today.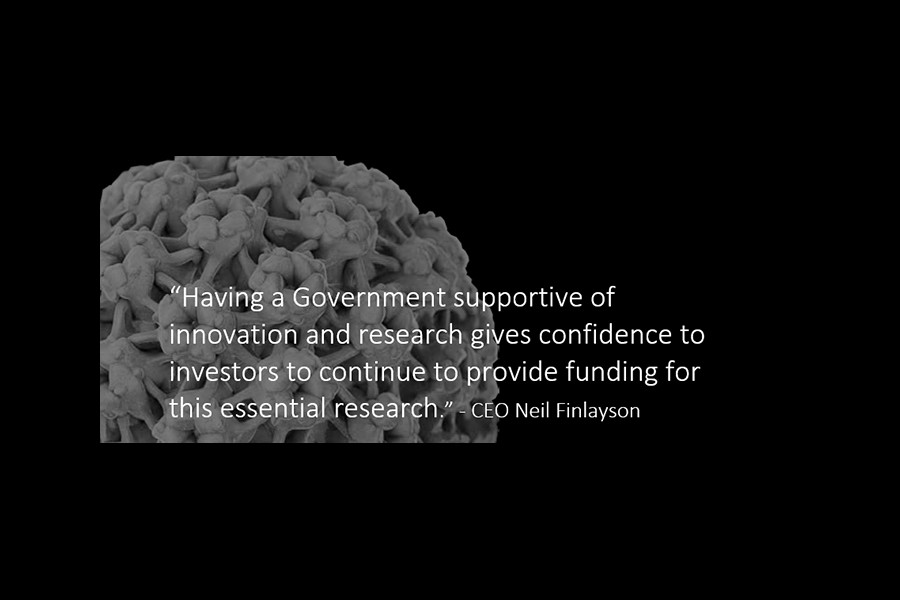 Company Profile
Company: Admedus Immunotherapies
Sector: Biotechnology
Location: Brisbane
Profile: Headed by Australian of the Year Professor Ian Frazer, Admedus Immunotherapies uses new technologies to fight a wide range of infectious diseases and cancers.
Why R&D is needed
Admedus Immunotherapies is developing a vaccine to treat cancerous and pre-cancerous conditions caused by HPV. Clinical studies will commence shortly. HPV is a common virus that affects men and women. Up to 80% of people will be infected with at least 1 strain of the HPV virus at some point in their lives. While HPV can be harmless for many people, it can in some cases lead to cancers of the anogenital area. HPV is also linked to other cancers including cancer of the head and neck.
Admedus Immunotherapies has had promising results for research to date into the development of a vaccine for the HSV-2 virus. HSV-2, also known as genital herpes, can cause painful symptoms and cancer. If successful, the vaccine would help prevent the virus being transmitted and reduce the painful outbreaks experienced by some people with HSV-2. Research to date shows that the company's HSV-2 vaccine has some benefits to people who carry the virus. Further R&D is needed including lab research, clinical trials and investigations into how the vaccine can benefit more people.
How the Research and Development Tax Incentive helps
The Research and Development Tax Incentive (R&DTI) program has provided $3.37 million funding over three years to Admedus Immunotherapies. CEO Neil Finlayson says R&DTI makes the company more resistant to capital pressure — especially important when you are wholly reliant on external funding for ground-breaking research.
"For our HSV second study we were really struggling to do what we wanted to do. If we didn't have the additional money, it could have been an under-powered study. At the time, we couldn't raise capital so we were between a rock and a hard place. We were fortunate that we knew the R&DTI return was coming."
As well as supplying much-needed capital to entice investors, the company's R&D budget also creates employment opportunities. Thanks to this funding, new staff have been hired to assist with Admedus Immunotherapies' clinical studies. Research organisations in Adelaide and Brisbane have hired new project managers, medical writers, clinical trial monitors and statisticians, and Brisbane's QPharm has employed additional study nurses, pharmacists and clinicians.
Looking forward, the company is poised to help eradicate HPV and provide relief to those with the virus.
These results will also deliver a return on investment for shareholders and boost productivity and economic growth across the sector.
R&DTI Impact Facts
Australian employment opportunities across the supply chain
enabled essential clinical studies
intellectual property secured
collaborations with University of Queensland and University of Washington