Bugs for Bugs – Creating biological alternatives to chemical pesticides
Last Updated: 22 May 2023
Bugs for Bugs depends on long-term R&D projects that aim to improve sustainable food production. The R&DTI helps Bugs for Bugs survive the years between R&D investment and financial return.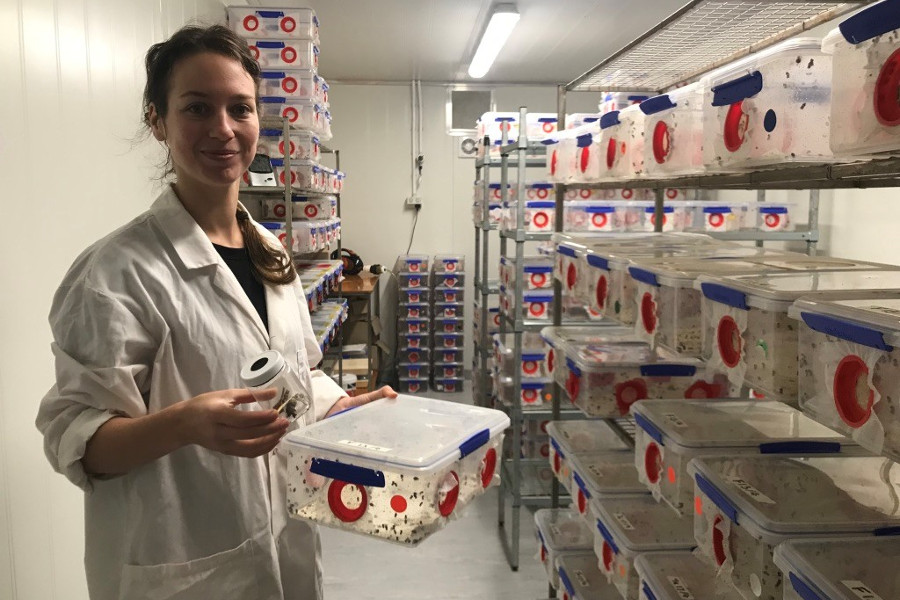 Bugs for Bugs develop non-toxic alternatives to chemical pesticides.
Company Profile
Company: Bugs for Bugs Pty Ltd
Sector: Biological pest control / Agriculture
Location: Queensland
Profile: Bugs for Bugs develop non-toxic alternatives to chemical pesticides. They supply and sell these products to Australian growers.
Why R&D is needed
For many years, the agriculture, forestry and fishery industries have used pesticides. They use pesticides to control weeds, pests, insect infestations, and disease carriers. Many feel that pesticides have increased world food security and standards of living. Without pesticides, Australian growers would have produced far fewer products.
Although pesticides have been important to agriculture, there are some concerns about their safety. Pesticides may have long-term effects on the environment, ecosystems and human health. People take in small amounts of pesticide from their food, air and water. According to the World Health Organization (WHO), pesticides are linked to some negative health effects in humans, such as cancer, effects on reproduction, immune or nervous systems.
Pesticides also have some negative impacts on the environment. For example, over-using pesticides could lead to the destruction of biodiversity. Pesticides threaten many species on the land and in the sea. This makes pesticides a concern for environmental sustainability.
Pesticides also cause weeds and insects to become resistant to insecticides and herbicides. This leads to people using more pesticides. For example, in the early 90s, the cotton bollworm became resistant to insecticides and put the global cotton in industry in danger.
Today, scientists are looking at environmentally sustainable ways of managing pests. A solution called Integrated Pest Management (IPM) might allow us to reduce our dependence on pesticides.
Bugs for Bugs is a Queensland-based company that has specialised in IPM for over 35 years. They are one of Australia's leading suppliers of non-toxic alternatives to chemical pesticides. The company's aim is to help Australian growers to use IPM to reduce their use of chemical pesticides.
Bugs for Bugs offers a wide range of non-chemical solutions for crops. These crops include citrus, cotton, tomatoes, sweet corn and greenhouse crops like cucumber and capsicum. Bugs for Bugs' customers are mostly commercial growers looking for a better way of doing things. Recently, the company has also started working in the animal production industries and producing products to target nuisance flies.
The company's product range includes a variety of bio-control agents. These are insects that are natural enemies to pests. They are either native or naturalised and include ladybird beetles, tiny parasitic wasps, predatory mites, and many more. The company also offers a range of environmentally friendly fruit fly control products, and other pest management tools including insect traps and pheromones.
Entomologist Dan Papacek is the company's founder and co-director. He has been developing IPM solutions for more than 40 years. When Mr Papacek first started Bugs for Bugs, their focus was on providing a consulting service on pest management practices. But since the late 90s, the company has been producing bio-control agents. The company has invested a lot of resources into research and development. They started by producing bio-control agents for citrus, and have since diversified into other crops to meet growing demands.
Mr Papacek said that as a science-based company, large research and development projects have been essential to his business. He describes R&D as an ongoing process. His company is continuously improving its processes and solving problems. It takes years to turn the idea of a new biological control agent into a commercially viable product for growers.
The company has focused some of its R&D efforts on improving the reliability of production. In a recent six-year R&D project, Bugs for Bugs tried to improve the mass rearing production system for montdorensis predatory mites.
Mr Papacek said that the company was having contamination issues with this product.
"When our growers cannot get these valuable tools on demand they revert to pesticides and lose confidence in our product."
The R&D project identified weaknesses in the system and helped the company to minimise the risk of contamination.
Growers now use these mites to control thrips and whiteflies, especially for greenhouse vegetable crops. Bugs for Bugs is one of two companies worldwide researching this organism. In Australia, the company is one of four that is mass rearing beneficial insects.
How the Research and Development Tax Incentive Helps
According to Mr Papacek, investing into R&D used to be risky for Bugs for Bugs. The company faced financial difficulties when investing in R&D, because it took years to make financial gains and the outcome was uncertain.
Mr Papacek believes that without the R&DTI, Bugs for Bugs would not have survived.
"If we weren't getting any type of financial relief during these times, I don't think we would be here today," he says.
The R&DTI has enabled Bugs for Bugs to hire about 25-30 per cent more highly skilled researchers. This has sped-up its R&D. Mr Papacek said that more staff means more time for R&D activities.
"The R&DTI has certainly helped us to grow the business more and to develop more quickly."
Although the company is in a more stable financial position today, Mr Papacek believes the R&DTI will continue to support the company's growth and help maintain staff.
Bugs for Bugs' diverse range of IPM solutions has many positive effects on the Australian ecosystem and human health. Reducing the use of pesticides leads to more sustainable food production. It also leads to less pesticide-related threats to food supply and the environment.
Increasing the use of natural pest control products reduces the need for chemical pesticides. In this way, growers can use smaller amounts of chemical pesticides for a longer time, reducing the risk of resistance. By making crop production more sustainable, growers can maintain a viable business.
Bugs for Bugs products also act as 'import replacement' products. Chemical pesticides are mostly imported from overseas, while Bugs for Bugs' products are produced in Australia.
Mr Papacek said that his company also partners with many IPM consultants who advise farmers on pest management. The company's products help IPM consultants improve their clients' pest management by giving them non-toxic alternatives to chemical pesticides.
The R&DTI program has helped universities, government departments and other organisations to work together. Bugs for Bugs has worked directly with Departments of Agriculture, the CSIRO and the Queensland Museum.
The R&DTI has helped Bugs for Bugs develop intellectual property and new skills. In this way, the R&DTI has enabled Bugs for Bugs to support other organisations in their research projects.
Bugs for Bugs is currently working on a few exciting R&D projects, for example, researching a better way of producing pest control for the two-spotted spider mite.
"The R&DTI has certainly helped us to grow the business more and to develop more quickly," Mr Papacek said.
R&DTI Impact Facts
30-40% of annual spend towards R&D.
Supported the development of more than 10 species for natural pest control.
Improves sustainable pest management by reducing the use of chemical pesticides.
Increased proportion of research staff by 25-30%.
Supports the development of intellectual property critical for the Australian agricultural sector.