CBG Systems – Large-scale life-saving technology from Hobart
Last Updated: 22 May 2023
The R&DTI helps CBG Systems design and install cost-effective safety technology.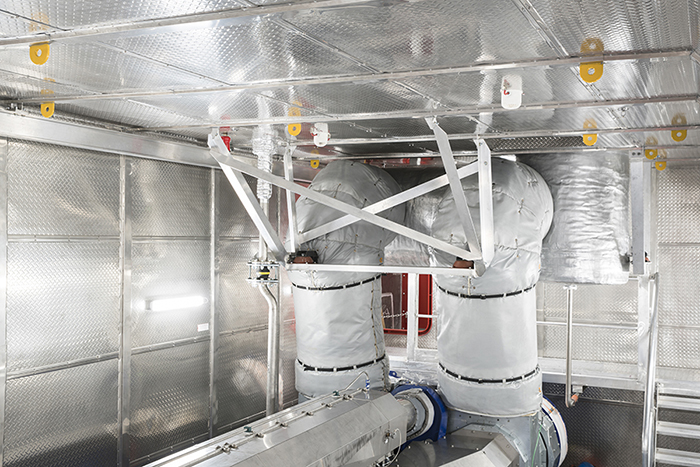 CBG Systems innovates marine insulation, communications and lightweight passive fire protection.
Company Profile
Company: CBG Systems
Sector: Marine Insulation and fire protection systems, Defence Safety and Insulation, Communications, Signature Management
Location: Hobart
Profile: For more than 30 years, CBG Systems has set the benchmark for the marine insulation, communications and lightweight passive fire protection industry.
CBG Systems supplies and installs equipment designed to save lives and money. This equipment includes fire, thermal and acoustic insulation, specialist antenna systems and signature management. CBG Systems supplies equipment for merchant marine and military operators worldwide, including the US Navy.
Why R&D was needed
CBG Systems made a name for itself with unique solutions in rapid access structured fire protection for aluminium ships. The company's success attracted high-profile interest from large-scale domestic (Incat Australia) and international (US Navy) players. Its insulation products include international certifications, including those for the United States Coast Guard (USCG), Kanto District Transport Bureau (JG) and Transport Canada (TC).
Although it had a small team, CBG Systems was successful. It wants to invest in R&D that would help it meet new fire insulation standards. R&D would also help the company create new ways of protecting steel and aluminium vessels.
R&D in this area is expensive and CBG Systems is the only Australian company involved in this type of R&D.
Finance and admin director James Orr said his company want to speed-up their development work. The company want to reinvest the costs saved through tax rebates into more R&D and testing. Without tax rebates, R&D would be delayed or not conducted at all.
To launch their R&D, the company would need to employ new engineers to work at its testing facility. The company also aspire to work with research bodies like the CSIRO.
Mr Orr said that CBG Systems wish to design and produce a product that met or bettered current or future standards. They aim to develop a new Rapid Access Composite (RAC) system at a lower cost.
CBG Systems would like to support the Australian Army and Navy.
"The compliance of our products is a complicated and costly process. The R&DTI helps fund that challenging testing and compliance regime," Mr Orr said.
How the Research and Development Tax Incentive Helps
Mr Orr said the R&DTI helps CBG Systems pursue its goals. He said the impact of R&DTI on his company has been "massive."
"We have been able to partner with other local and Australian businesses. We can now manufacture in Hobart and Western Australia, as well as Italy and the US, as we seek to offer 80% Australian content," Mr Orr said.
"We went from none to 2 qualified engineers, and overall from 24 to 40 employees. This can now climb to as much as 60-80 on a temporary basis for specific projects.
"We have our own testing facility working on the next iteration of the RAC system, which we think we'll now be able to get to market in 5 years. We are doing development work in Australia with the CSIRO," Mr Orr said.
Results from CBG Systems' R&D helps the company expand into related areas of research including antennae and lightning protection.
CBG Systems is an in-demand domestic and international supplier. Mr Orr said that this has helped CBG Systems to service and equip more vessels at once. In Hobart, "the bay really lights up with each major contract."
"We are doing much more business and much more R&D. We are expanding into other markets. We have more employees. On big contracts the other businesses or suppliers we work with employ new staff. More money is spent in the Hobart economy. The benefits are wide."
Mr Orr said one of the main benefits of the R&DTI has been having the cash flow to take some calculated risks. Without the support of the R&DTI, the company wouldn't be in the position it is in today.
"The tax incentive program has meant we can move more quickly, move faster, get into the marketplace, export, employ."
"Bringing in the RAC2 system, for example, has allowed us to lower cost at the same time as deliver a better product. Without access to the R&DTI, revenue would fall off. We'd miss opportunities. Everybody suffers."
"Had we not had the tax incentive scheme, we almost certainly wouldn't have the business we have today. It would not have been possible to do what we've done. It's been a huge help to cash flow. We'd have been in a lot more debt otherwise."
"Now that we are approaching 80% Australian content, our capacity to attract the Australian Navy and Army can only be enhanced," Mr Orr said.
"Our expertise has grown massively. We've become smarter as a result. Our future planning has us intending to conduct more R&D, pursue continued innovation, diversify further - both in terms of clients and products and categories," Mr Orr said.
R&DTI Impact Facts
Some $1 million provided to the company via the tax incentive
Helps the company work with the CSIRO
Gives CBG Systems tax offset at 43-45%
Helps the company employ two new engineering employees
Helps the company use new testing facilities
Helps the company expand in their market
Lowers production costs of the RAC2 system
Increased employment in Hobart via subcontracting
Helps innovation and planning for diversification