Heuch – Empowering businesses and communities to be self-sufficient and economically sustainable
Last Updated: 22 May 2023
Under the R&DTI, Heuch used innovative technology to deliver refrigeration, heating and off-grid power solutions to some of the most remote communities and businesses in Australia.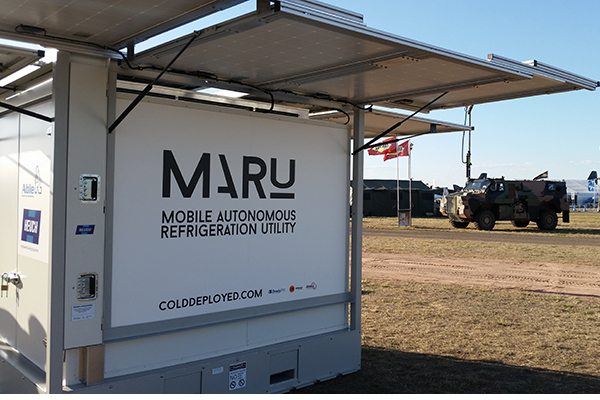 Mobile Autonomous Refrigeration Unit (MARU)
Company Profile
Company: Heuch
Sector: Manufacturing
Location: Melbourne
Profile: Heuch is a manufacturing and service company specialising in first rate heating, ventilation and air conditioning engineering solutions and programmed maintenance services. Heuch design and build customised industrial and commercial products to meet the operating needs of customers. Applications include refrigeration, environmental control, solar power and air conditioning services.
Why R&D was needed
The core business for Heuch is designing bespoke refrigeration equipment and the R&D has made it possible for them to develop and maintain a strong manufacturing business. From dehumidifiers to solar power refrigeration, Heuch have developed a range of niche, high quality engineered products for which they are famous within industry.
Through their extensive R&D activities, Heuch have removed the barrier often faced by remote communities who are unable to rely on traditional power supplies required for heating, cooling and industrial refrigeration products. A great example of this is their new range of solar powered refrigeration units, which are first to market with proven and field tested systems.
Heuch considered remote business sites and communities where access to grid or generator power is difficult, so running large refrigeration units was often impossible. Simple to set up, the solar powered containers are fully self-sufficient, and capable of working completely independently of the power grid. They do this by depending solely on their own solar panels and batteries, when required, for electricity.
R&D has also been occasionally leveraged to assist in Heuch's service support to other Australian businesses. They have developed their own unique components in Australia, which they would otherwise have had to import from overseas if available. This has allowed Heuch to develop knowledge and skills, cut costs and have more control of the supply of components and techniques critical to servicing refrigeration equipment.
Ongoing R&D activities have also led to the development of electrical components not normally supplied by a refrigeration manufacturer.
Heuch see their R&D activities as an investment in their future as they develop their next line of products and explore new markets. Their current line of products is predicted to support growth for the next five
How the Research and Development Tax Incentive Helps
Before the Research and Development Tax Incentive (RDTI), Heuch predominantly focussed on their traditional manufactured product and services business, where R&D would typically be limited to developing the odd component which was often difficult to source. Heuch's Managing Director Steven Oakley explains that R&D remains an expensive and inherently risky activity for the company, so it would have been difficult for Heuch to invest heavily in this space without the RDTI program.
Heuch have been part of the RDTI program since 2003. In that time, it has allowed them to increase spending on R&D by 15% of their total budget and claim back in excess of $1,000,000 from the program.
Mr Oakley says that investment from the RDTI program has stimulated Heuch to maintain and grow its manufacturing business and develop some truly innovative technologies. It has also given the company the financial freedom and confidence to investigate new ideas, technologies and potential markets that would have otherwise been unviable:
"On the basis that we would receive some compensation back from the RDTI program we could justify having a go at something that could work and allow ourselves the opportunity to make mistakes" he says.
Mr Oakley further explains that under the program the company has had the opportunity to develop components in Australia which they would have otherwise had to import from overseas.
Supported by the RDTI program Heuch have developed more than 12 different products and explored a number of new ideas. As a direct result of the program, the company has expanded into new markets including hybrid solar, refrigeration technologies for remote areas and disaster relief.
Mr Oakley attributes the company's development of solar powered refrigeration containers directly to the RDTI program. These containers are now available across Australia and Heuch are also considering options to have these built under licence overseas.
Mr Oakley explains that not only have the solar powered refrigeration units offered a great benefit to communities and industries where there isn't easy access to mains electricity, they have also built a foundation on which to bring together other research institutions to collaborate.
Through continual growth over the years, Heuch now has 18 members of staff who are highly skilled in their fields, thanks in part to the RDTI program. The R&D activities at Heuch have meant staff have had the opportunity to upskill and work on a variety of interesting and challenging projects. Mr Oakley states that Heuch employees have benefited greatly from the company's participation in the RDTI program:
"The RDTI program helps us to promote lifelong learning in our business, in turn maintaining morale, boosting self-empowerment and improving personal development for staff as they continuously learn" he says.
In the future Mr Oakley sees the RDTI program supporting Heuch in exploring opportunities for collaboration with RMIT University. Currently the company has created two internship opportunities for students from the university, facilitating a mutually beneficially partnership that gives students first hand industry experience and gives Heuch a platform on which to build on collaborative opportunities with an external research institution.
Mr Oakley explains that without the RDTI program, the company would struggle to maintain and grow their manufacturing business. It is likely that R&D they have already undertaken will carry them through for the next five years. Beyond that however, the company would have to fall back on their services business and rely on importing components from overseas. Without the RDTI program Mr Oakley also believes that their direct workforce would reduce over time from 18 employees to six and remove opportunities for associated support companies.
RDTI Impact Facts
Claimed in excess of $1,000,000 from the RDTI program in the past 14 years.
Increased their total R&D budget by 15%.
Developed more than 12 different products under the RDTI program.
Built a strong manufacturing business supported by the RDTI program, growing employee numbers from 6 to 18.
Given employees the opportunity to upskill and work on interesting projects.
Students at RMIT University benefit from being able to undertake internship opportunities with Heuch.
Delivered innovative solutions to refrigeration problems in the most remote parts of Australia.