Micro-X Limited – Leveraging carbon nano-tube technology to save lives
Last Updated: 22 May 2023
Under the R&DTI, Micro-X Limited saw the opportunity to use carbon nano-tube technology in mobile X-ray carts to improve the portability and use of these carts in the medical, security and defence markets.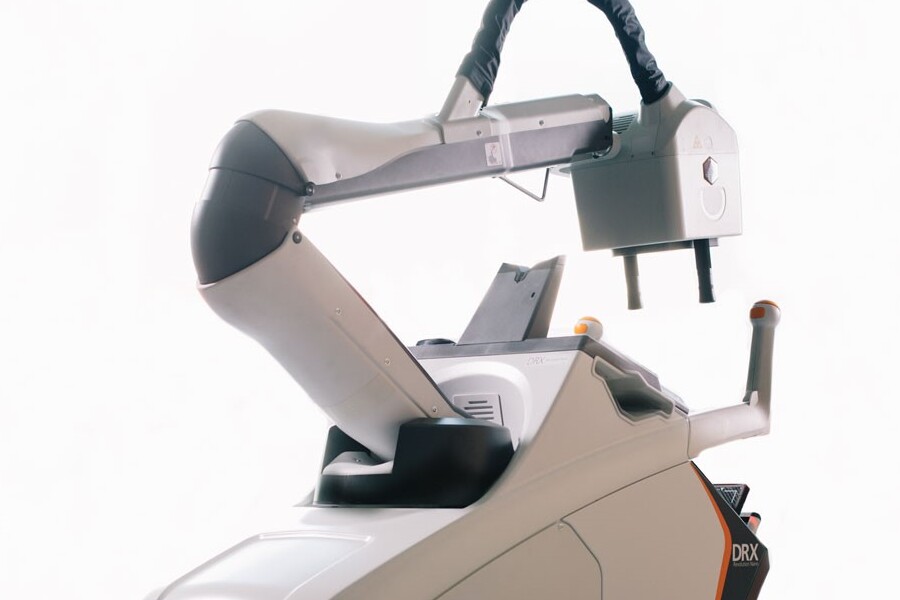 Mobile X-ray cart
Company Profile
Company: Micro-X Limited
Sector: Manufacturing
Location: South Australia
Profile: Established in 2012, Micro-X is a mobile imaging company using carbon nano-tube technology in the medical, defence and security markets.
Why R&D was needed
Currently Micro-X is in the research and development stage moving toward manufacturing stage for their first product, which is a novel medical mobile X-Ray cart. Their aim is to use carbon nano-tube technology and apply it to make X-ray carts more mobile and light weight, reducing the weight of the cart from the current 400 - 600kg to 100kg.
From a medical point of view, this product will significantly increase the workflow - which means that people in hospitals and in aged care who need X-rays will have shorter waiting times and, when required, the X-ray cart can be brought to the hospital room instead of moving patients to the X-ray room.
In addition to its healthcare applications Micro-X is testing the effectiveness of this technology for defence and security fields, around explosives detection. Currently the organisation has a contract with the Department of Defence to test and prove that the technology can be used on a battle field. One of the key aims of this technology is creating the ability to detect explosives so personnel do not need to be sent out, which will save lives. Per Micro-X's CFO Georgina Carpendale from a defence perspective, "this could save lives by reducing risk when trying to find out what is in a package."
Initially the business outsourced the engineering expertise, though recently the team has expanded to 23 employees from a team of two in September 2015. Due to this expansion, Micro-X are developing their engineering capabilities internally and managing the different engineering disciplines required themselves.
Micro-X outsource part of their engineering expertise to the Australian based company Hydrix. They also outsource other elements as well including sourcing of materials, regulatory expertise, and expertise to create this novel product.
"Things that are made here are made well, and it is not going to have that much of a cost benefit [to manufacture this overseas]. We try keep things as local as possible," says Ms Carpendale.
Micro-X Limited have an Original Equipment Manufacturer (OEM) agreement with US company Carestream Medical, which gives them global distribution and naming rights to the mobile X-ray cart. Carestream Medical is the global leader in mobile X-ray, and Micro-X worked closely with the company to develop a product that is appropriate for the market and is consistent with what radiographers are looking for in the product - from ergonomics to workflow. The cart will also use Carestream Medical software which most hospitals are currently using. Through this partnership Micro-X is able to penetrate the market despite being a small player in an industry with a high barrier to entry.
Since the inception of the company, Micro-X has been researching uses of the technology in different ways and per Ms Carpendale, Micro-X Limited "will bring ground-breaking products…both in medical and security."
Micro-X listed on the stock exchange in December 2015, to increase access to funding and was originally funded by Australian private investors. The company received a $3 million state loan in 2016 from the South Australian state government, which was one of the key sources of motivation to move to the state. Micro-X has also received funding from the Department of Defence to develop the defence product.
The R&D Tax Incentive is one of the key forms of government funding beyond this. To date Micro-X has only claimed the RDTI for the medically focused version of the product.
The R&D Tax Incentive is one of the key forms of government funding beyond this. To date Micro-X has only claimed the RDTI for the medically focused version of the product.
How the Research and Development Tax Incentive Helps
Since the inception of Micro-X in 2012, the organisation has applied for the RDTI, which forms about 20% of their total funding. Research and development takes up 90% of Micro-X's budget.
Needing such a high level of investment, the RDTI has enabled the company to be less reliant on external investment.
"We've probably grown quicker than we planned, without the money coming through [from the RDTI] we wouldn't have been up to the 23 employees," she says.
Assembly of the X-Ray cart is all done in Tonsley, South Australia and all the manufacturing and engineering employees are ex-General Motors employees. Micro-X's director approached Holden in 2013, knowing about the plans to shut down their car manufacturing operations, and worked closely with Holden to train and transition eight Holden employees across to produce Micro-X technology.
Per Ms Carpendale "because we have hired a lot of ex-General Motors employees… [we have been] trying to promote to people in the car manufacturing industry that their skills are transferable. The reason we brought them in is that we wanted to bring the car manufacturing mindset to the medical device manufacturing industry and help improve efficiencies on how a product could be made and assembled and they have done that here - the cart is ready in four hours."
The RDTI has enabled Micro-X to develop relationships with Hydrix, and with other organisations within the supply chain which previously had not been in this space before, getting them to produce items that had not existed previously. Around 90% of Micro-X suppliers are local or interstate.
In regards to equipment, the RDTI has assisted Micro X in purchasing equipment to develop and manufacture novel and innovative carbon nano-tube technology products.
Micro-X have also developed relationships with post-graduate researchers at Flinders University in South Australia, with Micro-X employees sharing knowledge through lectures at the university, and the organisations working together to develop knowledge through research in the area.
RDTI Impact Facts
The RDTI has enabled Micro-X to grow their employee base within Australia.
The RDTI has sped up the process to get Micro-X technology to market.
The RDTI has enabled Micro-X to develop ground-breaking technology that would otherwise not be possible, especially at the research and development stages.
Transitioned employees from General Motors to a new industry.