Make your workplace safer
Last Updated: 04 August 2021
Safety in your workplace starts with you. Follow our steps to ensure the health and safety of your workers.
Help for businesses affected by the coronavirus
If you're looking for help relating to the coronavirus, check our coronavirus support topic.
Involve everyone in health and safety
---
A healthy and safe workplace needs everyone involved. You must consult with your workers about any issues relating to their work, health and safety (WHS). They can help you find hazards and choose the best way to control them. It also shows your workers that you take their health and safety seriously.
You must also consult with anyone else who has a WHS duty for the same issue such as when other businesses are involved in the same activity or share a workplace.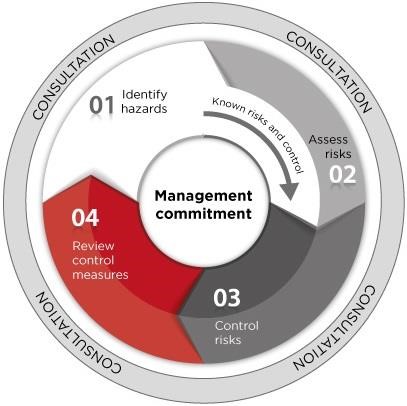 The process to manage WHS risks.
1. Identify hazards in your workplace
---
This means finding anything that could harm people. Most hazards come from:
The physical work environment, such as a loud workplace.
The equipment, materials and substances you use, such as chemicals.
The work tasks and how they are done, such as lifting heavy boxes.
2. Assess risks
---
Think about what could happen if someone is exposed to a hazard and how likely it is this could happen. Do a risk assessment to find out:
how dangerous a risk is
whether any control measures you are using work
what you should do to control the risk
how soon you need to do something.
3. Control risks
---
The most effective control measure is to eliminate the hazard and any risk it creates. The best way to do this is to avoid introducing hazards in the first place.If you cannot eliminate the hazard, you must minimise the risks as much as you can, such as:
replace the hazard with something safer
physically separate the hazard from people
use an engineering control (for example, use a trolley to move a heavy box instead of carrying it).
If there are still risks you must use administrative controls such as using safe work procedures. You should also provide training and supervision so your workers know how to do their work safely.
Any remaining risk must be minimised by using suitable personal protective equipment such as gloves or hard hats.
4. Review controls
---
Check your control measures regularly to make sure they're working as planned. Don't wait for something to go wrong. It's a good idea to schedule in regular inspections of your workplace to check for new hazards and review your control measures.
You must also review your control measures if you find issues or if things change, for example if you introduce new equipment or activities.
5. Record and report safety issues
---
Keeping records of your risk management process is a great way to find issues and improve safety in your workplace.
You must keep records in relation to certain hazards including:
energised electrical work
diving work
hazardous chemicals
plant
equipment.
Chemicals Business Checklist
If your business deals with chemicals or plastics, the Chemicals Business Checklist can help you navigate your requirements and ensure your business is safe, sustainable and compliant.
6. Support return to work
---
If you employ staff, you must have a current workers' compensation insurance policy and a return to work program.
7. Make your workplace healthier
---