Durran Durra Truffles
Last Updated: 22 May 2023
The 2019 Black Summer Bushfires took a toll on Dick and Virginia Obbink's winter crop and saw reduced tourism in the area. With the help of AusIndustry's Strengthening Business service, Durran Durra Truffles recovered from a difficult season, reaching new buyers and foodie tourists, and is now well positioned to deal with whatever future challenges might be thrown its way.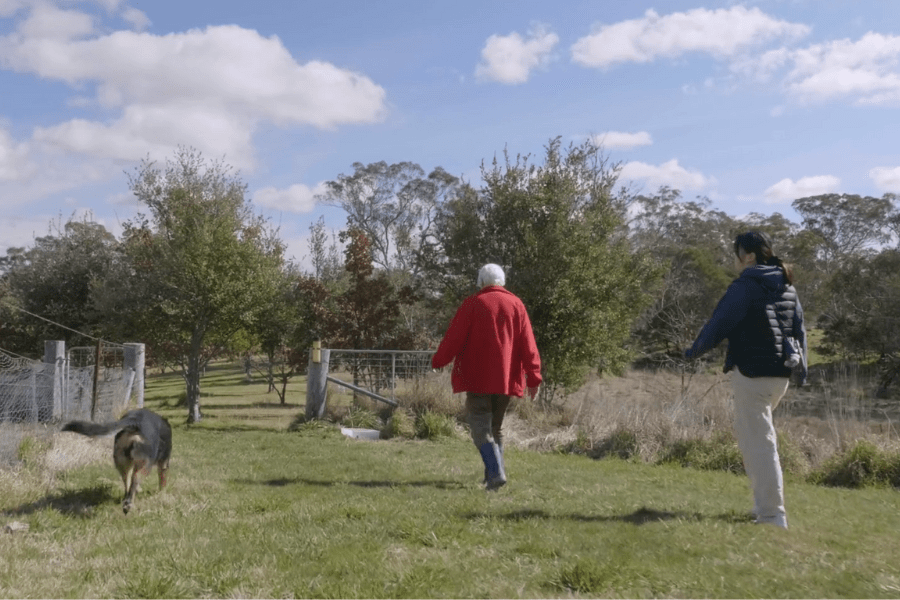 Durran Durra's long journey to being truffle growers took a long detour thanks to the Black Summer Bushfires.
Truffles for Tomorrow
Dick and Virginia are career microbiologists who worked for thirty years at one of the major teaching hospitals in Sydney before buying the farm. Together with their rescue dog (and chief truffle detector), Bella, they have established a thriving truffle farm in the Southern Tablelands of NSW, near the historic town of Braidwood.
Whilst Dick and Virginia sell their truffles to local restaurants via their co-operative EAT Truffle, a part of their business that they are particularly fond of is hosting truffle hunts on their property. Dick says "we like the public interest that people have and the experience they have when they come here and join our truffle hunts.
The first time they see our dog Bella at work, showing how easy it is for a dog to detect truffles, pulling them out of the ground, having them smell them. I think it also adds to the tourism potential of the whole region. People come and visit us, but they also stop in Braidwood, and go to the local businesses and cafes. It is good for all the small businesses in the area.
Dick recalls how scarily close the 2019 bushfires came to destroying their property. "We were sitting out on the deck at night and the whole Tallaganda mountain range was aglow. It looked like there were a number of volcanoes because the fires were 200–300 meters in the air. It was a very scary sight."
Strengthening Business Customer Story: Durran Durra Truffles
The pair faced a tough decision between irrigating their prized trees and preserving the water to defend their home. Dick says "we had to conserve every drop of water that we had at that time in case we needed it for firefighting. We weren't able to irrigate the trees, which is necessary in the summer months because that's when truffles actually start to form. The following winter we harvested far less truffles than we normally would."

Dick says "I think one of the biggest obstacles that all of us have in small business is who do you contact, who do you get advice from?"
Following the bushfires Dick and Virginia enlisted the help of Strengthening Business facilitator, Liz Kobold, to help ensure the business was able to recover from a difficult season and was well positioned to deal with whatever future challenges might be thrown its way.
Dick says "Liz in particular helped us with regard to ideas for marketing and organising ourselves. Finding your customers in the first place is not easy. Liz was particularly helpful in putting us in touch with the instrumentalities of government and local government, either with grant money, or with advice, or information which would help us with the business."

Dick says "I think the biggest challenge we have with the business is the short growing season and the fact that as a small producer we more or less have to be multi-skilled and do everything. We're not only farmers, we're also graders, marketers and couriers. And all those things have to be done in order to get truffles to market as quickly as possible."

In 2017, together with other local small scale truffle farmers, they formed the EAT Truffle cooperative. The cooperative allows the farmers to collectively sell their truffles, providing economies of scale that they wouldn't otherwise enjoy, and enabling them to share in any profits they make.

"We're seeing within the co-operative movement that things can be extremely successful. We've also seen within the cooperative movement that co-ops can fall over, and a lot of it relates to people being active. Everybody has to feel ownership of it, and we try to encourage that among our small group of members."

The next step for Durran Durra is to build on the marketing and distribution side of the business.

"We sell most of our truffles through the co-operative to local restaurants in Sydney and Canberra. A small amount are sold at the farm gate. But this is all a bit ad hoc, where we've relied on local restaurants to say, yes, we'd like truffle this week. Unfortunately they also say sorry not this week because we're doing something else. And that doesn't work very well. As a truffle farmer, we want to have some continuity and certainty in what we do. Moving forward we would be happy to sell all our truffles through the cooperative. Some may then be sold to a distributor who would on sell our truffles to their market. We could then focus on the other things we're keen on doing which is promoting the truffle hunts because we know that is not only good for us, but tourism to the region is important for other businesses in the area."
Dick's advice to other businesses when starting up is "get in touch with AusIndustry or local government, there are many people that will point you in the right direction"