Emu Ridge Eucalyptus Oil Distillery
Last Updated: 22 May 2023
Bev and Larry Turner's Emu Ridge Eucalyptus Oil Distillery has a history of changing with the times. Now, in the wake of Kangaroo Island's Black Summer bushfires, they're moving forward with a new online presence.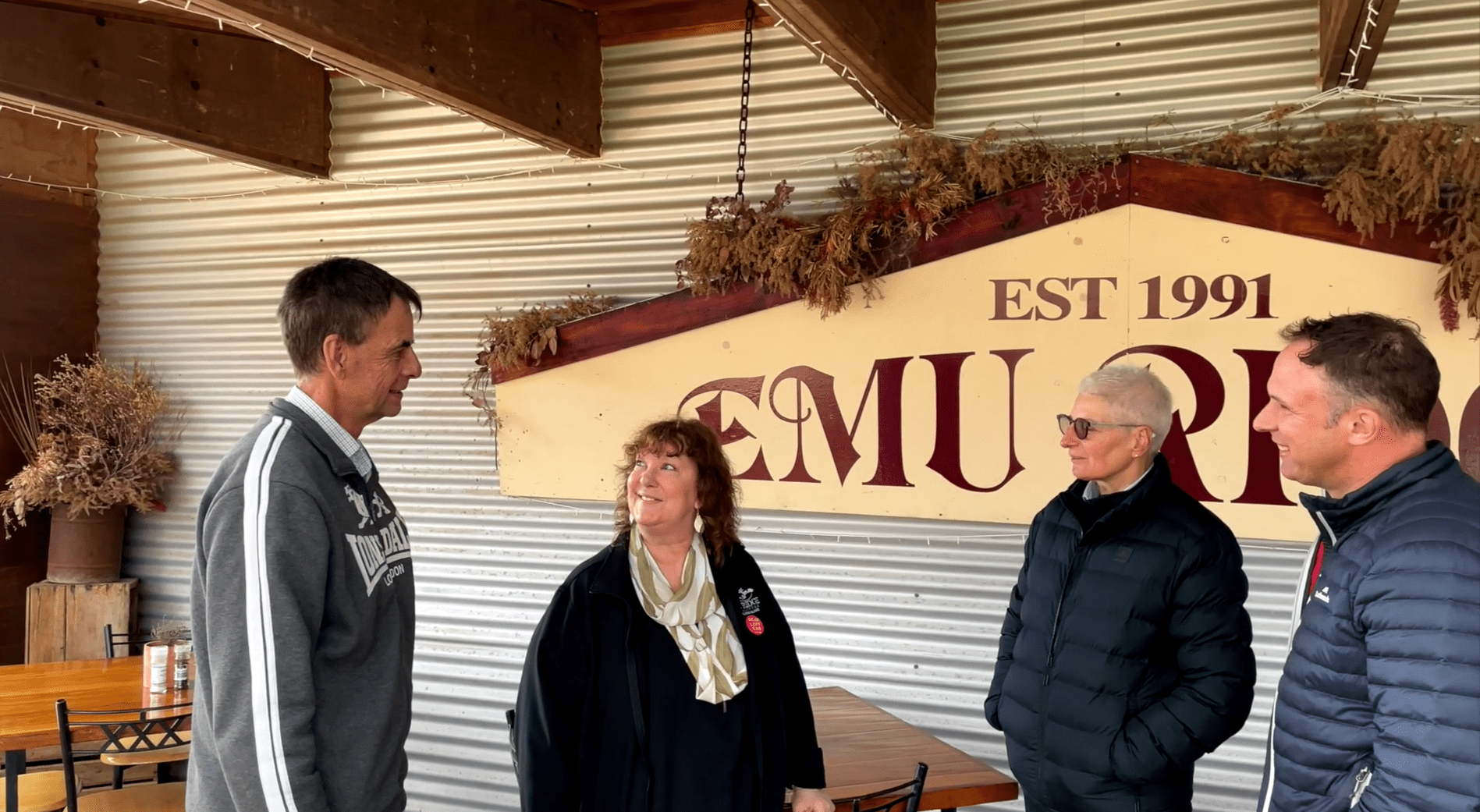 Bev and Larry Turner's Emu Ridge Eucalyptus Oil Distillery used the Strengthening Business service to set a new strategy, with a new POS system and digital presence.
An old-school family business rebirthed after bushfires
Eucalyptus is a native Australian tree that has over 1,000 species. However, there are only around ten species suitable for extracting eucalyptus oil from. Despite being native to Australia, surprisingly, 90% of the world's eucalyptus oil comes from China and Brazil.
On the Eastern side of Kangaroo Island off the mainland of South Australia, nestled in the bush, is Emu Ridge Distillery, retail store and café. Owned by Bev and Larry Turner, the business has been manufacturing 100% pure eucalyptus oil since 1991.
In the 1800's, eucalyptus oil distilling was one of Kangaroo Islands major industries. It was a supplementary income for farmers who were clearing the land for sheep.
Growing up, Larry was a fourth generation sheep farmer until the early 1990's when there was a sharp downturn in the price of wool. As a result, the Turners came full circle and diversified their farming business after learning about the history of their farm and its ties to the eucalyptus industry. Larry knew the fundamentals of farming, and says what he does now is similar "I still farm, so I still go through a plant selection process but the difference in what I do now to what I used do is I farm natives, retiring damage to my property".
Strengthening Business Customer Story: Emu Ridge Eucalyptus Oil
Bev has tears in her eyes as she recalls the evening they were forced to flee the business. When the fires were within an hour of Emu Ridge, Bev and Larry grabbed their computers and any invoices that hadn't been entered. Bev turned to Larry and asked what they should do with all the stock. Larry reassured her, saying "that's alright, we've got insurance, just leave it, it'll be fine." Bev walked out the door and took a photo thinking it might be the last time she would see her business. Fortunately they were one of the lucky ones whose business was spared. But the fires and COVID-19 presented other challenges to the business.
Emu Ridge used to thrive off international tourism for customers and labour. "Tourism wise and people wise, we didn't have the visitation anymore, so that was quite devastating to our business" says Bev. The staff have been working extremely hard to make up for the staff shortages. Bev says "We have just not been able to find staff and then, the staff we can find, there's no accommodation on Kangaroo Island. There's nowhere for them to live".
Prior to the fires, the Turners had been talking about getting some help to improve the business. All the procedures and systems were locked away in Bev's head. But the Turners didn't think they could afford the help. What they didn't realise at the time was the AusIndustry Strengthening Business program could provide the help they needed.
The combination of the fires, then COVID-19 and now this new staffing challenge was the final push they needed to seek help from AusIndustry and set up the business for future success.
Through the AusIndustry Strengthening Business service, facilitator Andrew Boardman met with the Turners to help they put in better systems across the board. This included upgrading ordering systems, implementing POS systems to replace the old cash systems, focussing on digital channels and creating a succession plan for the family business. "Having a facilitator come in and help us that has the knowledge for the digital side of things and graphs and spreadsheets and a lot of things that we didn't have the expertise in has really helped us to improve our systems that we've got in place as well in the office" explains Bev.
There also appeared to be a shift in Australian's after the fires and COVID-19. It was clear to Bev that people had become much more aware of Australian owned businesses and wanted to support these businesses. Bev noticed an increase in Kangaroo Island locals visiting their café and shop too. Prior to the implementation of their digital channels, the locals didn't even know Emu Ridge Distillery had a café.
After their success participating in the Strengthening Business service, Emu Ridge Eucalyptus was then eligible to participate in the Growth service, which included a $22,000 grant. Bev acknowledges AusIndustry played pivotal role in their success, exclaiming "during the fires, we were really lucky to get the grant from AusIndustry to help our business and really they are things that we wouldn't have been able to or thought that we couldn't afford to do".
Despite the challenges they've faced over the last few years, Emu Ridge has continued to grow by 30% each year. This includes growth in their online sales as well. Looking to the future, the Turners would love to conduct more research (breeding trees that are higher yielding and better quality), plant some more trees and help to create a bigger eucalyptus industry for Australia, so that we don't have to import our eucalyptus from overseas.