Stebercraft - proudly regional, globally focused
Last Updated: 22 May 2023
With help from AusIndustry, marine craft manufacturer Stebercraft didn't have to look too far to find the expertise it needed to build a hybrid diesel-electric boat prototype.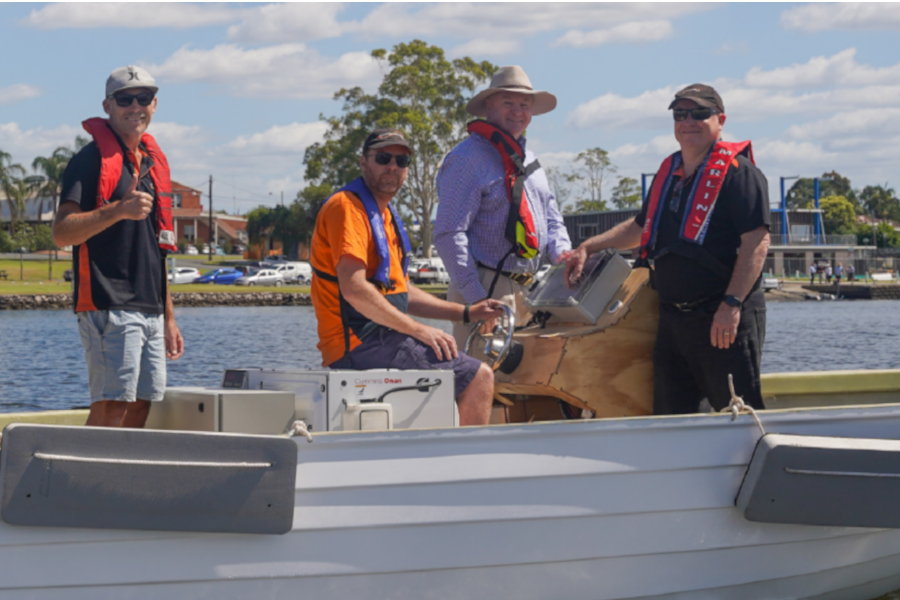 Stebercraft successfully launched their 22ft test rig on Taree's Manning River, the result of 2 years of tinkering and some expert advice from AusIndustry.
Stebercraft has come a long way in their 7 decades as a powerhouse in marine craft manufacturing. A relocation from Sydney to Taree on the NSW mid-north coast in the 1970's propelled their status as one of Australia's leading boat-builders, and a strong advocate for regional relocation.
A 2016 business evaluation opened Stebercraft's eyes to potential new customers in the defence and government sectors. It also defined the company's direction – to value every project around their export potential. Stebercraft is now firmly ensconced in South East Asia, as well as having customers in Papua New Guinea, East Timor, New Zealand and Fiji.
'People don't realise we've got 14 boats we've exported to port authorities in Tokyo, customers all over the world, so just that alone from a little regional country town, it's quite an achievement'.
But Alan Steber's gut feeling told him there had to be a market for a whisper-quiet, stealth-like hybrid marine craft that could be utilised by border forces or police patrols. And Alan wanted the prototype to be manufactured in Australia.
'We wanted to be able to build the electric motor here, make the equipment here, do the charging systems here,' says Alan.
Being just down the road in Newcastle, Entrepreneurs' Programme facilitator Peter Davies had already been assisting Stebercraft to navigate strategy for business growth and export potential.
'Alan and Stebercraft are not afraid to step out and try things. They've never been frightened to extend themselves, cast an eye over a new idea, and link the business to a different direction'.
And the hybrid boat concept ticked plenty of boxes for Stebercraft to utilise the program's SMART Project.
Peter Davies made a call to colleague Dave Fleming from the program's Innovation Connections service, who knew Hunter-based client AMP Control specialised in electrical engineering design. It wasn't long before researchers from the University of Newcastle were on board for the collaboration.
Using $100,000 in matched funding, Alan knew exactly what he wanted to get out of the project.
The 2 years of committed tinkering paid off. In December 2020, the 22ft test rig was successfully launched on Taree's Manning River. It can pull 15 knots fully crewed, all with negligible emissions.
The Entrepreneurs' Programme has been instrumental in finding Stebercraft the innovation soulmates it needed, and the expertise was right on their doorstep.
'That is that true grit of a regional centre and a regional business that is able to adapt and modify, think outside the square,' says Peter. 'I really hope to be able to help other local SME's via the SMART Projects option. 'Stebercraft's DNA for innovation has also ventured into spaces that don't involve a tidal chart or water'.
During Covid-hit 2020, the business seized the moment to engineer a clever robotic device called Germii – a stainless steel box of powerful ultra-violet light, to decontaminate the medical gear used by ambulance crews.
'It was the confidence Alan gained working with others to create the hybrid boat, that led him to seek out another partner to build Germii, and I have great faith that both products will move into the commercialisation phase'.
The hybrid boat launch has been an important milestone for this regional player, and also a proud day for Bruce Steber – the 90-year-old founder of this family-run business, who still pulls a shift at the workshop a few days a week.
'Bruce is still there, encouraging the apprentices to make sure things are plum or straight, and his presence keeps the staff respectful of what Stebercraft has been able to achieve,' says Alan.
As part of the Entrepreneurs' Programme, SMART Projects and Supply Chains provides access to strategic or high-value projects that are designed to increase a business' capability, through a tailored mix of performance assessments, and peer group learning events.